Track and field achieves several personal bests in Bruin Day meet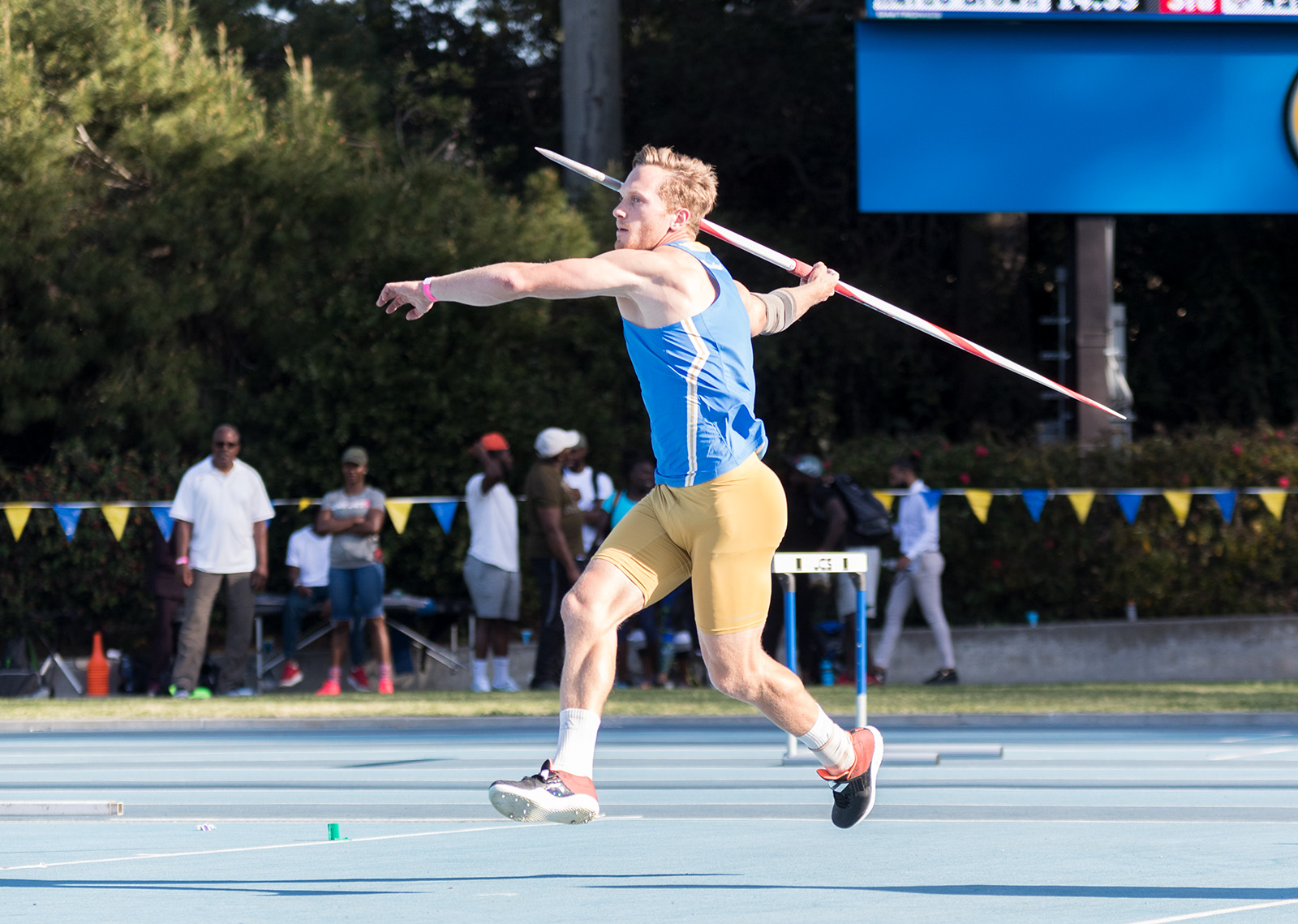 Sophomore javelin thrower Marian Spannowsky tossed a collegiate personal best this weekend. His throw of 70.54 meters was nearly 10 feet farther than the next best finisher, and his teammate sophomore Simon Litzell. (Isa Saalabi/Daily Bruin)
Athletes both current and future were present at Drake Stadium for the Rafer Johnson/Jackie Joyner-Kersee Invitational on Saturday.
As UCLA welcomed thousands of recent admits to its campus for Bruin Day, the Bruins also hosted their second home meet of the season for track and field, going against a group of schools that included Texas A&M, one of the top-ranked teams in the country at No. 3 for men and No. 6 for women.
While the Aggies outscored the Bruins by over 200 points combined among men and women, UCLA still had a range of individual standouts on the day, including seven event wins.
Freshman Alyssa Wilson accounted for half of the team's six field victories, winning the women's hammer throw, shot put and discus within the span of about four hours.
Wilson's mark of 60.71 meters in the hammer throw was a new personal best and four meters farther than the next finisher. This came just one week after she scratched on all of her attempts in the hammer throw at the Pomona-Pitzer Invitational.
"I wanted to kind of come back from that and put a personal best out there," Wilson said. "So I was pretty happy about that performance."
After taking home her second victory with the shot put, Wilson completed the hat trick with a comeback performance in the discus. Trailing by almost seven meters after her first throw, she improved her standing in every round of the competition until she finally took the lead on her final attempt.
For all three of her events, Wilson now sits within the NCAA top 48 for all three events – the cutoff to qualify for nationals.
On the men's side, junior Justin Stafford kicked off the day's first event by winning the men's hammer throw with a mark of 61.99 meters.
In the men's javelin, sophomore Marian Spannowsky's collegiate personal-best mark of 70.54 meters not only won the competition, but also placed him 14th in the nation and eighth in UCLA history. On the women's side, freshman Illaria Casarotto moved to fourth in school history in the javelin with a mark of 48.17 meters, finishing third overall at the invitational.
In total, every thrower that the Bruins fielded Saturday finished no lower than fourth in their event.
Elsewhere on the field, senior Idrees Bernard snagged a win for UCLA in the men's triple jump, jumping a personal-best 15.6 meters on his third attempt.
Junior CJ Alumbres also set a personal best for the event, jumping 15.42 to take third overall.
"I knew it was going to happen, at least for me and (Alumbres)," Bernard said. "And I know the potential's there. That's just a preview, really. I was happy with my performance, but definitely not satisfied with it."
Bernard said that he would like to improve his mark to 54 feet, which would put him atop the national rankings. After Saturday, Bernard and Alumbres sit at 26th and 42nd in the nation, respectively.
After trailing for much of the men's 3,000 meters, sophomore Tyler Janes took the lead in the last 400 meters and held it the rest of the way, finishing with a time of 8:24.30. It was the first victory of Janes' collegiate career.
Earlier in the day, sophomore Riley Kelly set yet another personal best in the men's 800 meters, running 1:49.41 to take third.
Director Avery Anderson said that Kelly has particularly impressed him so far.
"He's been great all season," Anderson said. "Dropping a half a second in a race that short, that's quite an accomplishment."
Overall, the Bruins finished fourth among men's teams and second among women's teams at the meet. Both squads fell more than 100 points short of Texas A&M, the winner of both meets, however.
Regardless, Anderson said that he was impressed by the team's effort Saturday.
"We
had a great opportunity today, facing one of the best teams in the country,"
Anderson said. "I wanted athletes to come out and give that effort, and seize
that opportunity. And I think I saw that across the board today."
Kenney joined the Bruin as a sophomore in 2017 and contributed until he graduated in 2020. He spent time on the baseball, softball, men's soccer, women's soccer, track and field and cross country beats.
Kenney joined the Bruin as a sophomore in 2017 and contributed until he graduated in 2020. He spent time on the baseball, softball, men's soccer, women's soccer, track and field and cross country beats.