Softball on deck for fight against Arizona in continuing conference play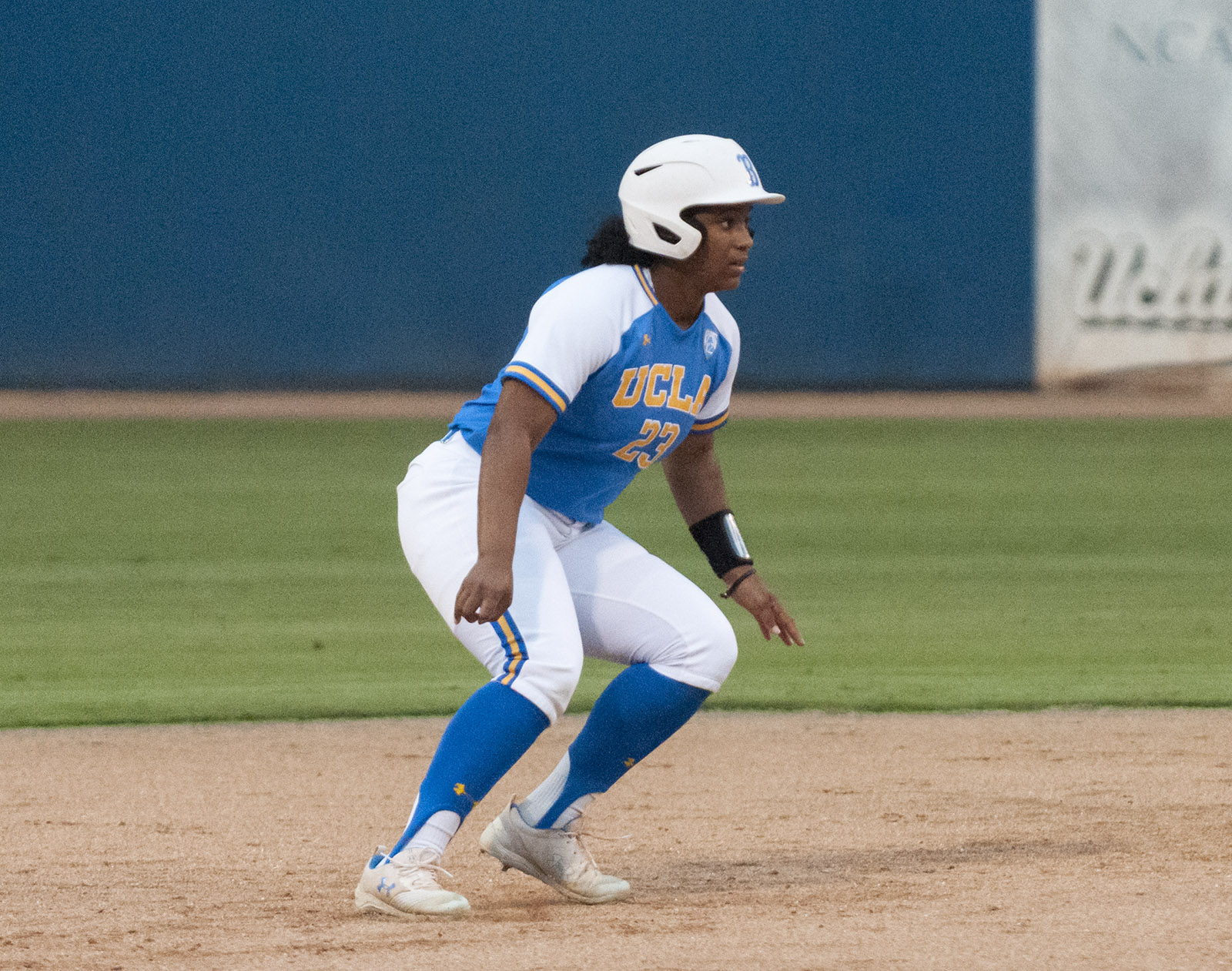 Redshirt freshman Aaliyah Jordan and the Bruins will taken on the University of Arizona Wildcats this weekend. Last year, UCLA took 2 out of 3 from Arizona in their regular season matchup. (Alice Naland/Daily Bruin)
April 13, 2018 12:24 a.m.
The second half of Pac-12 play holds the most formidable competition UCLA will see during its long season, and it starts this weekend with a trip to Tuscon.
The No. 4 Bruins (34-3, 9-3 Pac-12) will face conference rival the No. 12 Arizona Wildcats (27-9, 6-6) as they go for their seventh series win against them in a row.
Despite being in the middle of Pac-12 standings, the Wildcats boast a 16-1 home record and feature the Pac-12's second-best hitter for averages in Alyssa Palomino.
Even with the Bruins' .919 winning percentage, assistant coach Kirk Walker understands the difficulty in playing at Arizona, but relishes the opportunity new players will get in seeing what competing there is like.
"Going into Arizona – it's always a challenging place to play, it's a great opportunity for us to play in an environment in front of a big crowd and an amazing team," Walker said. "What we're going to see is a chance for our younger athletes who haven't played there in that facility before."
One of those younger athletes is redshirt freshman outfielder Aaliyah Jordan, who has a .486 batting average – the highest in conference play.
Jordan took a medical redshirt year last season, but has been one of only five players to play all 37 games of the season for the Bruins. She's also off to an offensively dominant first half of Pac-12 play, leading her team in total bases, hits and home runs.
"Individually I think I'm having a great year, especially coming off an injury," Jordan said. "As a team we've been playing amazing together. … I'm really excited for the future."
Behind Jordan in batting average is senior infielder Kylee Perez, also one of the five players who played in all 37 games. Perez has yet to lose a series against the Wildcats in her college career, but recognizes the mistakes in Sunday's loss and what is needed to win another series.
"Staying within ourselves, if we make the game bigger than it is we tend to not do as well," said Perez. "Sticking to our batting plans and pitching plans … is going to be one of our main goals."
The Bruins' lineup has been subject to change due to injuries, leading to changing batting and pitching plans. Freshman infielder Briana Perez missed all of the Stanford series games, and pitchers redshirt sophomore Rachel Garcia and senior Johanna Grauer both haven't pitched since March.
However, even with injuries, Walker's goal for the team's upcoming road trip is to focus on their readiness.
"It's about us advancing our preparation to be successful," Walker said. "Our team is prepared to go in there and compete with a very good Arizona team and we're looking forward to it."
Chen is currently a contributor for the Stack. He was previously a contributor for the women's basketball and softball beats.
Chen is currently a contributor for the Stack. He was previously a contributor for the women's basketball and softball beats.