Q&A: 2017 alumnus Shubham Goel discusses gubernatorial platform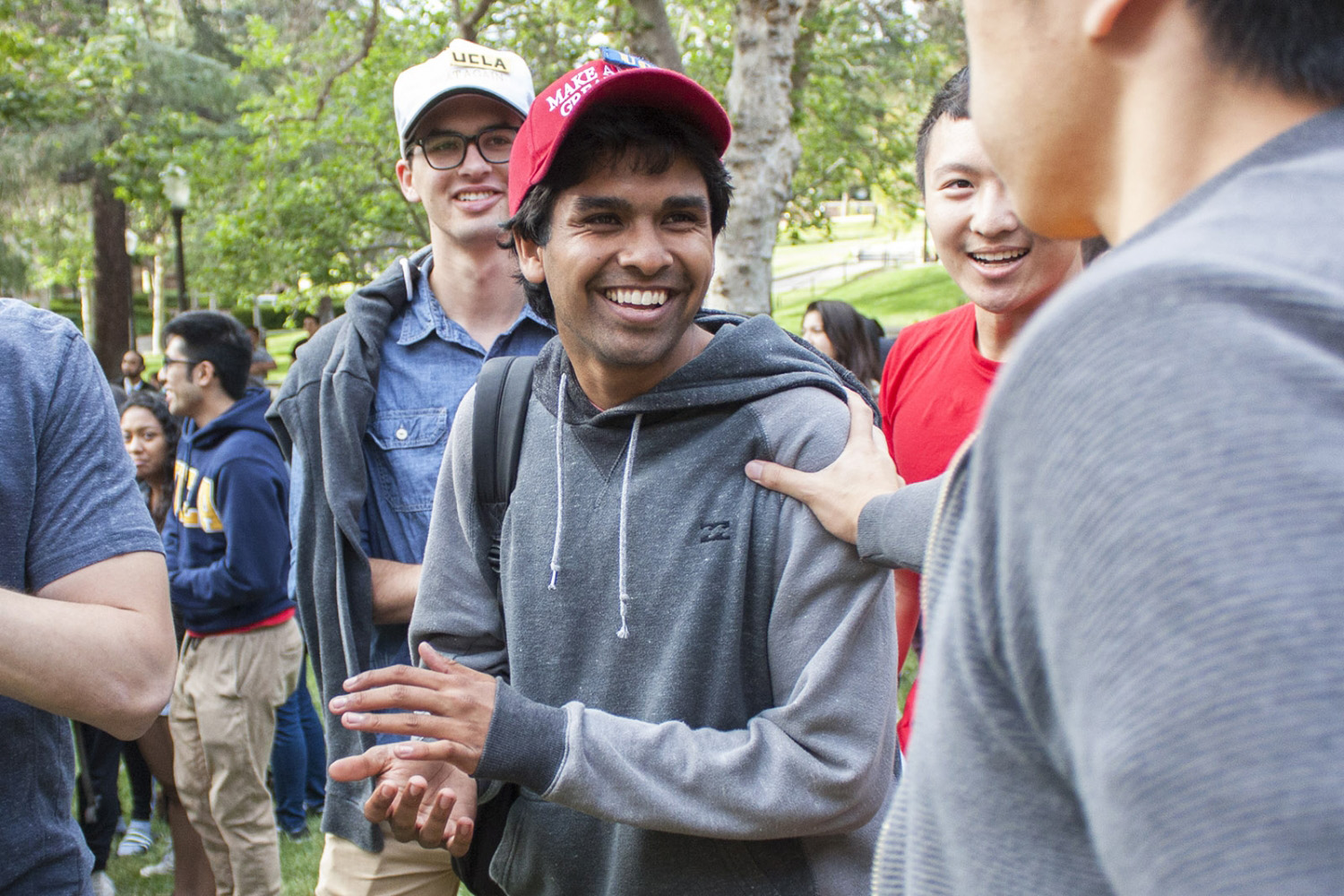 Shubham Goel, who is running for governor, graduated from UCLA in 2017. He previously ran for general representative in the undergraduate student government election in 2016 on the MakeUCLAGreatAgain slate. (Daily Bruin file photo)
April 12, 2018 12:17 a.m.
The gubernatorial primary is in June, and of the 27 candidates in the race, one of them is Shubham Goel, who graduated from UCLA in 2017. Goel, who ran for general representative in the 2016 undergraduate student government election under the MakeUCLAGreatAgain slate, spoke with the Daily Bruin's Isabella Gago about why he is running for governor and what he hopes to accomplish with his campaign.
Seth Masket, a professor of political science at the University of Denver who has studied California politics, said that while anyone can run for governor, it is difficult to succeed without the backing of a major political party. He added candidates usually need support from donors, activists, labor leaders and former governors. Goel said he has no campaign staff or donors.
Daily Bruin: What inspired you to run for office?
Shubham Goel: I decided to run just because it is tough to see everyone in the state struggle with the policies and legislation currently enacted by our state government. I'm an everyday, born-and-raised Californian and have lived all throughout California, including the Bay Area, Los Angeles and the Central Valley. I want to fix the issues for all Californians with practical and feasible solutions.
California has the highest poverty rate in the nation, and despite having two titan industries like Hollywood and Silicon Valley, we don't have an economic climate that encourages businesses to stay in California.
I want to show people that you don't need to have a huge political backing or large amounts of wealth to make a change, but rather all you need is conviction, a plan and grit. I hope this shows young people and anyone in California that, no matter your situation or your background, you can change things for the better as long as you have a plan and you take action.
DB: What are your some of your policy platforms?
SG:
Housing
One of the most important things is the housing crisis. Local zoning, outdated laws, long approval times and lack of housing have caused our housing prices to soar and caused residents to leave the city. First thing we should do is allow 100 percent residential development on vacant, commercial-zoned properties since many of these properties have available space and land. Los Angeles does this and (it is) now the fastest growing housing production in California. Also I will reduce the approval (and) rejection time of housing projects to six to 12 months, so that local jurisdictions can make quicker decisions and buildings can be completed quicker.
I also strongly support (state) Sen. (Scott) Wiener's Senate Bill 827 … which allocated for four- to eight-story housing buildings within half a mile of transit. I would like to amend his bill to include tech companies that have more than 2,000 employees and tech companies that come into California with over 500 employees. This will compensate for these companies bringing jobs without creating housing for them. Overall, this will lower the price of the housing market and increase mobility as it encourages public transit usage as opposed to roads.
Water
The first thing I want to do to help the water crisis is to create tax cuts for farmers who switch their irrigation methods to drip irrigation, as it is 30 percent more efficient than flood irrigation with water conservation. It is important to focus on the agricultural part of water usage in California because the agricultural industry uses 80 percent of our water.
We must create a board that oversees the implementation of the funds from Proposition 1. We have about $9 billion in funds or bonds from Proposition 1 to spend on our California water projects, but we have only spent 2 percent because of bureaucratic delays.
I also think desalinization is huge for California, since we border the ocean and have about 10 desalination plants. Israel was able to turn a place that was completely desert-driven to a country where they have leftover water to export. I want to also take our current desalination plants and expand them with brackish-friendly water technology, as this requires less energy to convert into fresh water and is therefore cheaper.
Higher Education and the University of California
The first thing I would do is in terms of funding. I will take $250 million from our rainy day fund and distribute $125 million to the UC system and $125 million to the California State University system. These funds will be used to help with the cost of an increased capacity of students for both school systems and inflation. These will help costs supporting graduate students and serve as an increased investment of our students' capital, which in turn will improve our state job market.
I will also create a six-unit general education course credit for all community college, CSU and UC students if they opt into our mentorship program. The mentorship will be a program (in which) college students are paired with one, two or even three high school students. This mentorship will be two years long and will give high school students experience and insight on steps they can take to getting admitted into these California colleges. It will also give them more details on how to be successful at these colleges and advice on where they want to get to using higher education.
The governor of California will no longer have the power to appoint the 18 regents for the nine UC campuses. The Board of Regents will be elected by the students, and this will make the board more accountable, transparent and representative of the students they reside over. This will fix issues like the president (of the) UC system hiding $175 million (in April 2017) from students, as well as the board mishandling funds.
DB: What kind of people do you think would vote for you?
SG: It would be great to have young people voting and a lot of people are surprised when I tell them this because they hear you have to be a very rich person. And I just wanted to show everyday people that so long as you stand up for what you believe then there will be no barriers. There was this guy, Jesse Owens, he was facing a lot of discrimination for being an African-American Olympian at the height of the Nazi regime at the Berlin Olympics. He ran and showed the world that he did not need anyone else. He believed in himself and he did it. I just wanted to show other people and show myself that if you want to make a change, then go for it. I hope this resonates with older and younger people too: No matter where you come from or what you do, it's not too late to change things.
DB: If you don't win, would you still be doing work for the state?
SG: I worked at a nonprofit a couple of years ago that helped the elephants and created a safe haven for them. I have a go-big-or-go-home mentality, but if I lose I will not go home. The best thing about this process is that I get to talk to so many people all around the state, hearing the issues the people are facing and see how diverse we are.