College Bowl Club to test its skills in upcoming national tournament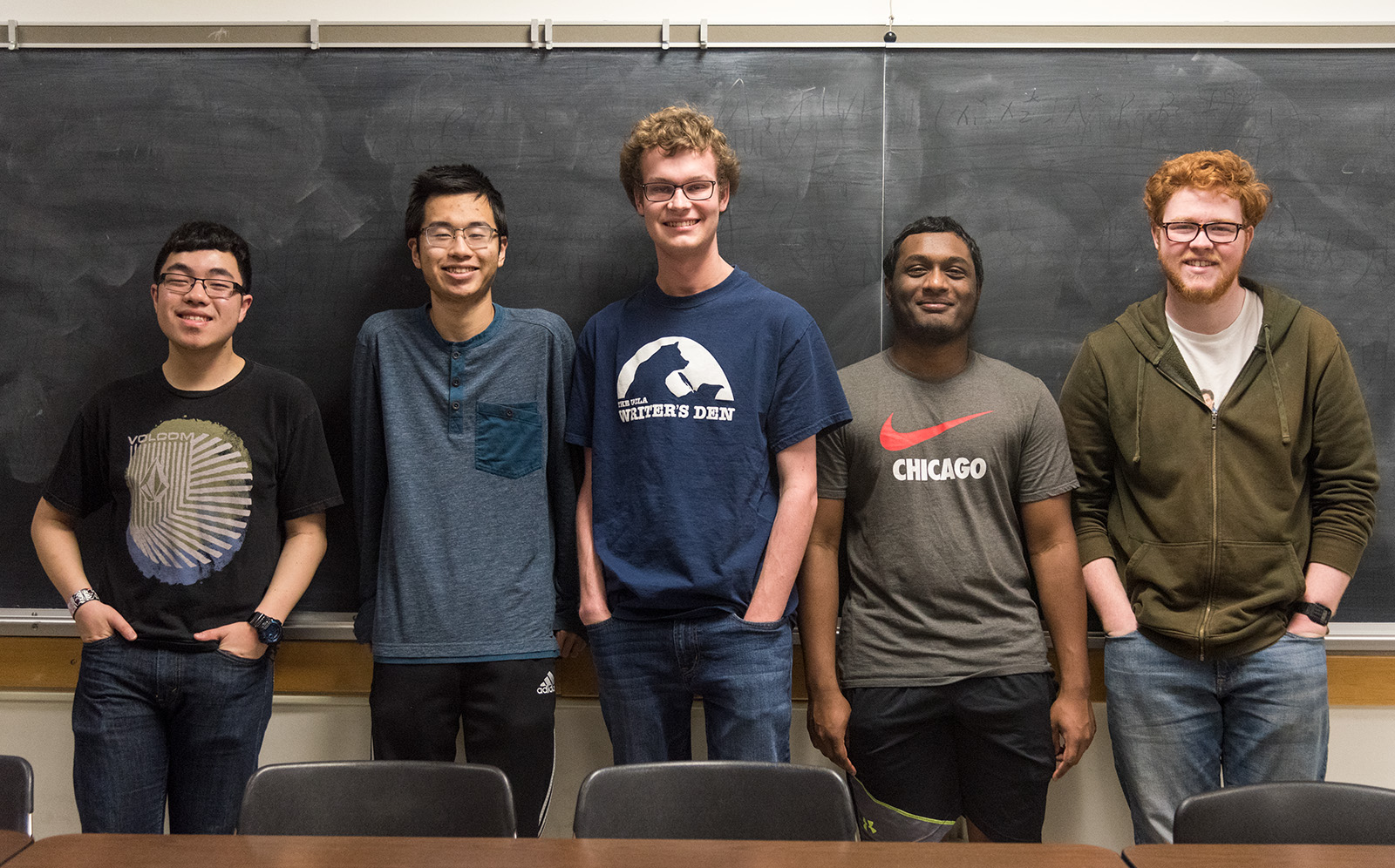 Members of the College Bowl Club at UCLA will compete against quiz bowl teams from 35 other colleges at the Intercollegiate Championship Tournament on Saturday near Chicago. (Daniel Leibowitz/Daily Bruin staff)
When Hidehiro Anto previously competed in a national quiz bowl competition, he competed alone against teams of four people.
But next weekend, Anto will be joined by two more teammates when UCLA competes in its first national championship since 2015.
Members of the College Bowl Club at UCLA will compete against quiz bowl teams from 35 other colleges at the Intercollegiate Championship Tournament on Saturday near Chicago. UCLA's team will be competing against teams from UC Berkeley, Yale and other colleges who have qualified for the national competition through sectional competitions held in different regions of the United States.
A quiz bowl tournament is a game in which two teams attempt to answer academic questions that are read out loud. Each question is around five sentences, but players can buzz in as soon as they think they know the answer. A team can have up to four players and as few as one.
Calvin Yam, a first-year linguistics and computer science student who will be competing at ICT, said the club assigned members to subjects they know best.
"That way, we can make a team that trusts each other to know their subject whenever it's being introduced and can work well together in terms of synergy," he said.
Because each team member typically specializes in a few topics, when a question is read, the team member who knows the answer should press the buzzer to answer the question. Question topics range over a spectrum of academia, from science and math to philosophy and literature.
Wolfram Poh, a second-year applied math student and president of UCLA's College Bowl Club who specializes in questions on biology, physics and some Japanese history, said the questions are different than what most people think of as trivia. He said the questions are more oriented toward academics because they are typically about subjects from college classes, such as history and geography.
To prepare, Poh said the team practices old questions, reads Wikipedia, makes flashcards and pays attention in class.
Connor Smith, a second-year history student, said he joined the College Bowl Club because he finds it educational and fun.
"I love to put my knowledge to work, and it's really rewarding when you get questions right," he said. "You also learn a lot at every tournament and meet a lot of really smart people."
Anto, a fourth-year physics student and former president of the College Bowl Club, said he enjoys the quiz bowl because it gives him the opportunity to learn about academic topics outside of his major.
"It really expanded my sphere of knowledge and provided a way to gain a liberal arts curriculum outside of my normal classes," he said. "Quiz bowl has exposed me to so many subjects I would have never taken otherwise, such as philosophy, classical music and fine arts."
Yam said the team hopes to improve its initial ranking and wants to be able to answer some of the more challenging questions at the tournament. He added he wants to build up his self-confidence and support his teammates.
"At (ICT) I am looking forward to doing my best to help (Anto, Poh and Smith) and support them by using the knowledge I have to get our rankings as high as possible," he said.
Poh said he wants his team to give its best effort and stay positive because it will be going up against the best teams in the country.
"I'm planning to do my best, and I know we all will try our hardest," he said, "Questions at nationals are a lot harder than questions from regionals, so it's going to be tough."
In addition to ICT, the quiz bowl team will be competing in a second national championship the following weekend at Massachusetts Institute of Technology.
Anto said the club is always looking for new members and encourages anyone who enjoys learning to come to its meetings.
"It's a very open club with very little commitment," he said. "Players really get to know each other's strengths and you get to use what you learned in your classes."