UCLA softball faces curveballs in team lineup due to player injuries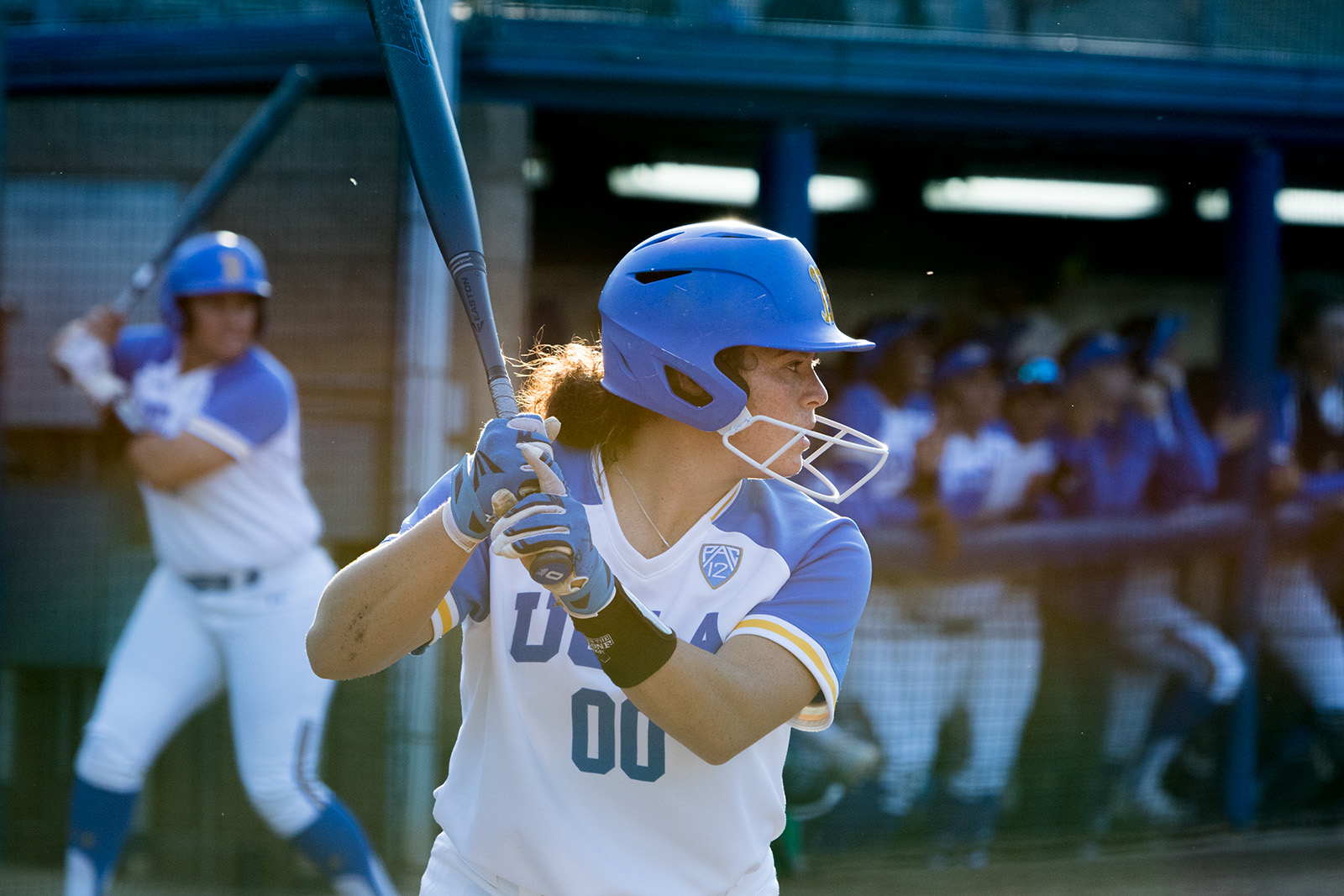 The Bruins have been working their way around a number of injuries so far this year. Redshirt sophomore pitcher Rachel Garcia has been relegated to the batter's box, as she hasn't been inside the circle in nine games. (Ken Shin/Daily Bruin staff)
April 10, 2018 12:09 a.m.
Midway through conference play, injuries have begun to take their toll on the No. 3 Bruins.
UCLA (34-3, 9-3 Pac-12) has recently had to deal with limitations, both in the batter's box and the circle, as they move closer toward their matchup with No. 1 Washington (39-2, 10-2).
A number of pitchers, as well as Freshman of the Year candidate and infielder Briana Perez, sat out the weekend with injuries.
Redshirt sophomore Rachel Garcia and senior Johanna Grauer were left out of the circle, while freshman Holly Azevedo managed to pitch just 4 2/3 innings.
Senior Selina Ta'amilo threw 16 2/3 of the weekend's 21 innings for UCLA. She threw two complete games and picked up a series-clinching save Saturday in relief for Azevedo.
After beginning the year recovering from off-season surgery, Ta'amilo understands the need to remain healthy.
"We need to be more conscious with ourselves, we know that obviously we've thrown a lot of pitches," Ta'amilo said.
The Bruins continued to sit Garcia, who has not entered the circle in the team's last nine games and who missed the first two games of the series against Stanford as a hitter. The sophomore returned to the lineup in the finale as designated player, going 0-for-3.
Without a fully healthy pitching staff, coach Kelly Inouye-Perez suggested giving sophomore center fielder Bubba Nickles an opportunity to pitch.
"(Garcia) is not healthy, (Azevedo) is not healthy, (Grauer) is not 100 percent," said Inouye-Perez. "I may have to activate (Nickles)."
Nickles was a four-year starter while attending Merced High School, where she won Gatorade Player of the Year during her senior year. Her stat line in high school includes 11 no-hitters and a career ERA of 1.05.
Entering Friday's match against the Cardinal, the Bruins led the nation in runs scored per game with 7.50, but at the conclusion of the series the team had amassed just eight total runs.
Without their leadoff hitter Perez, UCLA struggled to get things going offensively.
The freshman is second on the team in a number of hitting statistics, as she is batting .412, has 36 runs scored, 47 hits, nine doubles, 31 RBIs and is slugging .649 – she trails only redshirt freshman left fielder Aaliyah Jordan in these categories.
She was replaced by freshman Kinsley Washington who went 3-for-10 and added just one run over the weekend. Washington normally bats ninth and plays first base, but was asked to replace Perez at the top of the lineup and at shortstop.
Filling in the vacant role on first base was senior Madeline Jelenicki, who went 2-for-9 with a pair of RBIs.
"Right now we have a lot of people down and injured," Washington said. "Seeing people come off the bench who haven't played and being able to perform on the spot, pinch hitting whatever they need to do for the team is really cool to see."
Injuries to the team haven't helped the Bruins long-standing defensive miscues. With players needing to move around and play positions they normally haven't this year, the defensive errors continue to stack up.
Stanford's very first batter of the series reached first base on a fielding error by Washington, who was quickly tested in her newfound position as shortstop.
The Bruins have now committed at least one error in eight of their past 10 games.
Without a healthy lineup, UCLA managed its lowest-scoring output over a three-game series thus far, and concern over the health of its pitching staff does not alleviate the problem. The Bruins may find it difficult to manage games entering the second half of conference season.
"We're being challenged – people are having to step into different roles," Inouye-Perez said. "If we're at 100 percent I believe things could be different but that's not the way things work."
Ardon joined the Bruin as a sophomore in 2016 and contributed until 2018. He spent time on the softball, men's soccer, women's soccer and beach volleyball beats.
Ardon joined the Bruin as a sophomore in 2016 and contributed until 2018. He spent time on the softball, men's soccer, women's soccer and beach volleyball beats.