Blaze Pizza to light up UCLA dining scene with location in South Campus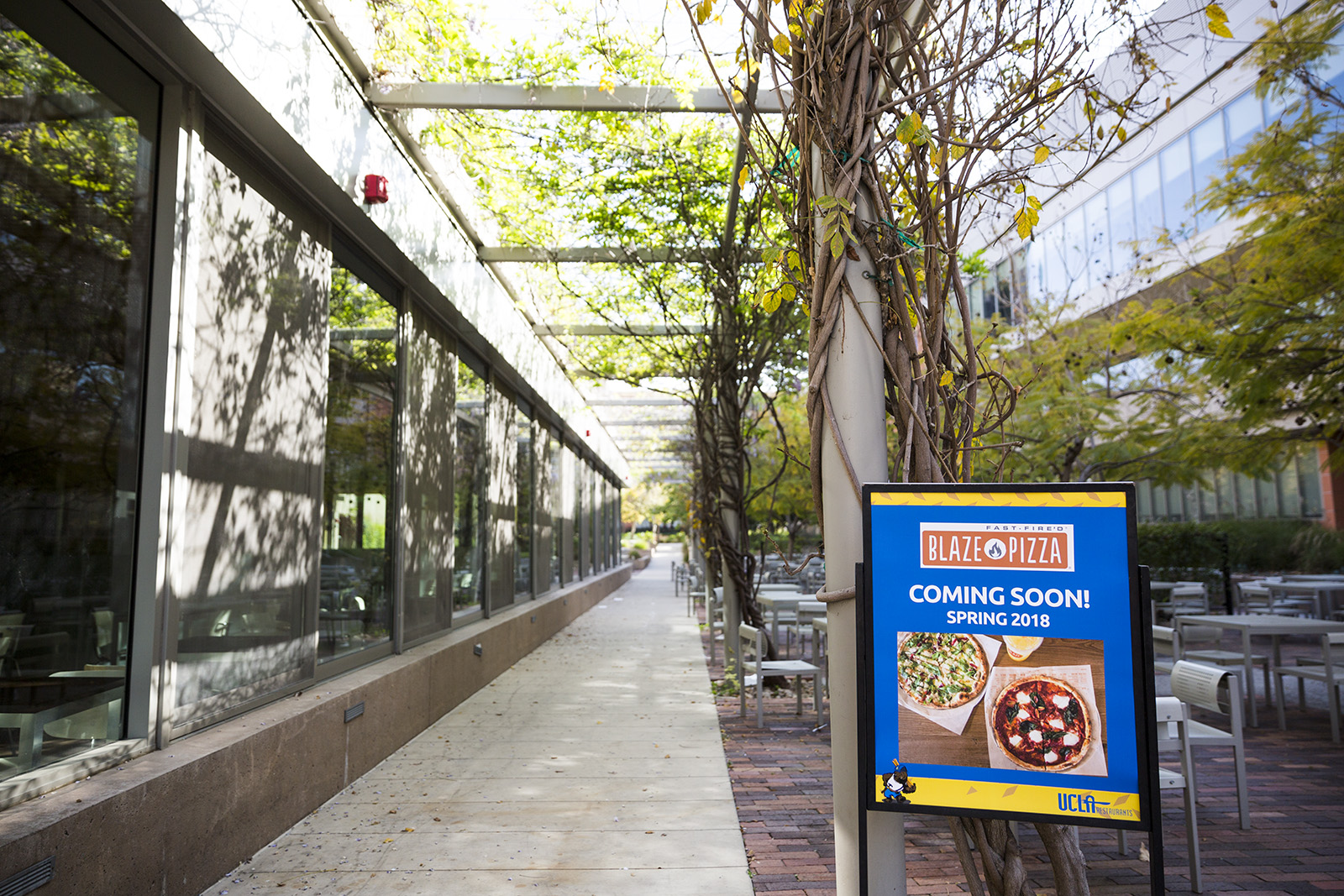 Blaze Pizza, which is located in the Court of Sciences, opened Monday. (Michael Zshornack/Photo Editor)
Students can build their own pizzas at a new restaurant on campus.
Blaze Pizza, a Pasadena-based franchise that serves customized pizzas and salads, opened Monday in the Court of Sciences Student Center.
Associated Students UCLA decided to replace the Bombshelter Bistro with the pizzeria because it was looking for a pizza franchise but did not want to place it near Wolfgang Puck Express in Ackerman Union, which also serves pizza, said Cindy Bolton, ASUCLA food service director. Bolton said after interviewing various pizza franchises, ASUCLA decided Blaze Pizza would best suit UCLA because of its growing popularity and lower prices.
Bolton added Blaze Pizza's UCLA location took almost three years to open because of legal issues, scheduling problems and construction delays.
ASUCLA had also underestimated the transition process from Bombshelter Bistro to Blaze Pizza, she said. Bolton said ASUCLA originally planned to replace the Bistro's equipment and trim to match Blaze Pizza's aesthetic style, but the task proved to be much more difficult than previously anticipated. By the end of the project, ASUCLA had to remodel the entire restaurant location, which became expensive due to the inflated costs of building on campus.
Bolton said she thinks Blaze Pizza will be popular among customers because of its low price point and anticipates it will improve sales for ASUCLA by appealing to a larger set of customers.
Several students familiar with Blaze Pizza said they think the pizzeria is a positive addition to the campus' dining options.
Rak Garg, a fourth-year computer science student, said he is happy ASUCLA decided to add a well-known restaurant to replace Bombshelter Bistro because he thought the bistro was not very popular.
"I'm happy about it; I like Blaze (Pizza)," he said. "I didn't know that Bombshelter Bistro was a thing."
Emma Mkrtchyan, a second-year aerospace engineering student, said she frequently buys food on campus and is excited for a new addition.
"I've gotten tired of the food (on campus), so I'm excited for Blaze (Pizza)," Mkrtchyan said.
Arti Kassardjian, a second-year mechanical engineering student, said he is excited to see Blaze Pizza added to the on-campus dining options because he thinks it is a popular restaurant.
"I like pizza, and I've noticed there are not a lot of places to get pizza on campus, so I'm looking forward to this addition," Kassardjian said.
Other students who have never tried the pizza franchise said they are excited to test it out.
Amol Sachdeva, a third-year business economics student, said he was unfamiliar with the franchise but is happy there is another dining option on campus that serves pizza.
"I'm a big fan of pizza, so I think that's pretty convenient and especially if your class is there," he said.