Men's tennis looks to maintain lead in 10-year match record against USC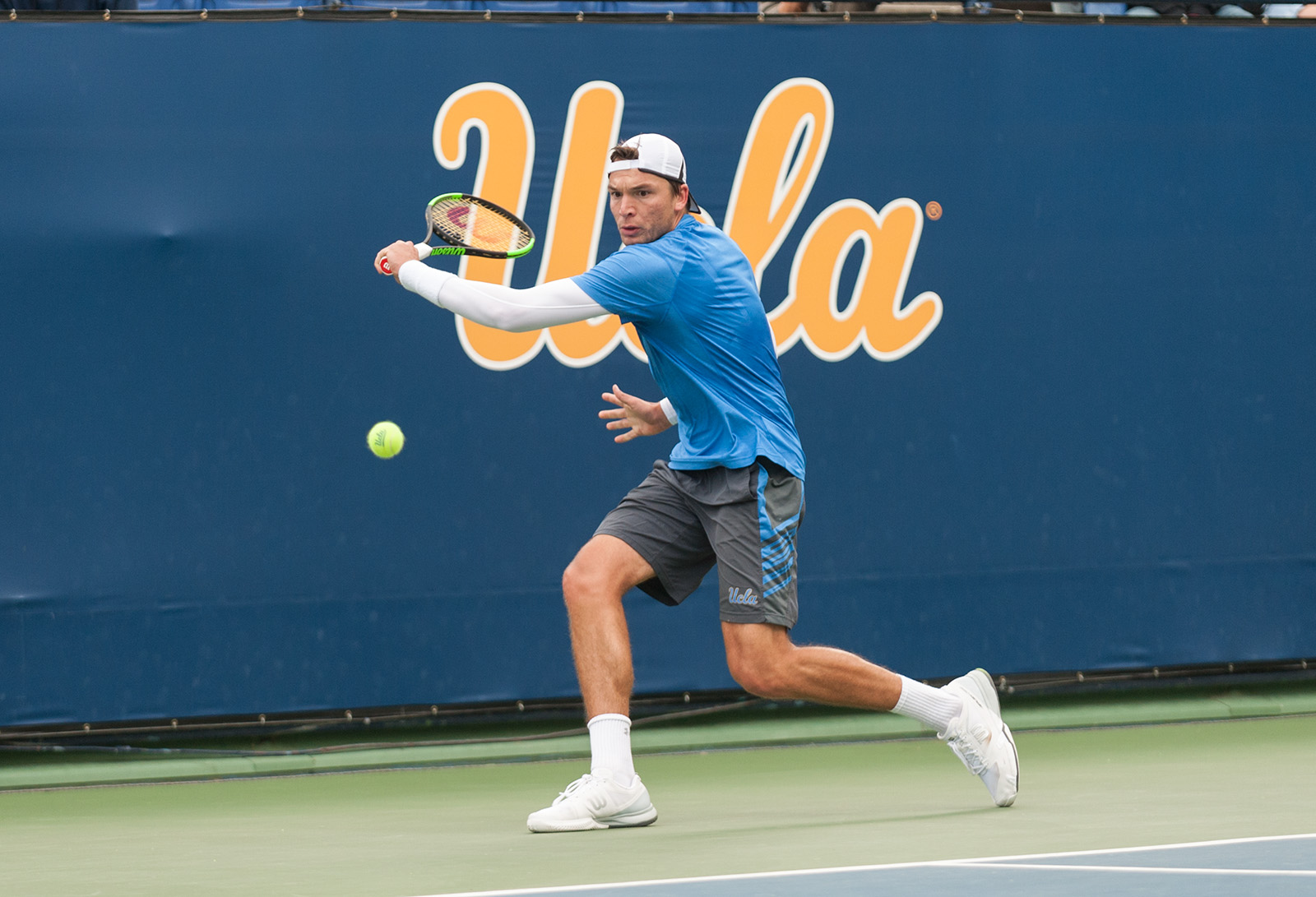 No. 1 Martin Redlicki will face a familiar singles opponent in Brandon Holt of USC. Back in February, their last match went unfinished in the third set. The senior said he looks to come out stronger in the rematch on Friday in Trojan territory. (Alice Naland/Daily Bruin)
Over the last decade, Bruin tennis has maintained a slight edge over its crosstown rival in head-to-head matchups.
UCLA men's tennis holds a 13-12 advantage over USC in matches since 2008. The No. 2 Bruins (19-2, 4-0 Pac-12) will travel to Marks Tennis Stadium on Friday with the aim of a regular-season sweep this year of the No. 13 Trojans (12-6, 3-1).
"I think it's the one on the calendar that you have to be ready for," said sophomore Ben Goldberg. "To play USC at home is great because you have the support, but going to USC is even more special because it's us against everybody else."
Following three consecutive wins over spring break, UCLA jumped from to No. 4 to No. 2 in the ITA rankings. Though the Bruins have won their last eight matches, coach Billy Martin noted the unique atmosphere of Trojan territory.
"They have great booster alumni, fan support," Martin said. "I think it really tests the fortitude of our players – the maturity of them mentally as much as their tennis ability."
At home against USC, the Bruins took the doubles point with the No. 11 pair of freshman Keegan Smith and senior Austin Rapp defeating Laurens Verboven and Jack Jaede 6-0. Since this matchup, the doubles lineup has secured five out of a possible six doubles points.
Also back in February against the Trojans, the court one singles match between No. 1 senior Martin Redlicki and No. 13 Brandon Holt was left unfinished in the third set. Redlicki said he will look to come out strong in the rematch.
"He was up a little bit in the third set on me," Redlicki said. "Maybe (he) thought he should have won. I think he's going to come out hungry to win, but so am I because I came out the last time not as sharp as I could have."
Holt hails from coach Martin's hometown of Rolling Hills, California, and was recruited by UCLA less than two years ago.
"Holt we've known before he even went to USC," Martin said. "I recruited him – he's already done fantastic things for (USC) as a freshman last year."
In the back of the singles lineup, Martin said there would be new matchups, such as Smith taking on Jaede on court three. Smith triumphed over USC's Logan Smith while Jaede fell to UCLA junior Maxime Cressy on court five at home earlier this season.
However, the match on court two between No. 84 sophomore Evan Zhu, the current Pac-12 Player of the Week, and No. 75 Daniel Cukierman, will be a rematch. Cukierman dealt Zhu a 6-2, 7-5 loss.
"(USC's) player beat (Zhu) quite handily the first time they played here," Martin said. "I'm hoping (Zhu) can step up, have a better chance to win."
This upcoming match is the Bruins' chance to protect their slim lead over their crosstown rival.
"We know they're going to be ready for some revenge – as we would have if we had lost the first match," Martin said. "(I'm) certainly looking forward to a very tough battle."
Rae joined the Bruin as a freshman in 2017 and contributed until 2018. She spent time on the men's tennis and men's water polo beats.
Rae joined the Bruin as a freshman in 2017 and contributed until 2018. She spent time on the men's tennis and men's water polo beats.