Seniors leave behind extensive legacy for women's basketball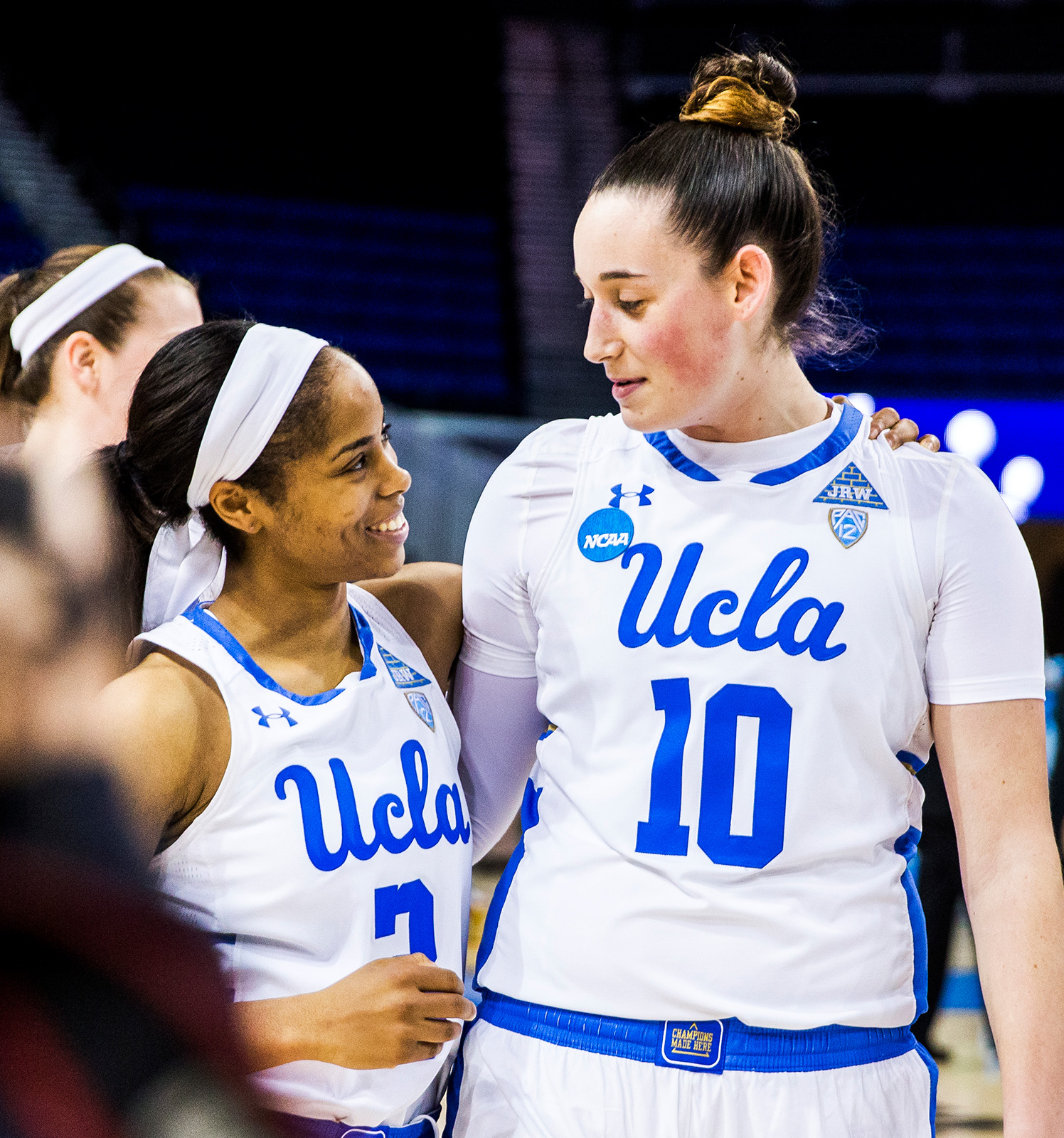 Senior point guard Jordin Canada (left) and her teammate, sophomore forward Ally Rosenblum, celebrated the Bruins' third straight trip to the Sweet 16 this season. The victory over Creighton on March 19 was Canada's final home game at UCLA. (Kristie-Valerie Hoang/Assistant Photo editor)
Leaving a legacy – that's why they chose UCLA.
"The word 'legacy' is a powerful word. Most people think of it as banners and winning tournaments," said senior guard Kelli Hayes. "Yeah, those are great. But legacy is the person that you've become and the growth that you've made. … It's how you impacted people on and off court."
UCLA women's basketball's NCAA Tournament run tied the program's best finish with its season ending in the Elite Eight after an 89-73 loss to Mississippi State two weekends ago. The elimination from the postseason, however, stung a little less this time.
"Regardless of the results tonight, (our legacy) overpowers this loss," said senior guard Jordin Canada.
The Bruins will bid farewell to one of the winningest senior classes in program history.
During their four years, the senior trio – Canada, Hayes and forward Monique Billings – led the Bruins to a 97-44 record. Despite it being UCLA's most successful four-year run in nearly 40 years, the impressive numbers simply scratch the surface of the seniors' legacies.
They helped UCLA knock off a top-three team in the regular season for the first time in nine years, led the program to three straight Sweet 16 appearances for the first time in program history and reached the Elite Eight for the first time since 1999.
Coach Cori Close struggled to fully reflect on the imprint the seniors will leave behind following the loss to the Bulldog.
"(It's) hard to put into words," Close said. "But for me, the legacy that is deepest is the way they've bought into our uncommon transformational experience. … I don't think I could have asked any more of those three seniors about who they have become and how they've impacted people."
A handful of those impacted are their current teammates who have looked up to the three as role models.
"It's going to be hard to live up to because they're three great players," said junior transfer guard Japreece Dean, a reserve who has developed her game by playing alongside Canada.
Despite playing together for only one season, the potential spark of a point guard rivalry instead naturally gelled into an inseparable friendship.
"(Canada and Dean) have a very special relationship," Close said after the season-ending loss. "I know that there was probably no person quicker to tears than (Dean) in our locker room … (because) she was fighting so hard for (Canada)."
After finding out the Texas native was spending Thanksgiving by herself, Canada's parents invited Dean to spend the holiday with them.
The duo's friendship blossomed from there.
"I think that (was) just her being there for me," Dean said. "(And then) leading me and trying to change me into a great point guard is how (our friendship) developed."
Dean and Canada shared special moments at the Sprint Center – small memories that contribute to the program's definition of the word "legacy."
When the buzzer sounded as the Bruins advanced to the Elite Eight, Dean was the first teammate Canada hugged to celebrate the victory. Two days later, Dean was also the first teammate the senior draped her arm around after falling short in making the program's first Final Four.
"(She just told me) that I competed," Dean said. "And to be ready next year to lead the team like she did."
Canada and Billings have been invited to attend the WNBA draft selection show in New York City, an invitation reserved exclusively for projected first-round picks. Billings recently lost her status as a projected first rounder when Conneticut forward Azura Stevens chose to forgo her senior season to enter the draft, but she'll still join Canada – projected to be selected by the Seattle Storm in the first round – in New York.
The Bruins will return junior guard Kennedy Burke and redshirt junior forward Lajahna Drummer to join Dean as seniors next season. Freshman forward Michaela Onyenwere, who was often first off the bench this season, along with forward reserves freshman Lauryn Miller and sophomore Ally Rosenblum, will all return as well.
"For my teammates in the years to come, I know that they have a lot more to keep building toward," Billings said. "I think we set the foundation for that, and they have good things to look forward to."
As Canada passes the baton over to Dean, the seniors have also established the foundation for the rising stars to build upon the legacy.
"That's why we came here," Canada said. "I wouldn't trade it for the world."
Hong is the 2019-2020 Managing editor. She was previously an assistant Sports editor for the women's basketball, men's water polo, women's water polo, women's tennis, and beach volleyball beats.
Hong is the 2019-2020 Managing editor. She was previously an assistant Sports editor for the women's basketball, men's water polo, women's water polo, women's tennis, and beach volleyball beats.