UCLA beach volleyball to host USC, Long Beach State on Senior Day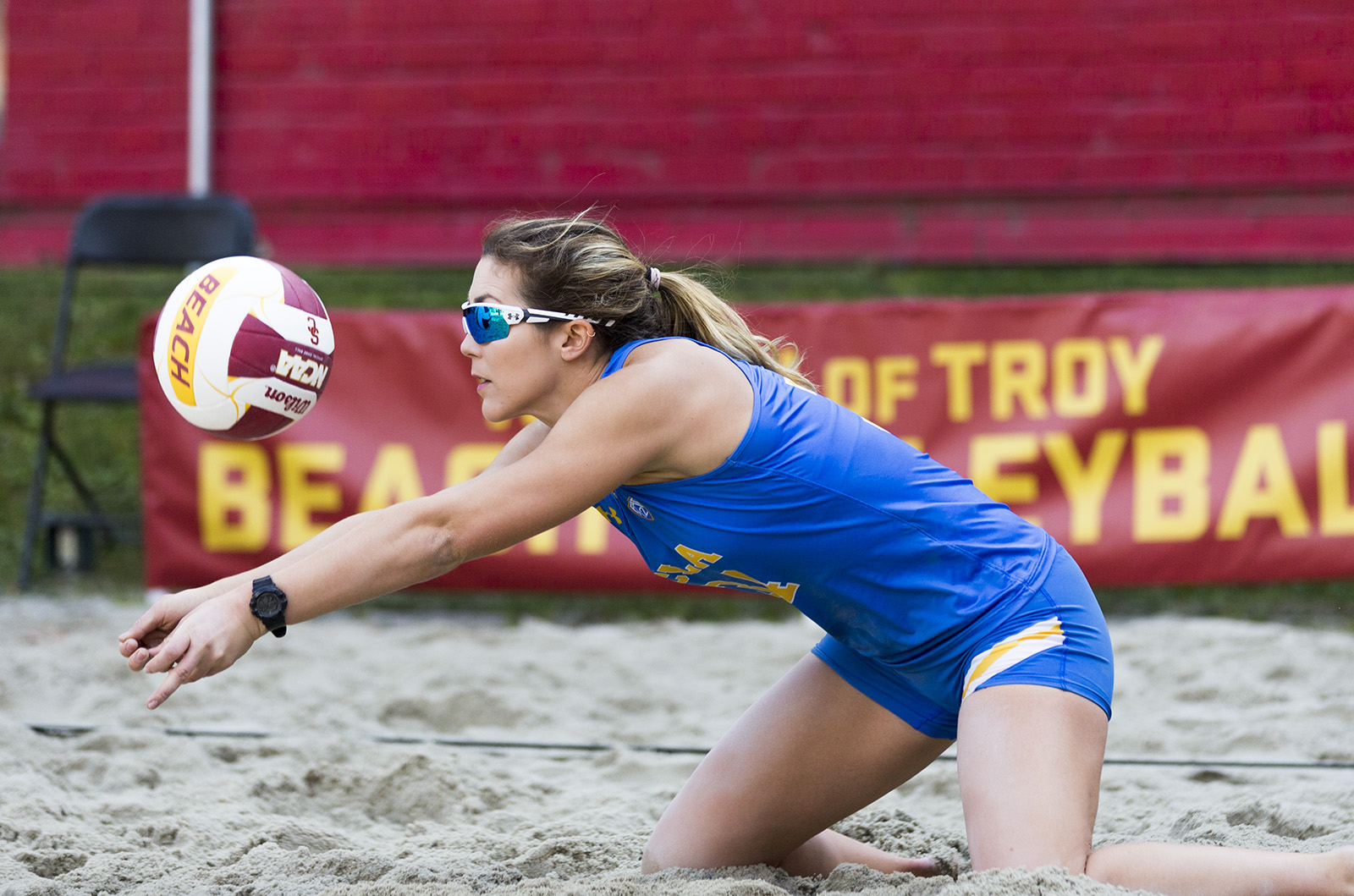 Elise Zappia will play her final home matches at UCLA as the Bruins take on Long Beach State and USC. The senior is currently paired with freshman Mac May this season and plays primarily on court four. (Aubrey Yeo/Daily Bruin senior staff)
As the lone senior consistently in the lineup, Elise Zappia will play in front of a home crowd for the last time.
"I haven't really given it much thought," she said. "I'm still processing, but it's definitely bittersweet. There's been a lot of great memories up here at (Sunset Canyon Recreation Center) so I think I'm just looking forward to making more great memories up here."
No. 1 UCLA beach volleyball (24-3) will have Senior Day on Wednesday while hosting No. 6 Long Beach State (18-3) and No. 4 USC (17-7) at Sunset Canyon Recreation Center.
The Bruins were recently given the top spot in the rankings for the first time in the history of the program after defeating six top-20 teams last week. UCLA is also coming off 19 consecutive wins, including victories against then-No. 1 Pepperdine and then-No. 3 Hawaii – two teams that the Trojans and 49ers have not been able to beat this year.
Although the Bruins competed against five teams in Miami this weekend, coach Stein Metzger said he expects the team to be fully recovered for Wednesday's matches.
"In our sport, there's no rest for the weary," Metzger said. "It's a fast season, but we train for this. In the fall, we did an exceptional amount of conditioning, so the team's prepared for situations like this."
UCLA has yet to face Long Beach State this season. Though the Bruins have not lost to the 49ers since 2015, Zappia said the game will not be easy.
"Anytime I've played (Long Beach State), it's always been a tough match," Zappia said. "They're great players, fundamentally sound, and they run a lot of plays on offense, so you have to be reading well on defense and playing your best game."
The Bruins have not faced the Trojans since the second week of the season when the two teams split a pair of matches. This will be the first time the two teams compete against each other on Bruin territory in the history of both teams.
Since the two teams last met, junior Izzy Carey said UCLA has gained confidence in its ability to win games.
"I think we've finally fallen into our groove," Carey said. "We've had the same partners for a while, (and) we've grown confident with those partners whereas USC is still trying to make some changes."
The Trojans seem to be struggling to fill the No. 5 position in their lineup as they've had seven different pairs play on that court. Their best pair to fill that role seems to be Katrina Kernochan and Alexandra Poletto with an overall 6-4 record – a record that trails behind UCLA's court 5 of Carey and freshman Megan Muret, which boasts a 22-5 record.
USC is a three-time national champion and has held dominant records the last three years. However, the Trojans have not been able to sustain more than a six-match win streak this season.
"The Trojans for the past three years have been the No. 1 team to beat," Carey said. "So we've always been the underdogs in that situation and I think that this is really the first matchup we've had against them where they're titled."
Metzger said the Trojans are not as experienced as they've been in the past given they've lost a lot of seniors. He added that while USC can rely on being one of the tallest teams in the country, UCLA can rely on having strong ball-control skills.
Zappia, who will face her crosstown rival for the final time during the regular season, started off as one of the first freshman recruits of the UCLA program. UCLA will honor her alongside fellow seniors Lexi Jasper-Baylin and manager Kristin Phillip.
With four years as a Bruin player, Carey said Zappia has seen the growth of the program and consistently been a strong motivator for the team.
"(Zappia) is the person who really gets our team to believe that we can win a national championship as well as every single game we play," Carey said. "Two years ago, (Zappia) was saying 'this is our year to win, we can do it.' And now, we really truly believe her."