New USAC position for international students added to spring ballot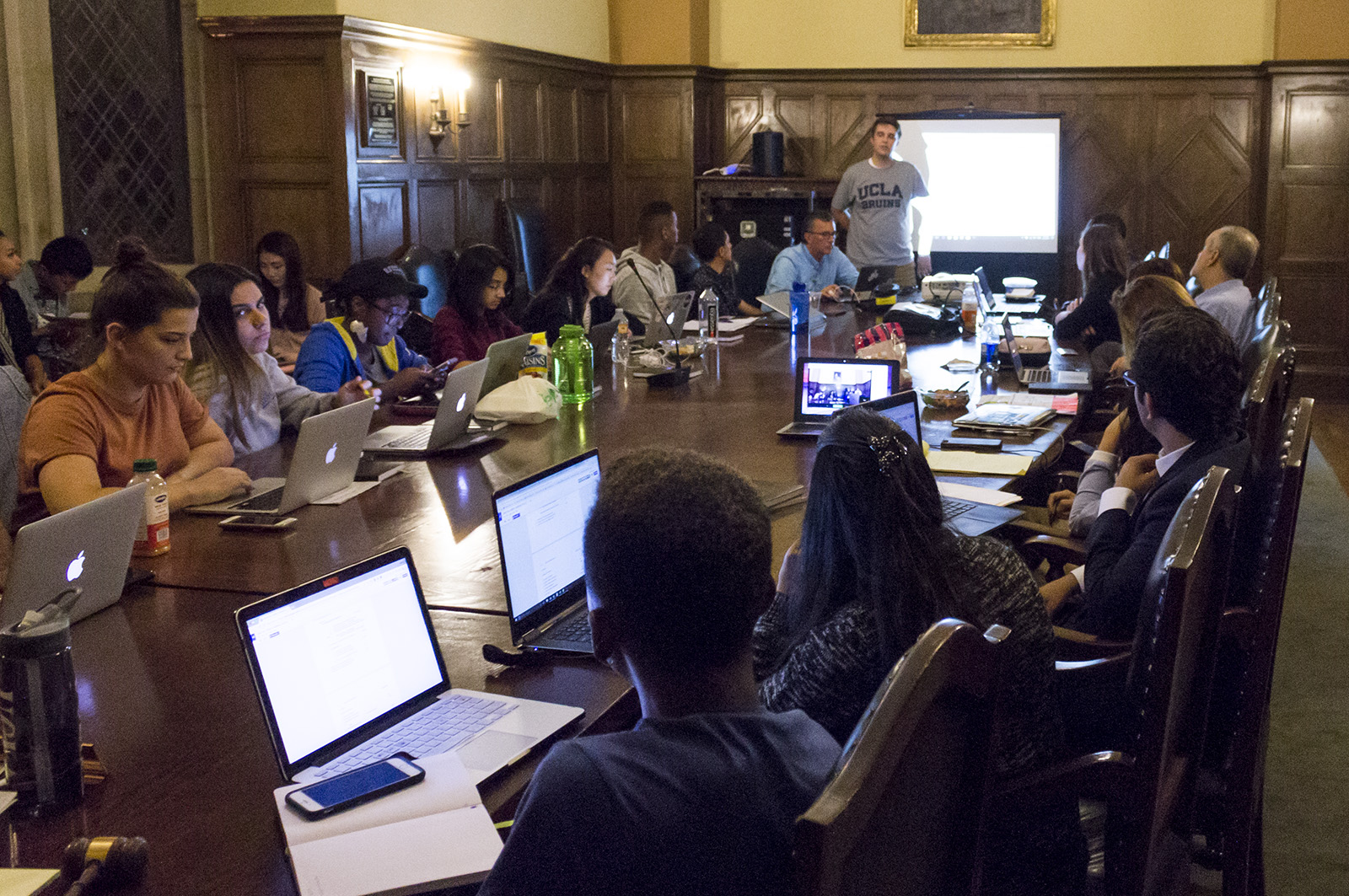 Students will be able to vote for an amendment to create an Undergraduate Students Association Council position for international students. The position would serve as an intermediary between USAC and the Dashew Center for International Students and Scholars. (Daily Bruin file photo)
The undergraduate student government may introduce a position to represent international students, following a vote at its Tuesday meeting.
The position, which the Undergraduate Students Association Council voted Tuesday to put on the spring election ballot, is modeled after the transfer student representative and would serve as a liaison between USAC and the Dashew Center for International Students and Scholars. General Representative 2 Kayla He, one of the council members proposing the position, said the representative could meet with administrators and discuss issues specific to international students, such as the University of California Board of Regents increasing nonresident student tuition last month.
The council spent about four hours deliberating adding the amendment to the spring ballot. The council briefly had to adjourn in order to let the Constitutional Review Committee review the proposal. The CRC must approve and recommend all constitutional amendments before they reach the council. However, council members felt the CRC did not have chance to properly review the proposal.
Council members on the CRC held a meeting to review the proposal for 15 minutes in a hallway outside the USAC president's office, while other council members took breaks and conversed with each other about the proposal.
Council members raised several concerns about the proposal. USAC President Arielle Yael Mokhtarzadeh said she was concerned the position could be used as a tool for councilmembers to advance their political ambitions and that the process of debating the amendment had been rushed.
Cultural Affairs commissioner Malik Flournoy-Hooker said he was concerned an international student representative would not be intersectional enough, and would not properly represent enough communities.
"(This position) sounds like low-key segregation," Flournoy-Hooker said.
Some council members also suggested modifying the proposal to instead create a nonresident student representative, arguing that out-of-state students face similar issues to international students.
At 11:30 p.m., the council voted 10-2-1 in favor of putting the amendment on the ballot.
Students have not voted on the creation of a new council position since they approved the creation of the transfer student representative position in 2014. After the vote, the council would have to pass a bylaw specifying the position's duties and hold the first election to fill the position in spring 2019. Any undergraduate student, regardless of citizenship or nationality, could run in the election, said Debra Geller, USAC administrative representative.
He said she developed the proposal by working with Internal Vice President Vivy Li and international student leaders such as International Student Leadership Coalition President Ashraf Beshay and Chinese Students and Scholars Association at UCLA President Jubing Ge.
Li said she was inspired to work on the proposal after one of the interns in her office showed her a similar proposal in 2015 brought forward by then-General Representative Aaliya Khan.
International students have historically not had a major presence on the council, and USAC does not often interact with international student groups, said Ayesha Haleem, the external vice president of the UCLA Pakistani Student Association.
"Having (He) on (the council) is the first time USAC has reached out to international student groups," Haleem said.
Haleem, a third-year political science and international development studies student, said previous USAC efforts to support international students, such as former USAC President Danny Siegel's Committee of International Relations, did not reach out to students who were not already involved in student government.
"Previously, a lot of (USAC efforts) remained within the USAC bubble and minimal efforts were made by the council to reach out," Haleem said.
Ge, a fourth-year global studies and economics student, said she thinks USAC did not conduct enough outreach to CSSA, one of UCLA's largest international student organizations, for co-programming and advocacy efforts prior to this year. She added that many Chinese international students are not aware of USAC and its functions when they enter UCLA.
"When I (went into my first USAC meeting), I was kind of nervous, because I only know two or three people in that room, and the others are not familiar faces to me. But that's also the reason why I want more international students to get involved in USAC," Ge said. "If there's one international student in USAC … and she got her friends interested, more and more people would join USAC and join the UCLA community."
Ge added she thinks having a USAC position for international students would help them better navigate UCLA's bureaucracy.
"My organization is kind of different from USAC. I cannot deliver my voice to the right person because there's not a group of people who are accountable to us," Ge said. "I think we want to create (the International Student Representative position) because … I want to deliver the voice to the right person."
He said she thinks the position is relevant as more international students become involved in campus political issues.
"I would say more (international students) are realizing they can make the changes they want and demand at UCLA," she said.
Khatri was the Daily Bruin Copy chief from 2018-2019. He was previously a slot editor in 2017-2018, Copy staffer and Copy contributor. He was also a News contributor.
Khatri was the Daily Bruin Copy chief from 2018-2019. He was previously a slot editor in 2017-2018, Copy staffer and Copy contributor. He was also a News contributor.