UCLA social organization provides support for acquired brain injury victims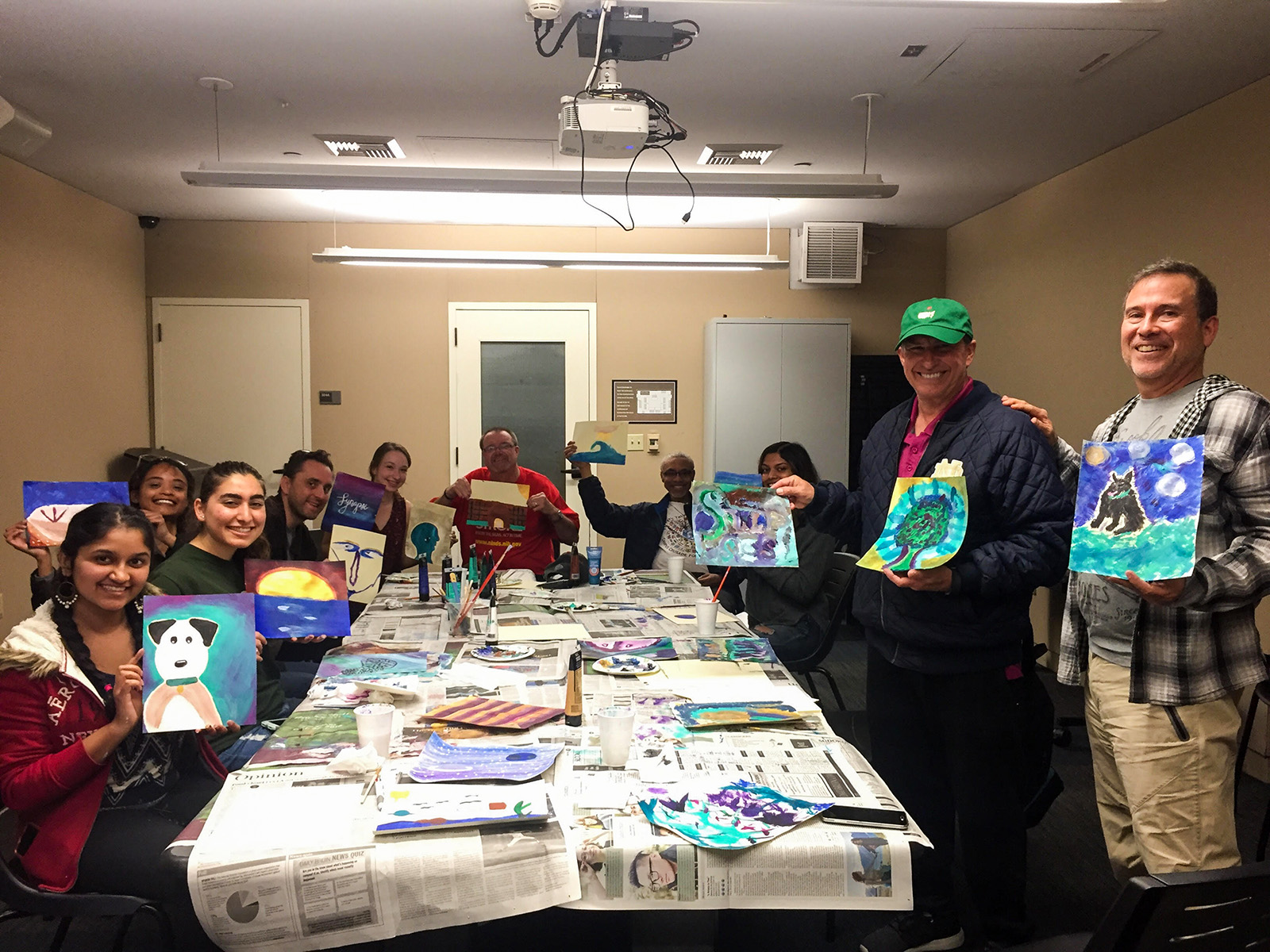 Synapse, a social support group for victims who have suffered traumatic brain injuries, illnesses or stroke after birth, offers a buddy system that connects student members with victims. (Photo courtesy of Pranathi Rao)
A patient Nina Cherian works with did not lose his love for golf even after his stroke two years ago.
"He really likes to play golf, and he says that when he plays golf, he feels like the way he was before he had the stroke," said Cherian, a third-year neuroscience student.
Cherian is vice president of quality control for Synapse, a social support group for victims who have suffered traumatic brain injuries, illnesses or stroke after birth, also collectively known as acquired brain injury victims. The group offers a buddy system that connects student members with victims and holds talks with faculty on acquired brain injury. Synapse, which started fall of 2017, held a painting social in March during which club members interacted with stroke survivors.
Melissa Trieu, a fourth-year molecular, cell and developmental biology student and the club's co-president, said she thinks brain trauma victims face significant social consequences as a result of their injuries.
"When people with brain trauma lose motor function, people tend to treat them differently and not spend as much time with them," she said. "They can also become reclusive and keep to themselves."
Pranathi Rao, a fourth-year neuroscience student and Synapse's other co-president, said the buddy system aims to help traumatic brain injury victims deal with the social consequences of their injuries. She added patients liked the buddy system because many do not have someone they can talk to on a regular basis.
"The victims were really excited about what we do because the hospital doesn't give them that part of the healing process," she said.
Rao said the club's March event taught her about victims' varying comfort levels with their injuries.
"There was a man who had a stroke nine years ago (and) was very open to making light of his stroke, while others who had strokes more recently were less comfortable," she said. "It's important that we consider the circumstances of stroke victims when dealing with them."
Another stroke survivor had to relearn how to write and paint with his left hand because the right side of his body was paralyzed, Rao said. However, she added he continued to be energetic and passionate about painting.
"He completed paintings in an hour that others had trouble completing in three or four," she said.
Cherian said the buddies she met at the painting social inspired her with their tenacity and hope.
"One person painted a picture of a light at the end of the tunnel because he said it was what kept him going during his stroke," she said.
Trieu said Synapse plans to collaborate with other neuroscience organizations on campus in the future and invite more faculty to speak at Synapse events. For example, she said the club plans to work with groups that support athletes who suffer from concussions.
"We definitely hope for growth in the future," Trieu said. "As more people express interest in what we do, we hope to have buddies ready for them."
Trieu said Synapse members develop a variety of skills and traits such as compassion, adaptability and open-mindedness.
"As a buddy, you have to be prepared for intense conversations depending on their comfort level," she said. "It's great that buddies feel comfortable sharing such important parts of their life with each other."
Rao says she hopes Synapse recruits more club members and is able to help more brain injury victims.
"I hope Synapse sets out to do what it promises. I want to be a social support for people with brain injury," she said. "I hope the campus hears us and reaches out, because we would love more undergraduates."