Q&A: Chancellor's immigration advisor talks undocumented student assistance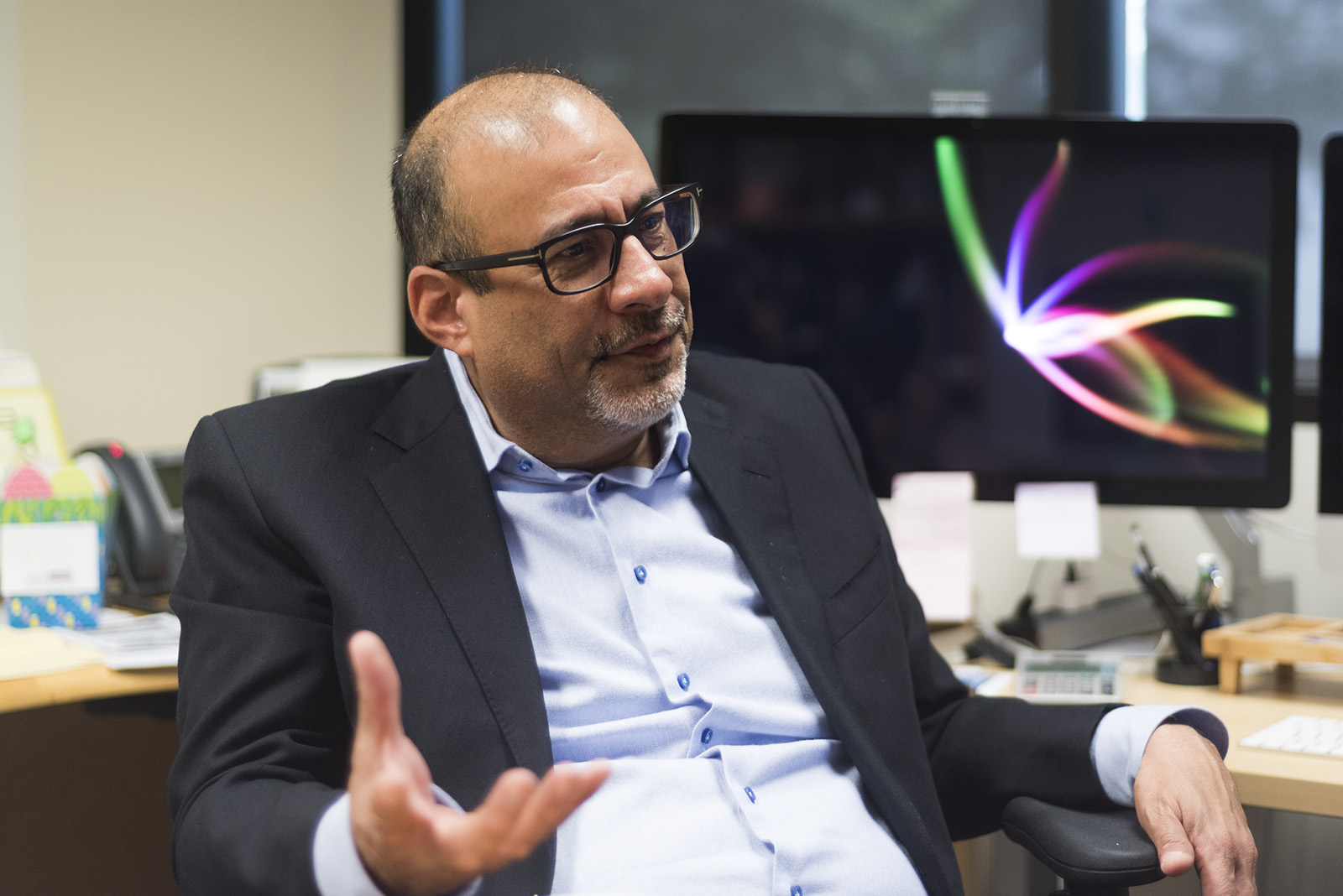 Abel Valenzuela, special adviser on immigration policy to the chancellor and a Chicana/o studies professor at UCLA, recently sat down with a Daily Bruin reporter before an immigration town hall that will take place Thursday. (Michael Zshornack/Photo Editor)
The Chancellor's Advisory Council on Immigration Policy will hold a town hall Thursday to inform students about the steps UCLA is taking to support undocumented and international students. The event will feature tabling by different campus entities, such as the Undocumented Student Program, and a panel of administrators including Jerry Kang, vice chancellor for equity, diversity and inclusion.
Abel Valenzuela, the chancellor's special advisor on immigration policy and a Chicana/o studies professor, sat down with the Daily Bruin's Rupan Bharanidaran in advance of Thursday's event to discuss UCLA's response to changes in federal immigration policy, including the end of the Deferred Action for Childhood Arrivals program.
President Donald Trump announced in September the end of DACA, a program that deferred deportation for undocumented individuals brought to the United States as children. However, following a federal court ruling, current DACA recipients will continue to be able to renew their status while courts review lawsuits filed against the Trump administration's decision to end the program.
Daily Bruin: Your position and the ACIP were created only last year. Can you give a brief overview of them and why they were created?
Abel Valenzuela: Last spring, shortly after the inauguration of the Trump presidency, the chancellor, along with senior administrators, made the decision to create what is called the Chancellor's Advisory Council on Immigration Policy. I co-chaired that with law professor Asli Bali – we did that for about six months, more or less. It happened in February and we worked until June, and then I had conversations with the chancellor and provost about stepping up and taking on one of the recommendations that the council had made, which was to appoint a faculty member to work on these issues, at least part time, if not more. The idea was that putting up a faculty member in this role would really allow the faculty member to open different sorts of doors, speak with students a little bit differently and navigate a changing political landscape.
DB: What are some of the issues the council has worked on so far?
AV: We've learned from Berkeley and UC San Diego, who had students detained by (Immigration and Customs Enforcement). Our council and some of the staff who helped me studied some of the policies and made recommendations, which we used to put together a detention protocol in the likely case that a student at UCLA, either an undergraduate and graduate student, is detained. (It details) how would the campus respond, what sorts of mechanisms are in place to assist the student to be released, to provide the student with legal help and what happens after release. That document is in its final stages, and is being vetted out. … If a student were detained right now, we would have a good guide to help that student obtain release.
We are (also) thinking about how we might use this period as an opportunity to raise resources to help international and immigrant students. Later this week, we are going to launch a crowdsourcing campaign, and we have different sorts of pledges to make challenge grants. The funds will go toward financial aid and scholarships for undocumented and international students and other student services, specifically for legal help, short-term emergency loans, bond money in the case of detention … and resources that might help augment staff related to counseling and other sorts of support services.
One of the recommendations that was made by a council member was that we should somehow let high school students know that UCLA has in place efforts to assist undocumented students as well as international and other students. We can actually give them examples of different things, including the Undocumented Student Program. There's a way to articulate these efforts to high school students who're wondering about their status and the rhetoric and what a school like UCLA might be doing. We are working with enrollment management to put together a flyer that they can pass out, and I think that's just the beginning of a more targeted sort of outreach effort.
We just started having conversations with campus administrators related to petitions to have an extra year at UCLA, or extra quarter. There exists an initiative that was called Challenge 45 that enabled students to complete their degree in four years, and they're pretty strict about that. UCLA wants you to get out within four years, it's reasonable. Well, when things were less strict, in terms of enrollments, one of the things that undocumented students would do when there were few protections was to stay on campus for an extra year. It makes intuitive sense for all kinds of reasons; you're taking courses here, you're building human capital. But more importantly, it provided a safe space, something to do on a regular basis. Then came AB 540, (then DACA, which) really opened the door to employment, and so a college degree meant event more.
Now we have termination of DACA. Though it still exists, it's making its way through the court system. There doesn't seem to be a political fix. You have now students who have this status thinking of different nonemployment strategies. One thing we heard is some petitions for an additional quarter or two are not being approved. And so we are looking into that. We think it's reasonable if a student would like to spend an extra quarter or two.
DB: What steps is UCLA is taking to advocate for a Dream Act?
AV: I'm always hopeful there will be a legislative fix. We have a process in place, and I participate in reaching out to elected officials. I really do believe that there has to be a legislative fix. Is it going to happen in the next 12 months? I'm not certain about that – I don't see it. I think we're entrenched until the midterm elections. My hope is that shortly after that there will be some renewed spirit to pass something legislatively. Elections matter; we have to make that difference count at the poll and put in elected officials who will legislate and pass sensible policies related to immigration and, in particular, undocumented immigration.
DB: Some claimed that UC Berkeley did not adequately support one of its undocumented students who was detained by ICE in January, and the university received a lot of criticism for that. How do you think UCLA can learn from how UC Berkeley handled that situation?
AV: We reached out to them; they had a very odd sort of legal apparatus connected to their campus. Just in contrast, we have in-staff lawyers earmarked, dedicated to UCLA students. Anybody who has questions related to their visas, to their immigration status, can go see a lawyer on our campus, at the Bruin Resource Center. At Berkeley, it's different. They might have a lawyer who comes in and meets with students, but that lawyer is actually housed at a community-based organization outside of campus. To me, that raises questions of control and oversight and response time.
There were also concerns about communication, and one of the things we have really tried to do is make more central some of what the administration is doing related to our efforts. We have a system in place whereby I get a lot of emails related to immigration, (and) I have direct channels to the chancellor and different vice chancellors as well. We have a more centralized communication and are therefore able to respond much quicker to different sorts of situations, and would contrast what we're doing with what Berkeley didn't do. In all fairness, it's a lesson that we could learn and apply, though.
Bharanidaran was the News editor from 2017-2018. He was previously a news reporter for the campus politics beat, covering student government and the UCLA administration.
Bharanidaran was the News editor from 2017-2018. He was previously a news reporter for the campus politics beat, covering student government and the UCLA administration.