Kopan Ramen expands to Westwood, serves up bold options for students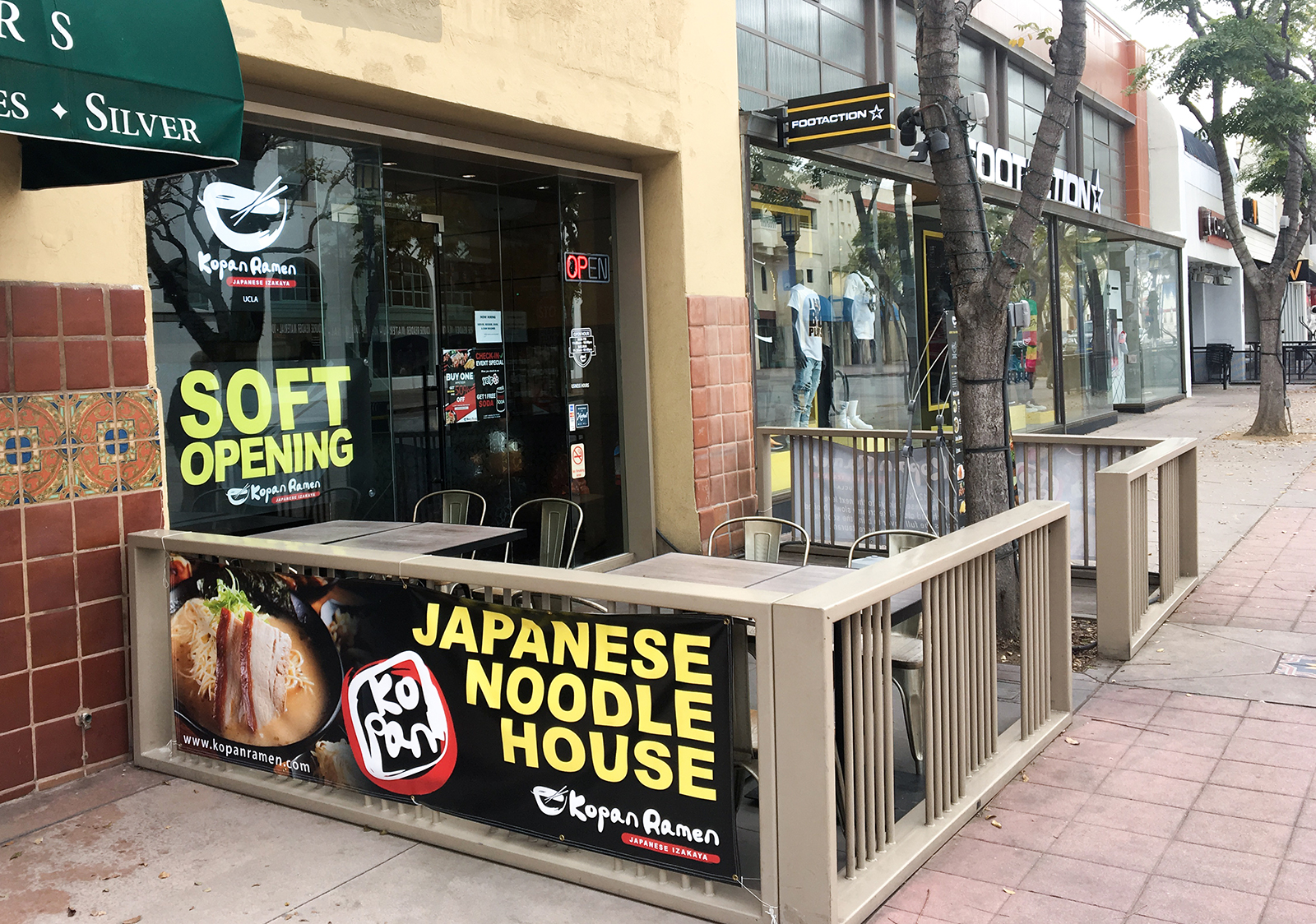 Kopan Ramen, a new restaurant in Westwood, specializes in tonkatsu, or pork broth ramen. The restaurant specifically caters to teenagers and college-aged people. (Michael Zshornack/Photo editor)
Correction: The original version of this article incorrectly identified Lincoln Sedlacek as a woman. In fact, Sedlacek is a man. It also incorrectly named Wilshire Boulevard as Wilshire Avenue and tonkotsku as tonkatsu.
Students can now slurp up ramen at another restaurant in Westwood.
Kopan Ramen, a restaurant that serves Japanese-style noodles with meat broth, opened its 10th location in Westwood on March 27. The restaurant specializes in tonkotsu, which is pork bone ramen, and has 10 locations in Southern California. It also offers veggie ramen.
Harry Lee, manager of the restaurant, said Kopan Ramen opened near UCLA because it is specifically designed to cater to teenagers and college students. He added Kopan Ramen makes its own ramen noodles.
"Old generation, to them it's kind of a weird food as they think it is unhealthy," Lee said. "They think it contains too much fat and cholesterol and whatever."
Lee also said he is still investigating more ways to make the food enjoyable for his customers, including looking into their eating habits.
"The first thing that I check is whether they finish the whole meal or not and then I have noticed that so many bowls are empty," he said. "The second thing that I check is whether they left the food or they want to take out the food for their next day meal."
Lee manages five other Kopan Ramen branches, with locations in Encino, Burbank, Pasadena, Glendale and Koreatown. He said the restaurant recently added the Westwood location to Yelp and hopes to get more positive feedback.
Some students and Westwood community members said they enjoy the restaurant's style of ramen.
Wilson Ye, a third-year statistics and economics student, said he frequents many ramen restaurants throughout Los Angeles, including a restaurant in Sawtelle. Ye said that although he would have liked more vegetables in his ramen, he enjoys the options and flavoring style at Kopan Ramen and plans to return for more.
"The ramen (here) tastes very fresh and it matches my taste because I don't like oily stuff very much," he said. "I would say if you like Asian food or ramen, you should definitely try (it)."
Ye added he thinks Kopan Ramen's prices are reasonable and lower than other ramen restaurants in Los Angeles.
"In Sawtelle, I spent $20 on each ramen – because I like to add different ingredients so that costs money," he said. "But this one for the same ingredients, I paid $13 or $14."
Lincoln Sedlacek, who lives in Westwood, said he enjoyed the restaurant's black garlic ramen. He added he thinks the restaurant is conveniently located for Westwood residents living south of Wilshire Boulevard and has affordable options.
"This is the only ramen place for us that is within a 15-minute walking distance," he said.