Hillel allows students to exchange meal swipes for kosher food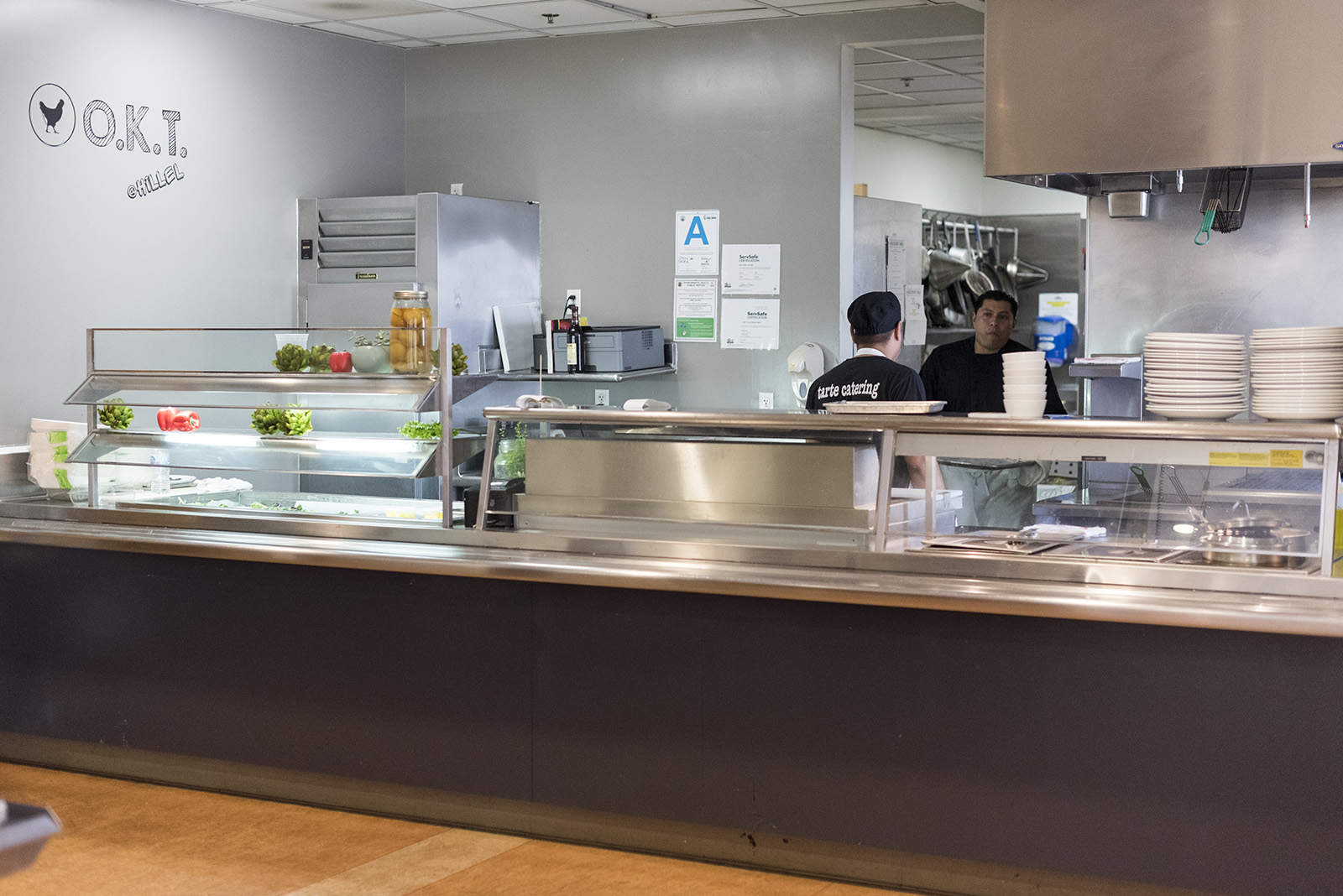 Students can now use their meal plan swipes to get kosher food at Hillel at UCLA's dining facility. (Daniel Leibowitz/Daily Bruin staff)
Students can now use their meal plan swipes to get kosher food at Hillel at UCLA's building on Hilgard Avenue.
Rabbi Aaron Lerner, the executive director at Hillel, announced the program Thursday on Facebook. Hillel is a campus group focused on cultivating the local Jewish community.
Lerner said the group had worked with UCLA for 18 years to put the program in place and various student groups have worked with UCLA Dining Services in the past to provide students with kosher food.
Dining Services introduced kosher options in dining halls in 2015, said Charles Wilcots, associate director of Dining Services. Kosher and halal dining options are available in Covel Commons Residential Restaurant at the Mezze Bar station, where students can pick up prepackaged meals that they preordered online for lunch or dinner.
Lerner said while he thinks the preorder service was a step in the right direction, it was still inconvenient for students who wanted to eat kosher.
"On a daily basis having to … log in, order the food, show up exactly when you're supposed to show up, get the food and then know that it's prefrozen was definitely an interim solution, not an ideal solution," he said.
Wilcots said the on-campus dining halls will continue to offer kosher alternatives.
Hillel had always offered kosher food at its second-floor restaurant, but students had to purchase food and could not use their swipes.
Leah Moyal, a fourth-year biology student and president of the Hillel student board, said this could put a burden on students living on the Hill because they were paying for meals at Hillel on top of the meal plans they had to purchase.
Moyal said when she lived in the dorms, she found it difficult to sustain herself with Dining Services' kosher options.
"The dining halls actually only offer very few (kosher) options … and when your entire diet is eating kosher, and you're limited to two or three things, it's a pretty negative quality of life," she said.
In contrast, Moyal said, Hillel at UCLA worked with catering company Our Kosher Table to provide more alternatives such as tempeh, tofu, salmon, steak and burgers.
Ma'ayan Epstein, a first-year pre-human biology and society student and a member of Hillel, said she thinks the new dining option will make the campus more inclusive.
"I have a lot of friends I went to high school with who … couldn't go to UCLA because they couldn't eat the food in the dining halls," Epstein said. "(This option can make) more people feel comfortable on campus."
Although the option was put in place specifically with Jewish students in mind, Lerner said it could also be helpful for Muslim students, as the halal and kosher food guidelines are similar.
Lerner added he hopes non-Jewish students will also try the food at Hillel.
"We want to be a place of interrelations and interfaith activity, and I hope that this dining hall will help us do that," he said.
Ye is a slot editor. She was also a slot editor for the 2018-2019 school year, as well as the 2017-2018 school year.
Ye is a slot editor. She was also a slot editor for the 2018-2019 school year, as well as the 2017-2018 school year.