IT Services staff member remembered for kindness, dedication, leadership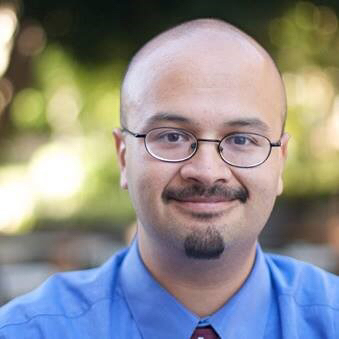 Ricardo Garcia, a staff member in UCLA Information Technology Services who worked at campus for almost 20 years, died in February. (Courtesy of Louisa Ovanesian)
UCLA staff members remember Ricardo Garcia for being a caring leader who was a mentor to his colleagues.
Garcia, a staff member in UCLA Information Technology Services who worked on campus for almost 20 years, died in February. The university is holding a memorial Thursday in Pauley Pavilion and flying the campus flag half-mast to honor Garcia's life and service, following a request from IT Services.
Several IT Services employees said Garcia was dedicated to his work and took the time to support his colleagues.
Louisa Ovanesian, an IT Services analyst with Bruin OnLine who worked with Garcia for nine years on various projects, said he had experienced various health problems over the years, including an infection that caused him to lose use of his muscles, but never let his sickness hinder his ability to perform his job.
"He was ill, but never went into how much pain he was in," Ovanesian said. "When we asked him, 'Hey, how are you?' he always had a positive outlook on life. He was very bright and cordial."
Ovanesian said that even on the days when Garcia was ill and couldn't physically make it to work, he would try to complete tasks from home.
"Even when he was sick, I would email him a question and … he would pick up the phone and call," Ovanesian said. "He never turned off his phone."
Mary Sharifzad, an email administrator for IT Services, said Garcia used his vast technical knowledge to help his colleagues with their projects.
"He knew so much, he was like a walking encyclopedia," Sharifzad said. "If I had any questions about emails or anything technical, I could call him and he would respond right away."
Jason Zhu, Garcia's former supervisor, said Garcia supported his colleagues by helping talk them through stressful times.
"After any problems, we could walk into his office and talk and you walk out with laughter and smiles," Zhu said. "He has this kind of magic to make people feel better and the problem go away."
Zhu said Garcia often gave his team members tips for dealing with personal issues.
"We talked a lot about life and family," Zhu said. "I talked to (Garcia) when I had a lot of stress, he could always tell a joke and make me laugh – we shared a lot of good times together."
Several of Garcia's friends and colleagues said they are still shaken and struggling to overcome his death.
Sharifzad said it is still difficult for her to speak about Garcia because of his sudden passing.
"I cannot (describe him) because I miss him every minute," Sharifzad said. "It was a huge tragedy – he was one of the nicest people I ever knew in my whole life."
Zhu said he thinks many people on campus still do not know of Garcia's passing, and hopes the memorial Thursday will help people remember his impact on UCLA.
"Out of the 250 (IT Services) personnel on campus, (Garcia) knew them all personally," he said. "We lost a mentor and the best technical guy on the team."