Editorial: UCLA cannot allow itself to become less accommodating of neurodiversity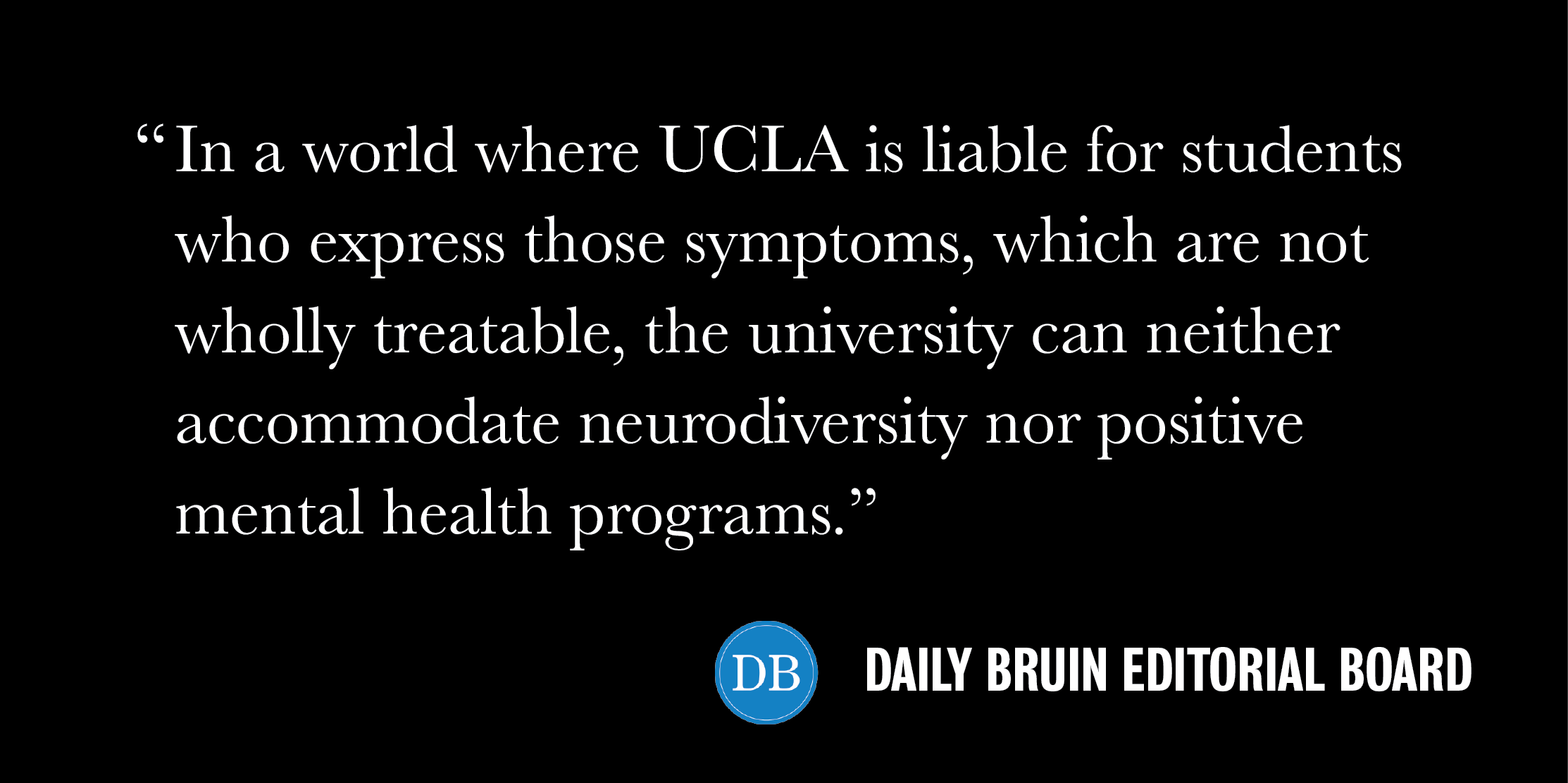 Universities are endowed with many responsibilities to their communities. As vanguards for advanced knowledge, institutions like UCLA are charged with providing a safe and inclusive learning environment.
The California Supreme Court, however, has opened the gates for universities to cross the line between protecting students and marginalizing those requiring mental health services.
Almost nine years ago, Katherine Rosen, a UCLA undergraduate, was stabbed during a lab by Damon Thompson, a fellow student. She proceeded to sue the University of California for negligence, arguing Thompson's mental health record was questionable enough to have had him banned from university housing. UCLA knew Thompson suffered from paranoid delusions and auditory hallucinations, and that he had told a teaching assistant he believed Rosen was disrespecting him.
A state court ruled in 2015 that the university is not liable for students' safety. Last week, however, the California Supreme Court determined otherwise, stating California universities have a special relationship with their students and a duty to protect them from foreseeable violence.
If courts decide to classify Rosen's life-threatening injuries as the result of "foreseeable violence" in her lawsuit, the way UCLA handles mental health care is in serious risk. As much as Rosen should be compensated for her injuries, accommodating a student with a mental illness should not be considered a liability. To penalize universities like UCLA for treating a student like Thompson would be to marginalize these students without any measurable benefit to campus safety.
The fact is Thompson's attack on Rosen was more random than predictable. University administrators had been monitoring Thompson at the time and campus doctors did not believe he met the criteria to be forced into a psychiatric hospital – something California only allows should patients show suicidal tendencies or plans to harm others.
Courts must ask the question: If students in Thompson's condition are red flags for violent behavior, what must the university do with them?
A court ruling in favor of Rosen quickly becomes a slippery slope. The university already assesses whether students are a danger to themselves or to those around them. Even in these cases, it must tread carefully to not overstep students' academic freedoms.
When universities like UCLA start to consider hallucinations and paranoia as red flags for future violent behavior, they must recalibrate how to treats students' mental health entirely. In a world in which UCLA is liable for students who express those symptoms, which are not wholly treatable, the university can neither accommodate neurodiversity nor positive mental health programs. It would have to become more defensive in the way it provides resources, if at all, for fear of litigation against it.
Laws exist to protect students with disabilities, and it's easy to believe a middle road can be carved out between accommodating students who are neurodivergent and protecting other students from them. But this logic relies on the stereotype that people with mental illnesses are inherently prone to violence. While Thompson's mental health may have played a role in how he perceived and reacted to Rosen, it does not mean everyone who experiences similar symptoms will behave the same.
The way we look at violence on school campuses has changed drastically from when Rosen was attacked. It's time we stop considering mental health a natural culprit for violence.
This doesn't mean campus safety shouldn't be of paramount concern for universities – only that it shouldn't come at the cost of marginalizing those with mental health conditions.