Softball continues strong season despite weekend of errors and injuries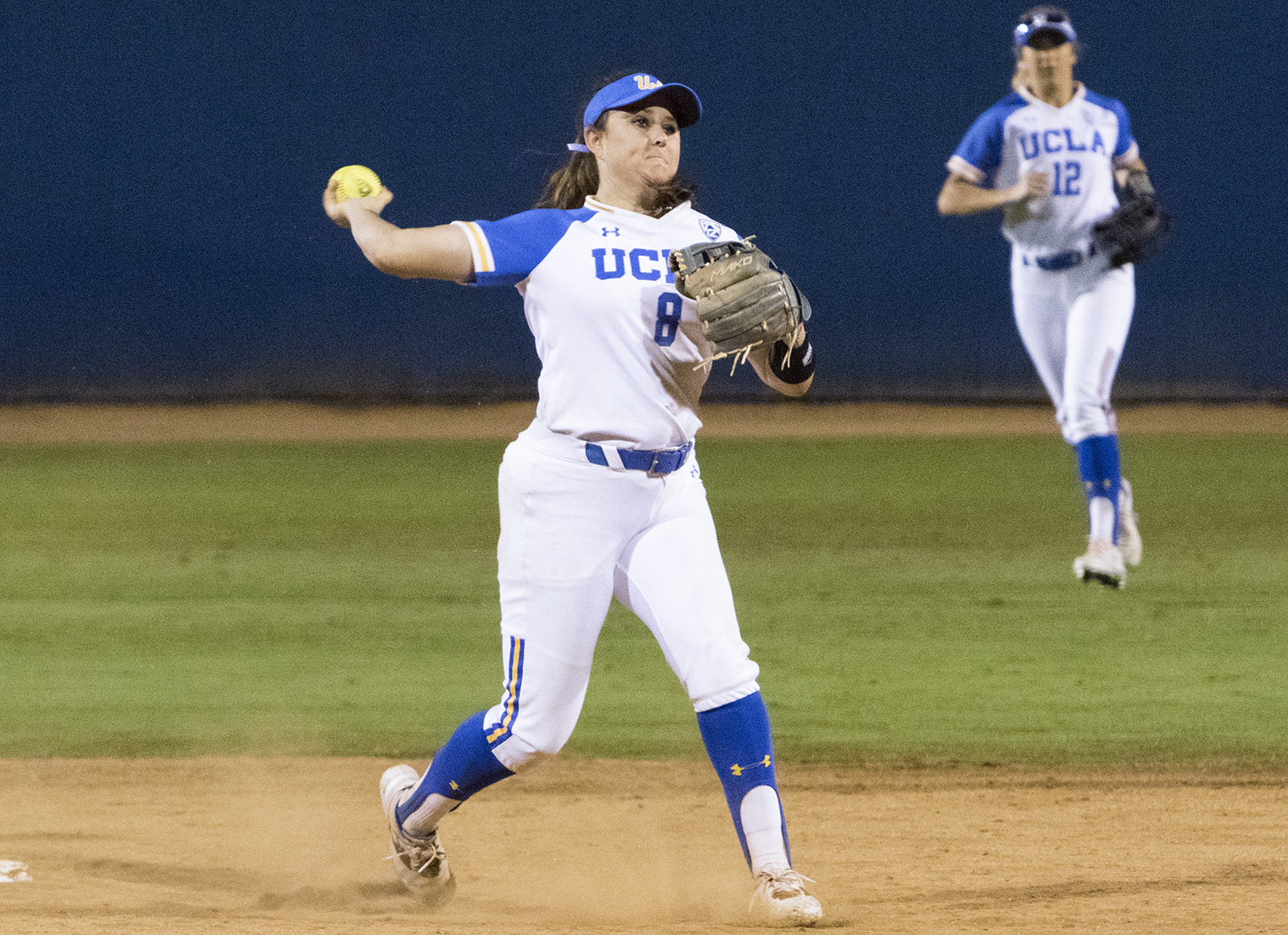 The No. 3 UCLA have their feet back beneath them after suffering a two-loss weekend to No. 5 Oregon in their Pac-12 opening weekend. Now, UCLA has swept two conference opponents in a row behind both strong hitting and pitching. (Ken Shin/Daily Bruin staff)
After dropping its first Pac-12 series against No. 5 Oregon, No. 3 UCLA softball has swept past then-No. 24 Oregon State and now Utah.
The Bruins (31-2, 7-2 Pac-12) defeated the Utes (17-15, 2-7) over the weekend with scores of 9-5, 7-3 and 9-4 to push their winning streak to six, doing so with an injury that limited redshirt sophomore Rachel Garcia to designated player duties.
"It was an outstanding sweep knowing our ace (Garcia) wasn't able to contribute in the circle," said coach Kelly Inouye-Perez. "For us to get the sweep without her says a lot about our depth, our ability to score runs and win without her."
Freshman Holly Azevedo took the mound for UCLA all three days, senior Selina Ta'amilo pitched on two days and senior Johanna Grauer pitched two innings Sunday as well.
Azevedo began her weekend Friday in relief for Ta'amilo, pitching two innings and striking out three. On Saturday, she did well for the Bruins throwing a complete game, allowing six hits, two earned runs and striking out five to pick up the victory.
After coming in to relieve Grauer on Saturday, the freshman lasted 1 2/3 innings giving up two hits, walking four with two earned runs.
UCLA leaned on its offense with Garcia unavailable and their pitching staff struggling to maintain a lead having twice relinquished a first-inning 2-0 lead.
The Bruins jumped out to a 2-0 lead in the first inning of every game against the Utes, but still found themselves battling in Salt Lake City.
"It's part of our goal getting out to an early lead," Inouye-Perez said. "Our team, though, has the ability to get stronger throughout the game and continue to score runs."
Trailing 5-4 on Friday, the Bruins rallied in the top of the seventh, scoring five runs after belting four hits, two of which went for extra bases. Junior catcher Page Halstead capped off the inning with a two-run triple giving the Bruins a 9-5 victory.
"We play unfazed," said freshman shortstop Briana Perez. "We don't get too nervous when we get in situations (in which we're down). We stay calm and we're confident."
On Saturday, UCLA once again took an early lead, this time up 3-0, before Utah tied the game following a two-run double in the second and a throwing error by the Bruins in the third.
"We need to eliminate the free passes," Inouye-Perez said. "We're making games closer than they need to be by giving the opponent too many free passes."
The Bruins committed all four of their errors over the course of the weekend Friday and Saturday, which led to two unearned runs for the Utes.
Tied in the fourth, Perez tripled for the second time in the game, driving in what would be the game-winning run. UCLA added insurance runs in the fifth after sophomore center fielder Bubba Nickles smacked a three-run home run over the center field wall.
In the series finale, a pair of errors, a sac fly and three consecutive walks in the first propelled UCLA to a 2-0 lead. The Bruins wouldn't let off the gas, scoring three more runs in the second.
Perez, the Bruins' leadoff hitter, set the pace for the lineup, going 6-for-12. She batted for two triples, scored three runs and drove in two RBIs.
Senior second baseman Kylee Perez went 3-for-8, over the weekend leading the team in runs scored with six, driving in two runs, drawing two walks and smacking a solo shot as well.
"We feed off of our lineup," said Nickles. "From the top of the lineup to the bottom, we strung together quality hits."
Nickels – who struggled Friday going 0-for-3 – finished the series strong going 3-for-7, scoring two runs, driving in four and belting a three-run home run.
The Bruins will take a break from conference play Tuesday when they host Cal State Northridge before welcoming Stanford for a three-game series Friday.
Ardon joined the Bruin as a sophomore in 2016 and contributed until 2018. He spent time on the softball, men's soccer, women's soccer and beach volleyball beats.
Ardon joined the Bruin as a sophomore in 2016 and contributed until 2018. He spent time on the softball, men's soccer, women's soccer and beach volleyball beats.