UCLA beach volleyball builds to nine-match win streak at LMU Invitational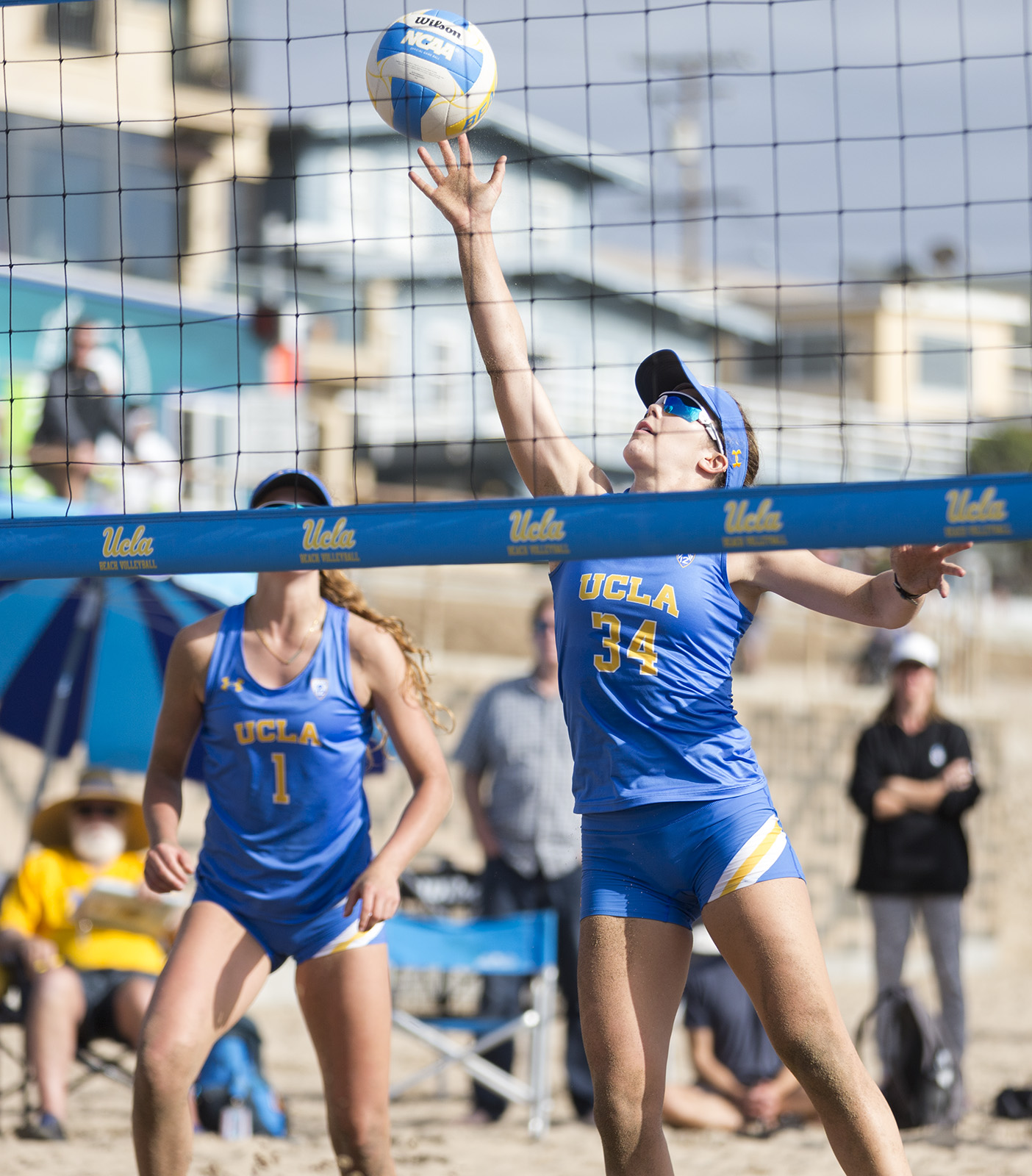 Senior Elise Zappia and partner freshman Mac May posted three straight-set wins in the Bruins' three-game sweep at the LMU Invitational on Saturday. The victories sustained UCLA's nine-match win streak. (Aubrey Yeo/Daily Bruin senior staff)
March 19, 2018 12:47 a.m.
In three matches, the Bruins didn't drop a single game.
No. 2 UCLA beach volleyball (14-3) defeated Missouri State (6-6), Colorado Mesa (2-8) and No. 16 Loyola Marymount (7-6) on Saturday at the LMU Invitational in Santa Monica, continuing its nine-match win streak.
After facing Loyola Marymount earlier this month and because of the Lions' familiarity with the strong wind, coach Stein Metzger said the Bruins had to prepare for a tough rematch.
"We had a fair bit of wind all day," Metzger said. "It was great wind. … And I think we keep getting closer to where we want to be as a team in terms of being capable of playing in any conditions."
Juniors Megan McNamara and Nicole McNamara, who now hold a 12-5 season record, gave UCLA a 1-0 lead against Loyola Marymount and Colorado Mesa. They also secured the dual victory against Missouri State with straight wins of 21-5 and 21-13.
"When you have that many games in a day, it's hard to really watch and scout all three teams and come up with elaborate game plans," McNamara said. "So really, the focus was just on our side."
Junior Izzy Carey and freshman Megan Muret, the recent Pac-12 Pair of the Week, defeated the Lions in three sets. Junior Zana Muno and sophomore Savvy Simo, who together hold an 8-1 season record, lost the first set against Loyola Marymount 18-21 but won the second set 21-5 to force a third-set victory of 15-11.
The newly formed duo of senior Elise Zappia and freshman Mac May secured the dual victory for the Bruins against the Lions with a 21-12 win in the first set and a 21-19 win in the second set.
"LMU was definitely the toughest because it was the most windy during that match," Zappia said. "And the wind game is obviously very different than just normal side out volleyball, but it was great practice for us because there will be lots of wind in Gulf Shores at nationals."
Freshman Jamie McQuarrie made her season debut with sophomore Chanti Holroyd to defeat Missouri State in straight sets 21-9, 21-8. The Bruins won in straight sets on all courts against the Bears.
Junior Sarah Sponcil and sophomore Lily Justine, who are now 13-4 on the season, secured the dual victory against Colorado Mesa in straight sets 21-11, 21-12. Carey and Muret garnered a 21-13 win in both sets against the Mavericks while Muno and Simo defeated their opponents in straight sets 21-12, 21-18.
Metzger said UCLA has been consistent throughout the season and will continue to foster consistency through more conditioning.
"When you get into Pac-12 championships or NCAA championships, it'll be single elimination and you're out," Metzger said. "So we have to be prepared for that, to play consistently over a stretch of four or five matches in a row, so I think that bodes well for us that we're doing that at this point in the season."
Zappia added that the Bruins' 9-0 win streak is a testament to their training and mental focus.
"(The streak shows) that everybody has been dialed in for every single one of the matches that we've played regardless of who's on the other side of the net," Zappia said. "People are really going to come after us, … but I think we're all excited and looking forward to that challenge."