Napolitano addresses higher education access, student support at LA event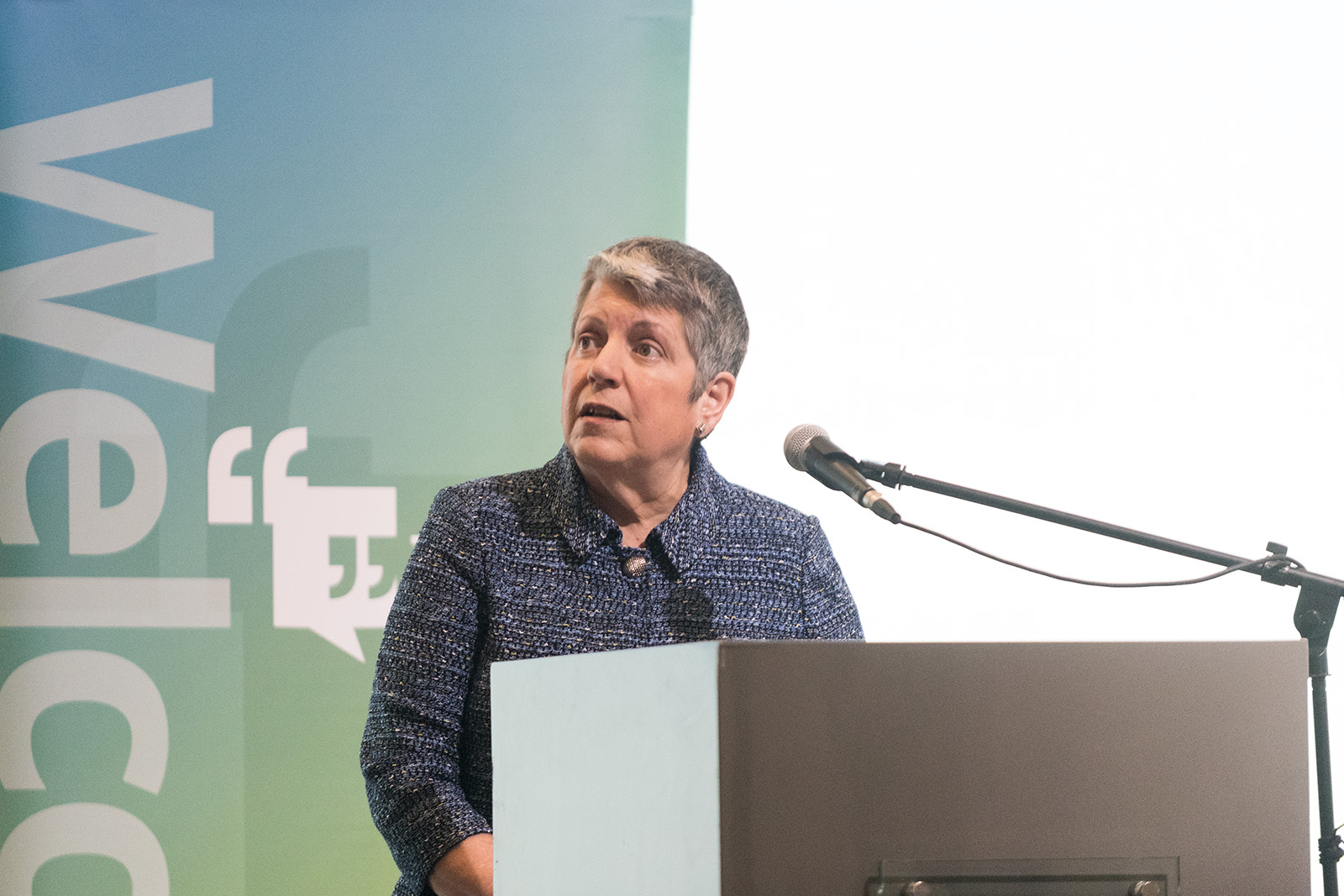 University of California President Janet Napolitano spoke to regents and high school students at an event in Los Angeles on Monday. She said the University aims to improve access to itself by increasing transfer admissions and expanding online programs. (Ryan Leou/Daily Bruin senior staff)
University of California President Janet Napolitano said at an event Monday the University is working to expand access to higher education by accepting more transfer students and improving academic advisory and student support programs.
Napolitano spoke to UC regents and local high school students at City Club in Los Angeles about the different ways the University is helping more people attend the UC.
Napolitano was briefly interrupted by members of the American Federation of State, County and Municipal Employees 3299, the UC's largest union, protesting UCLA's decision in August to end its contract with ABM Industries, a facility management company that employed valet workers at the Ronald Reagan UCLA Medical Center.
The protesters, who chanted "UCLA, hire the valets," claimed UCLA's decision has led to workers losing their jobs or being transferred to other locations that do not offer the same wages or benefits UCLA provides.
UCLA has said in the past it ended the contract with ABM in order to keep jobs within the University, and added ABM will relocate employees to other locations.
Napolitano said the UC will guarantee admission for California transfer students who have above a 3.0 GPA, and will provide pathways outlining the classes community college students should take in order to transfer into popular majors, such as biology and political science.
The UC is enrolling additional California residents without increased state funding, Napolitano said. She added if the UC received the same per-student state funding it did in 2000, it would get more than $7 billion instead of the current $3.4 billion.
"(The) UC educates 90,000 more students today than we did in the year 2000 – yet our state appropriations have remained flat," she said.
She said the UC aims to increase its graduation rate from 64 percent to 70 percent within four years by adding online education classes and enrolling more students in UC summer session programs.
"We will not diminish UC's academic quality or our students' ability with a one-size-fits-all model," she said.
The UC is also partnering with LA Promise Fund, a nonprofit, to help more LA students earn college degrees by conducting outreach campaigns. She added the UC Scout program also helps high school students attend the UC by providing online Advancement Placement courses.
"For these students, a UC degree can level the playing field and help low-income students earn as much as middle-income families," she said.
During the event's question-and-answer session, Napolitano commented on national issues, including immigration.
Napolitano, who helped created the Deferred Action for Childhood Arrivals program as secretary of Homeland Security in former President Barack Obama's administration, said the program is important in helping undocumented individuals access higher education.
DACA, which President Donald Trump ended in September, deferred deportation for undocumented individuals brought to the United States as children. Current DACA recipients can renew their status as federal courts review challenges to the Trump administration's decision to end the program.
"Although Congress' failure to address immigration reforms is well documented, I still believe in DACA," she said.
Napolitano said that as the UC celebrates its 150th anniversary this year, it should continue to advocate for more state funding and support.
"I believe the University of California is an institution worth investing in and worth fighting for," she said. "(The) UC is special – a daring public experiment that's become a priceless good."