Graduate students collaborate to improve access to health care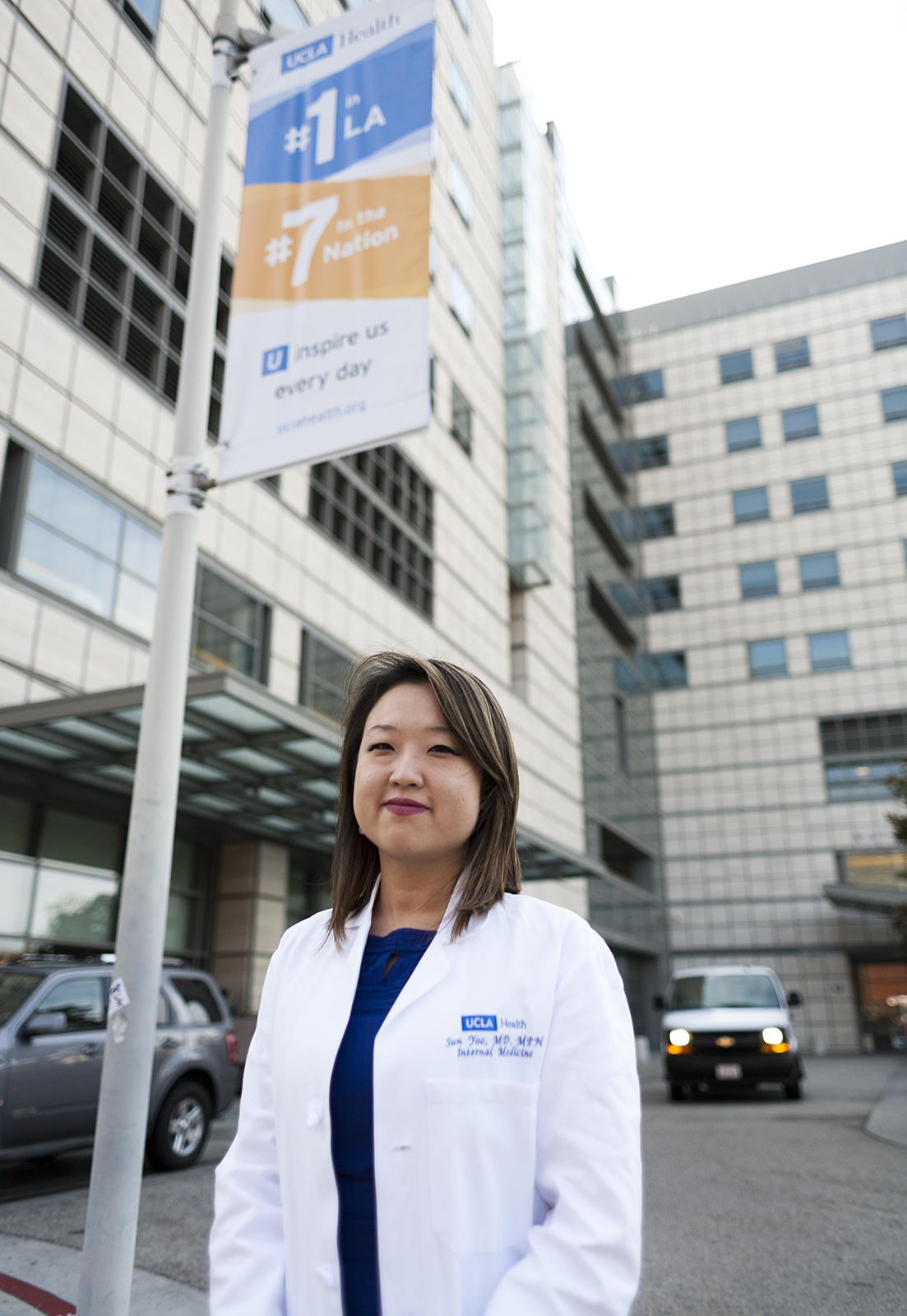 Sun Yoo, a physician at the UCLA Ronald Reagan Medical Center leading the program, said medical students visit patients in their homes and help connect them to community resources, such as long-term health care access or referrals for assistance. (Mia Kayser/Daily Bruin)
March 18, 2018 10:05 p.m.
A new initiative at UCLA's medical school brings together graduate students from different disciplines to help improve patients' access to the medical system.
The David Geffen School of Medicine implemented the American Association of Medical Colleges' hotspotting program in this academic year. In the program, medical students collaborate with nursing, dental, public health, pharmacy, social work, business and public policy students to help patients who may have difficulty navigating the health care system.
Hotspotting is the process of identifying extreme patterns in health care for patient intervention and following up to address patients' needs and care. Sun Yoo, a physician at the UCLA Ronald Reagan Medical Center leading the program, said medical students visit patients in their homes and help connect them to community resources, such as referrals for assistance. Students help assigned patients by accompanying them to their appointments and different medical procedures throughout a six-month period.
Jin Sol Lee, a medical student in the program, said he thinks the program helps students learn how to tailor their medical advice to individual patients' needs.
"As medical students, we learn to be experts and provide guideline-based communication, but oftentimes these guidelines are not best for patients' lifestyle," he said. "Having that patient perspective is important."
Yoo said many of the patients have been satisfied with the help they have gotten from students in the program. One patient who used to be hospitalized about two to three times a month has been hospitalized once in the six months since being a part of the program, she said. Another patient had 18 medical bottles containing prescriptions that had expired more than 10 years ago, and students in the program helped the patient create an organized method for taking her medications.
Allen Rodriguez, a medical student in the program, said the hotspotting program also gives medical students the opportunity to work with different graduate students on patient cases and refer patients to clinics and financial assistance.
"I love the different perspectives they bring, and it's so telling how the medical students will focus on certain aspects, and students from other disciplines have totally different ideas and ways to creatively problem-solve," he said. "Working with (nonmedical students) has augmented my ability to work with patients in a collaborative, interdisciplinary manner, which seems to be the future of medicine."
Yoo said medical students in the program have also built a smartphone app called Cata-List, which allows patients to create a list of issues to talk to doctors about and a to-do list of activities to prevent various health problems. Patients who follow through with the tasks on the to-do list receive incentives such as gym memberships.
The app was selected as one of the four national finalists for the American College of Physicians Innovation Challenge 2018, Yoo added.
Lee said he thinks hotspotting work is necessary to understand barriers to the health care system such as socioeconomic disparities and a lack of regular access to health care. He added he thinks the hotspotting teams are able to improve patient outcomes by bringing together people from different academic backgrounds.
"The amount of interdisciplinary-based care is very crucial," he said. "Each specialty can't provide the same support, so having to work through those as a team from different services of health care is really important."
Lee added bringing different graduate students together also helps medical students learn additional ways of thinking and coming up with innovative ways to help patients.
"It's a new learning experience for medical students," he said. "The benefit is not only understanding patients' needs from their perspective but also (having) an interdisciplinary team."