UCLA defeats American 71-60 in first round of NCAA Tournament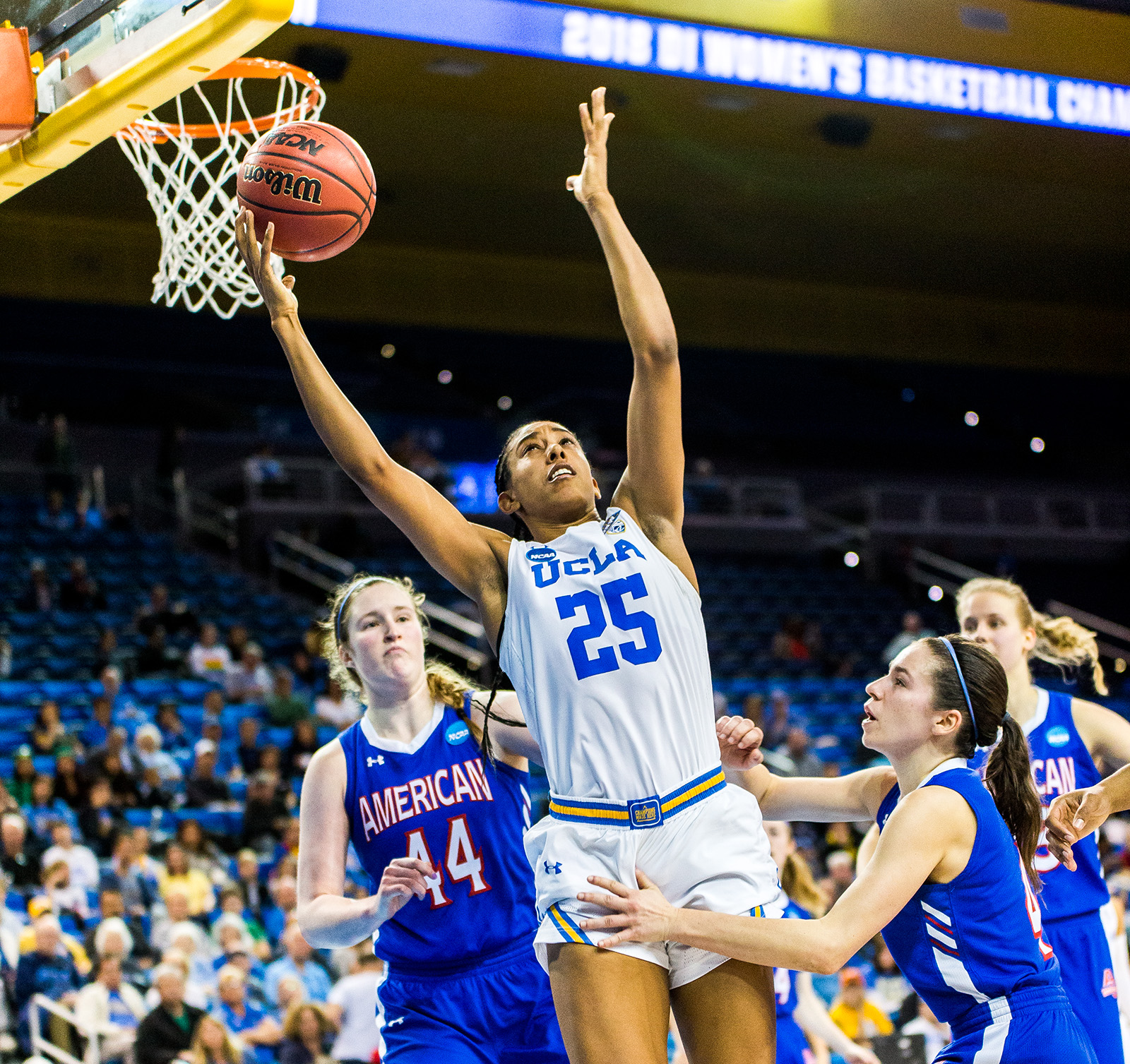 Senior forward Monique Billings recorded her 17th double-double of the season in UCLA's victory over American on Saturday afternoon. Billings finished with 20 points and 10 rebounds in 38 minutes. (Kristie-Valerie Hoang/Assistant Photo editor)
This post was updated March 17 at 5:51 p.m.
No Selection Show party, no problem.
The Bruins individually watched Monday's Selection Show either in class or at home, while teams across the nation cheered and celebrated as they punched tickets to the NCAA Tournament. No. 3 seed UCLA (24-7) was all business, and defeated No. 14 seed American (26-6) 71-60 to advance to the round of 32 for the third consecutive year.
"I'm really excited that we've earned another opportunity to play," said coach Cori Close. "That's what it's about, earning one more opportunity to play … as much as there's a lot of things we can learn from this game – and I've really challenged my team in some areas – but I'm excited to coach another game."
The Bruins started the game just 1-of-9 from the field and trailed 9-5 midway through the first frame. However, UCLA came out of a timeout applying full-court pressure, stringing together a 22-3 run on 9-of-11 shooting to end the quarter. UCLA trapped inbound passes after scoring, stealing the ball five times to cash in on six fast-break points.
"When we were able to play aggressive and get stops, that's when we can go on those runs," said senior guard Jordin Canada. "We started off really slow and coach got into us."
Despite shooting 45.5 percent in the first quarter, American finished the half shooting 38.5 percent. Guard Emily Kinneston, the Eagles' top scorer averaging 15.8 points a game, was held to just 2 points in the half and 1-of-10 from the field.
But the Eagles would not go away. In the third quarter, American knocked down four 3-pointers in three minutes to cut the deficit to just 4 points.
American guard Elina Koskimies knocked down back-to-back 3s to propel an 8-1 run and finished the day with 13 points, while averaging just 7.5 on the season.
Coming into the tournament, the Bruins averaged a 6.9 rebounding margin over their opponents, but the Eagles outrebounded UCLA 36 to 33. Forward Cecily Carl registered a team-high 22 points and 10 rebounds for the Eagles.
"When I looked at the stat sheet and I saw that we actually outrebounded them, that surprised me," said American coach Megan Gebbia. "That was probably my greatest concern going into this game because they're such a good rebounding team."
The Eagles were down by 7 points with two minutes left in the game after the Bruins turned the ball over four times in the final frame. UCLA turned the ball over just three times in the first three quarters.
Close called timeout and had her entire team standing in the huddle.
"You can't take this for granted … I think there was a sense of that we sort of knew what was going to happen – we were going to have a victory," Close said. "This is too special of an experience to take a possession for granted and so I got into them pretty hard."
But American's run was too late, and UCLA would get to the charity stripe the rest of the way. The Bruins had eight players score of the nine that played, and as a team, they assisted on 20 of 26 made field goals. Canada and junior guard Japreece Dean combined for 14 assists and two turnovers.
"Everyone has their part on the team and whenever I come out, there's always someone that's willing to step up," said junior guard Kennedy Burke. "Today wasn't really our best game (because) it was kind of messy especially on the defensive end."
Canada finished with 10 points and 11 assists for her ninth double-double of the season, while senior forward Monique Billings finished with 20 points and 10 rebounds for her 17th double-double of the season. Burke added 15 points, draining 2-of-3 from long range.
UCLA will face the winner of No. 6 seed Iowa and No. 11 seed Creighton on Monday night at 6 p.m.
Hong is the 2019-2020 Managing editor. She was previously an assistant Sports editor for the women's basketball, men's water polo, women's water polo, women's tennis, and beach volleyball beats.
Hong is the 2019-2020 Managing editor. She was previously an assistant Sports editor for the women's basketball, men's water polo, women's water polo, women's tennis, and beach volleyball beats.