Projected WNBA top pick talks modeling, future plans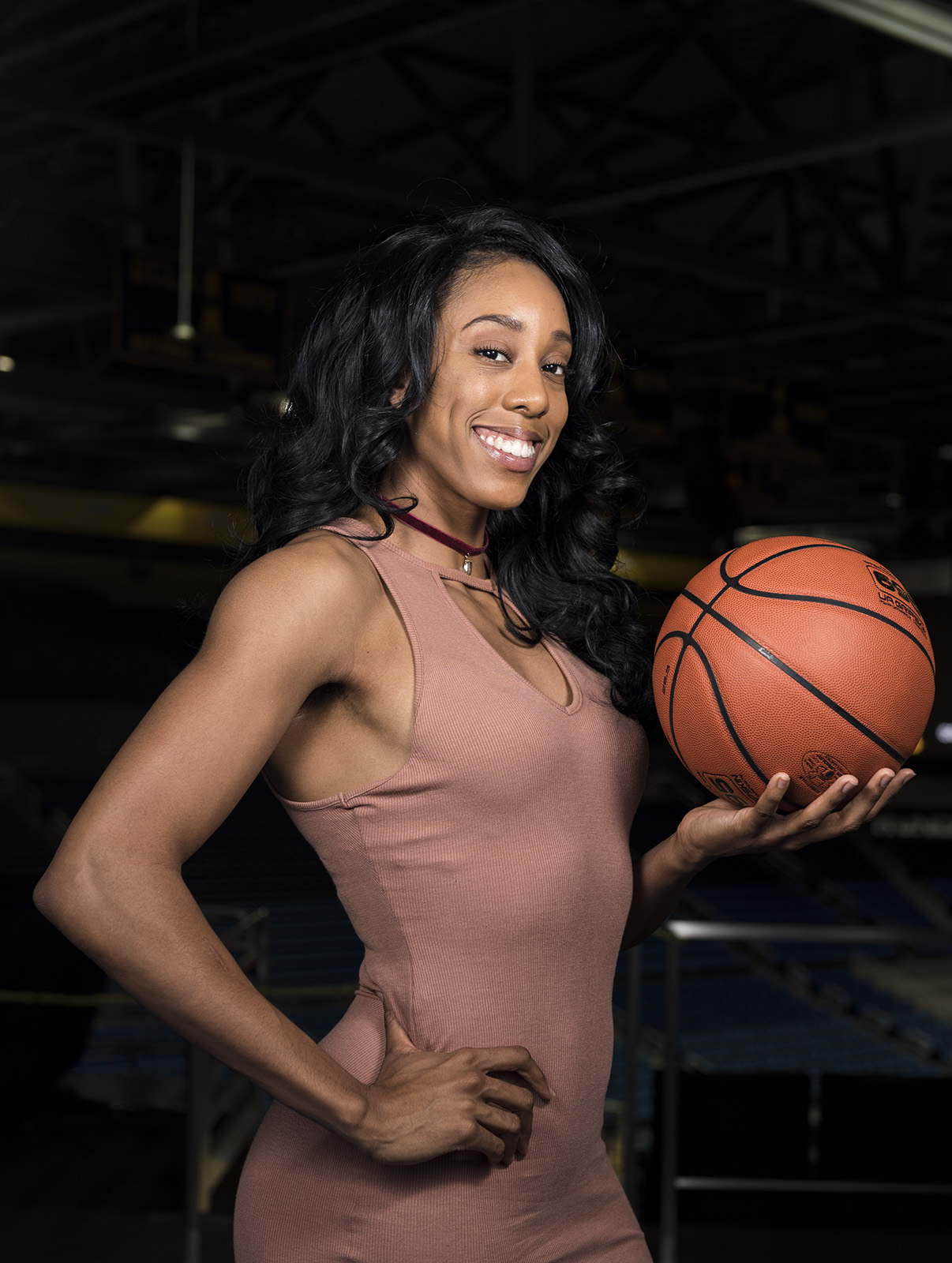 Senior forward Monique Billings has been an integral part of UCLA women's basketball for four years, but her reach extends far beyond the hardwood. She has dedicated much of her time off the court to inspiring young women across the country. (Keila Mayberry/Daily Bruin staff)
March 15, 2018 12:20 a.m.
Monique Billings leapt across the stage at a ballet recital when she was 6 years old, but she looked more fit for a jersey than a tutu.
"They were doing their twirls and pirouettes and all these graceful moves," said her father Chuck Billings. "And then here comes (Monique Billings) looking like she's going up for a reverse dunk – a wide, reverse, tomahawk, 360 dunk – while wearing a princess dress."
Last October during Bruins at the Beach in Venice, the senior forward participated in a dunk contest with men's basketball guards Jaylen Hands and Kris Wilkes – two freshmen who were hyped specifically for their flashy dunks during the preseason.
Brittney Griner, the 2013 No. 1 overall WNBA draft pick, was only the seventh woman to ever dunk in a college basketball game. Although Billings has yet to successfully dunk in a contest, the 6-foot-4-inch forward still got the crowd on its feet.
"I was a little intimidated," Billings said with a chuckle. "But I was just going to go out there and have fun."
Both UCLA men's and women's basketball teams took the floors of the Venice Beach Courts to launch the basketball season and to show off the program's new Under Armour jerseys.
The UCLA stitched on the front of her uniform not only reminded Billings of why she picked up basketball, but the newly designed jerseys also reassured her of her initial decision to become a Bruin.
When going through the recruiting process in high school, powerhouse schools like Connecticut and Baylor were among her final five choices. But Billings said her decision to attend UCLA was easy.
"It was the opportunities of not just being a basketball player," Billings said. "But being able to do stuff off the court like internships and shadowing."
She may have traded a tutu for her basketball jersey, but Billings never got rid of what her father called her girly-girl side. By the age of 11, Billings was asked to model for an agency, and she continues to model in her spare time. She also interned last summer at Ivan Bitton Style House, with the task of styling outfits for Hollywood celebrities walking the red carpet.
"I've always loved fashion," Billings said. "Me and my diverse interests – I bring it all together and that's what I want to inspire people with, that you don't just have to do one thing."
Projected to be a top pick in the upcoming WNBA draft on April 12, Billings doesn't want her passion for the sport to end after her professional career.
In February, Billings shadowed Pac-12 Networks play-by-play announcer Anne Marie Anderson for a second time at a UCLA men's volleyball home game.
"(Anderson is) just amazing because she doesn't mess up, and if she does, I don't even notice," Billings said. "It's really inspiring because she represents someone I'd like to work my way up to (be)."
A future career in broadcasting seems to be a fitting path for a basketball player who enjoys both public speaking and dressing up.
"I like projecting myself in front of an audience, so I thought of broadcasting as, 'Oh that's something I could do,'" Billings said. "Then seeing people like Rosalyn Gold-Onwude and LaChina Robinson, those are women that inspire me because they're doing what I want to do."
For now, Billings has discovered a hobby in front of lights and cameras, which she can also balance with her busy schedule during basketball season. Billings said she launched her own YouTube channel in June 2017 with the goal of inspiring little girls through her own experiences both on and off the court.
"I wanted to be able to answer questions just about life, beauty and basketball," Billings said. "I don't feel like they should have to be separated all the time."
Although Los Angeles has given Billings a plethora of opportunities, the senior said she finds most of her support from either back home or out of state.
"I have a very small circle," Billings said. "I might have maybe three to five people who I actually call my friends."
The Corona, California, native calls her father her biggest fan, but Chuck Billings said he is also her most critical coach.
"She better have thick skin, because that's what we do around here," Chuck Billings said. "I got two girls and no boys … it probably would've been easier for me to go hard had I had a boy, but going easier would be a disservice to my girls."
Chuck Billings has also supported his daughter in her love for beauty and fashion, and said he has enjoyed watching her mature outside of basketball.
"(Modeling has) made her a well-rounded young lady and just adds diversity to her character," Chuck Billings said. "I think it keeps her from getting burned out on basketball, because basketball can be rough both physically and mentally."
Monique Billings also maintains a close friendship with former UCLA guard Recee' Caldwell. The two rounded out UCLA's first ever No. 1 recruiting class in 2014, before Caldwell transferred to Texas Tech after her freshman year. They have been friends since long before their collegiate careers, and played on the same Amateur Athletic Union team when they were 8 years old.
"Her and I are really into, 'How are you mentally?' and just talking about our days," Caldwell said. "It's easy to be there for someone when you know they have so much pressure on them."
Despite being 1,120 miles apart, Caldwell said they go maybe two days out of the week without texting or FaceTiming one another.
"Mentally, it still gets hard, and at the next level it's going to be hard," Billings said. "But I'll still be relying on (Chuck Billings and Caldwell) to be my backbone."
Before she moves onto the WNBA, Billings – who earned All-Pac-12 and All-Defensive Team honors for a second consecutive season – will have one more run at the NCAA Tournament.
"I'm ready to fight for it," Billings said. "Just being able to inspire others and have fun through it."
The senior finished the regular season leading the Pac-12 in double-doubles and rebounds. Billings also owns the UCLA women's basketball blocks record with 221 blocks and is one of 14 players in Pac-12 women's basketball history to reach 1,500 points and 1,000 rebounds in a career.
And she can dunk, too.
"You don't have to be a boy to play basketball," Billings said. "You can be a girl, you can wear heels and you can get buckets."
Hong joined the Bruin as a freshman in 2017 and contributed until 2020. She was the Managing editor for the 2019-2020 academic year and an assistant Sports editor for the 2018-2019 academic year. Hong spent time on the women's basketball, men's water polo, women's water polo, women's tennis and beach volleyball beats.
Hong joined the Bruin as a freshman in 2017 and contributed until 2020. She was the Managing editor for the 2019-2020 academic year and an assistant Sports editor for the 2018-2019 academic year. Hong spent time on the women's basketball, men's water polo, women's water polo, women's tennis and beach volleyball beats.