No 3. seed women's basketball to face American in NCAA Tournament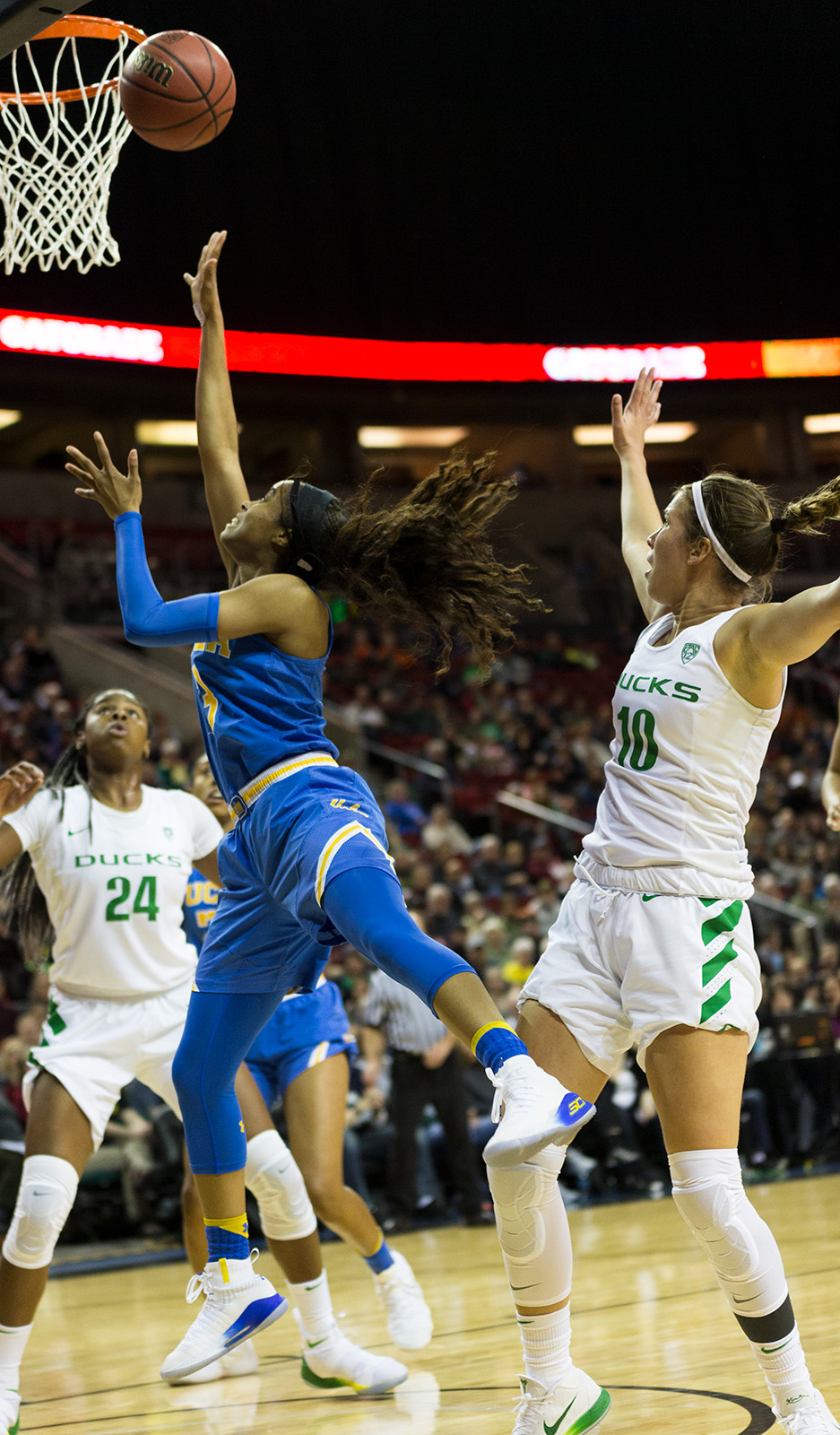 UCLA women's basketball will host the first two rounds of the NCAA Tournament at Pauley Pavilion after securing a No. 3 seed. The Bruins will face American in the Round of 64 on Saturday afternoon. (Kristie-Valerie Hoang/Assistant Photo editor)
March 15, 2018 12:20 a.m.
The Bruins are going dancing for the third consecutive year – a stretch that ties a program record among its 15 total NCAA Tournament appearances.
UCLA women's basketball (24-7) earned a No. 3 seed and will take on No. 14 seed American (26-6) in Pauley Pavilion on Saturday afternoon in the schools' first-ever meeting. Although the Eagles finished out their regular season with a program-best 26 wins, all six of its losses have come either on the road or at a neutral site.
"I do think that's a huge key for us," said coach Cori Close. "We have a lot of confidence on our home floor and we want to make this place a feared place to play, but we also want to grow the game for our city."
American has limited opponents to just 35.3 percent from the field and 57.4 points per game on the season. However, Close said her team needs to clean up the defensive end first in order to get higher-percentage opportunities.
"Get stops," Close said. "If you take it out of the net, it's a lot easier for them to set their defense, sag and try to make paint touches hard, (and then) they'll dare us to shoot jump shots."
Senior guard Jordin Canada said the team's high-intensity defense has contributed to UCLA's push in transition play. The Bruins are 21-4 when cashing in on more fastbreak points than their opponent this season.
"We have to be aggressive and set the tone on defense (because) that's when we play at our best," said Canada. "When we're aggressive (and) we're talking, then we can get stops and play in transition."
American relies on a duo similar to Canada and senior forward Monique Billings in guard Emily Kinneston and forward Cecily Carl, who average 15.8 and 12.9 points, respectively. But Close said the pairs have completely different styles of play.
"I think they're only similar (to Canada and Billings) in the fact that (Kinneston and Carl) are their two leading scorers," Close said. "Against a team that sags in the paint and plays gap and pack line defense, we're going to have to move the basketball (and find) what it takes to get (Canada and Billings) going and get them quality screen touches."
Junior guard Kennedy Burke said the Bruins emphasized in film sessions that in order to maximize touches for Canada and Billings, they need to improve their on-ball defense.
"I really have to focus on my on-ball defense, especially when it involves on-ball screens because I know I struggled with that in the (Pac-12) Tournament," Burke said. "I think if I'm able to defend ball screens well, their turnovers will lead more scoring opportunities."
American's RPI ranking sits at just 46 compared to UCLA's RPI ranking of 10 despite boasting its conference's Player of the Year and Coach of the Year.
But Burke said there will always be a competitive atmosphere during the tournament regardless of who their opponent is. The junior is the only true junior on the roster who has played alongside Canada, Billings, and senior guard Kelli Hayes in their 2016 and 2017 tournament runs.
"When it's a tournament game, any game could be your last," Burke said. "For me, I just have to play this game like it's my last, especially for the seniors."
The Bruins will host the first two rounds of the NCAA Tournament for the third straight season. Should UCLA advance to the Second Round, they will face the winner of No. 6 seed Iowa and No. 11 seed Creighton.
The Bruins defeated the Hawkeyes 78-65 in Cancun, Mexico, last season. UCLA also defeated Creighton 72-63 in a nonconference contest this season, despite trailing by as many as 9 in the first half.
The Bruins are 38-0 against unranked teams at home over the past three years. American, Iowa and Creighton all finished their regular seasons unranked in the AP Top 25, but Close wants her team to just focus on playing its best basketball.
"I think one of the things that's really important in the NCAA Tournament is to respect your opponent," Close said. "To really prepare to your strengths, but to really make it about your identity."
Hong is the 2019-2020 Managing editor. She was previously an assistant Sports editor for the women's basketball, men's water polo, women's water polo, women's tennis, and beach volleyball beats.
Hong is the 2019-2020 Managing editor. She was previously an assistant Sports editor for the women's basketball, men's water polo, women's water polo, women's tennis, and beach volleyball beats.