Scott Bays: Reduced prices would compensate for housing affected by construction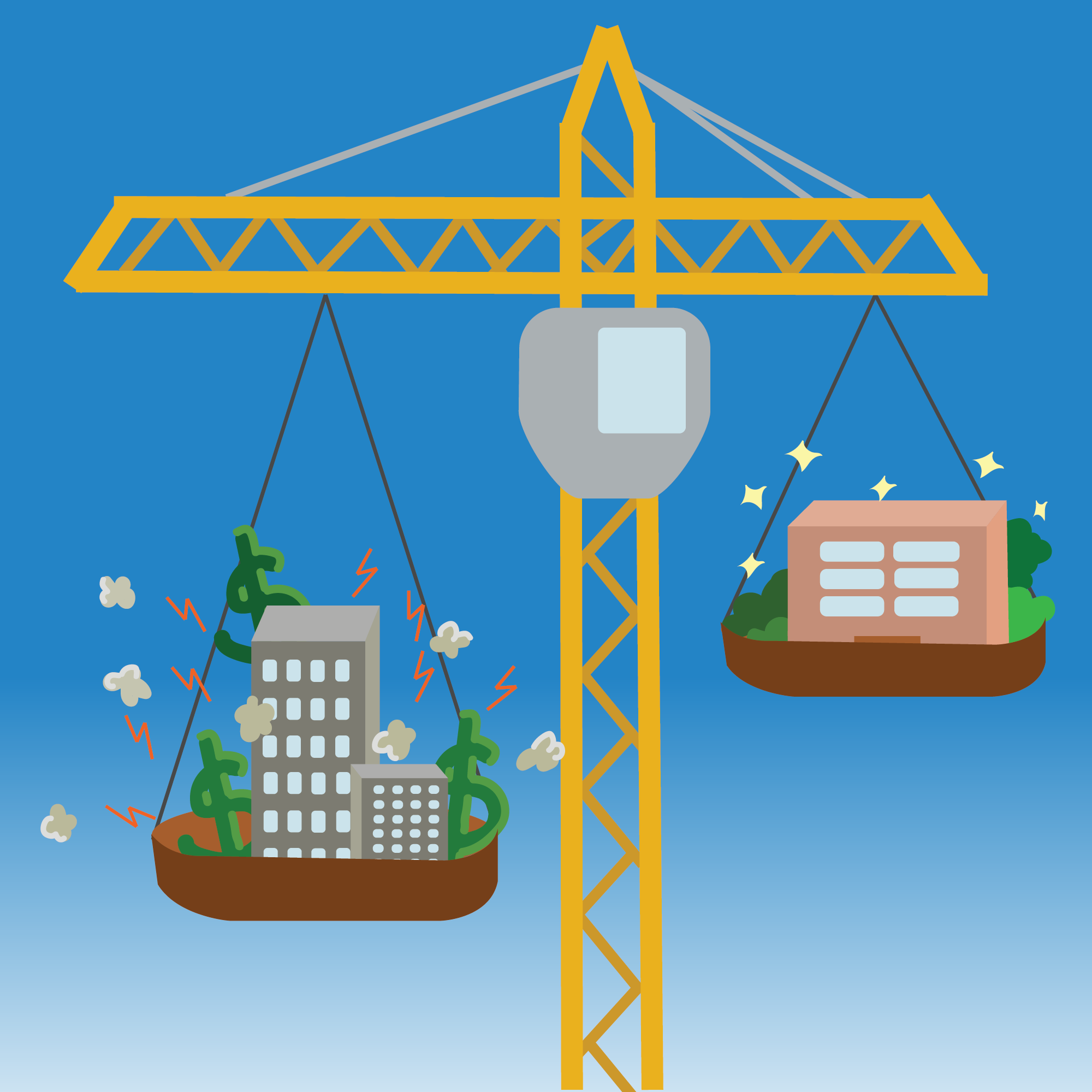 March 14, 2018 11:05 p.m.
8 a.m. classes won't be the only thing forcing students out of bed early in the morning next school year.
Two weeks ago, UCLA Housing informed students via email that residents in Saxon Suites, Hitch Suites, Rieber Hall, Rieber Vista, Rieber Terrace and Hedrick Hall will have to deal with "moderate to high noise and dust impacts" throughout the 2018-2019 school year due to construction of new housing on De Neve Drive. UCLA spokesperson Ricardo Vazquez said students can expect construction activity between 7 a.m. and 6 p.m. on weekdays.
That's right: Students living in these impacted areas will be woken up by the droning sound of machinery from a construction site right outside their windows.
This is a real problem as housing prices are based on room type, so residents in impacted buildings will essentially be paying more for less. For instance, a triple in Rieber Hall will cost the same amount as a triple in Sproul Hall because they are both classic residence halls. However, Rieber Hall will be impacted by noise and dust, while Sproul Hall will not. Talk about a raw deal.
On top of that, housing rates are increasing across the board next school year to fund UCLA Housing's expenses, meaning impacted buildings will cost more next school year than they do now despite their diminished quality. UCLA Housing is effectively raising prices on buildings of reduced quality instead of doing what other businesses would do and incurring losses for offering a product of reduced quality.
Given these circumstances, UCLA Housing should keep prices on impacted buildings at their 2017-2018 rates next year. Students living in buildings with noise and dust impacts should not have to pay the same amount as students living in non-impacted buildings. While rooms in Rieber Hall and Sproul Hall may be of the same type, one will clearly be less desirable than the other.
Lauren McCormick, a first-year political science student, said she thinks it is unfair for rooms in impacted buildings to be priced the same as their counterparts in unaffected buildings.
"As someone who just spent the past year living in a plaza in Sunset Village that's the size of a shoe closet, I wouldn't be willing to pay more for a room that's already too crowded and have to deal with construction noise," she said.
While living near a construction zone may seem no different than living next to a road or a dumpster, dealing with noise and dust pollution from dawn to dusk is an ever-present problem compared to the sporadic car or the dump truck driving by your room. Dust and the sounds of construction are disruptive to studying and sleeping, two activities that are vital to student success.
Bowen Wang, a first-year mathematics student, currently deals with some noise, as his bedroom window at Saxon overlooks De Neve Drive. He said that while noises from cars sometimes wake him up in the morning, it is only a minor nuisance since it doesn't last very long.
"A trash truck will wake me up in the morning (sometimes), but it doesn't last long, so it's not that big of a deal," Wang said. "But if (the noise) lasted all morning, that would make it tougher."
Vazquez said UCLA Housing has learned that the most important thing in mitigating the impacts of construction is ensuring students are well-informed about what side effects to expect from construction and what resources the university can offer to help them. But it has already done a poor job of it: Students were not formally told about these impacts until Feb. 26, one day before the room sign-up process began. Roommate groups were formed weeks before this, meaning many may have joined groups without knowing the building they intended to sign up for would be impacted.
And while it may seem enough that UCLA Housing made students aware of these impacts before they signed up for rooms, it's still forcing students to cough up more money to live in rooms that will adversely affect their day-to-day lives.
Vazquez said UCLA Housing does not yet have a specific plan to help impacted students next year besides creating a mitigation team to reduce the impacts of construction that will provide fans so students can keep their windows closed when it's dusty outside and a hotline for them to air their concerns.
But these are bare-bones efforts. UCLA Housing seems to be casting this construction as a minor annoyance rather than a serious drop in housing quality. It needs to take that impact into consideration and offer discounted rates on buildings affected by new housing construction – something that would at least placate students' concerns about living in dust-infested buildings located in a disruptive environment.
What it shouldn't be doing, however, is telling students last-minute that they'll be woken up next year to the sound of roaring engines and pounding, and then expecting them to feel better because they'll be given a couple of fans and some phone numbers.