USAC Election Board chair risks removal, accused of violating constitution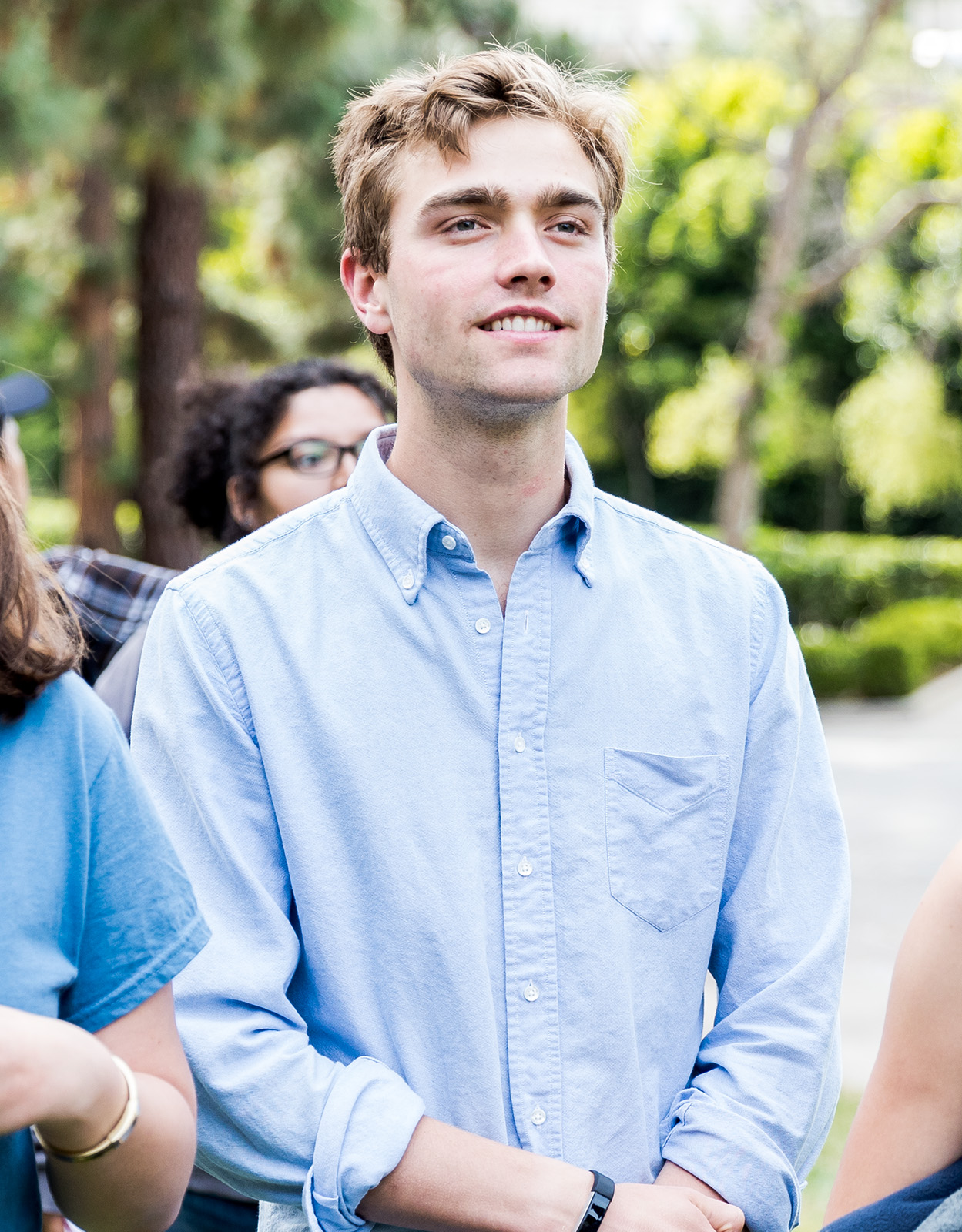 USAC Election Board Chair Jack Price will attend a formal hearing Tuesday, during which USAC will review his performance and decide whether or not to remove him from his position. (Daily Bruin file photo)
The undergraduate student government's Election Board chair might face dismissal after proposing amendments to the election code that some council members claim violate the First Amendment.
The Undergraduate Students Association Council sent Election Board Chair Jack Price a letter Thursday informing him of a formal hearing Tuesday to review his performance and make a decision on whether to remove him from his position.
The hearing follows an amendment the election board proposed March 1 that would increase independent candidates' spending cap by $200. The election code states candidates running for executive positions are allowed to spend around $900, and nonexecutive position candidates can spend around $700. USAC President Arielle Yael Mokhtarzadeh said the proposed amendment would be a violation of students' constitutional right to free association because it would disincentivize students from joining slates, which are campus political parties.
"In bringing forth a policy that clearly and explicitly violates students' rights, (Price) is in violation of the USAC bylaws and his duties as an election board chair," Mokhtarzadeh said.
At Tuesday's USAC meeting, Price presented a revised version of the proposed amendments that did not include the $200 spending cap increase for independent candidates. However, Mokhtarzadeh said the council still made additional recommendations to the proposal, such as equally dividing the costs of slates' campaign material among all their candidates.
"(The revisions) did address the issues; however, the election board had not done their due diligence," Mokhtarzadeh said. "We as a council spent an hour and a half trying to fix the election code, which is not appropriate for us to do."
Mokhtarzadeh said she does not think it was the council's role to have made additional recommendations since the election board is supposed to serve as the neutral advisor on election issues.
In the letter Mokhtarzdeh sent Price informing him of the hearing, she said Price violated several of his obligations, including maintaining impartiality and ensuring his duties are carried out under the USAC constitution and bylaws.
Price, who chose to have the hearing made public, said he plans to address these allegations during the hearing. He added he thinks the board serves as an impartial advisor that brings all proposals to the council.
"The election board is made up of seven folks and we disagree with what is the best and impartial way to do things," Price said. "We all wanted to be equitable but there were differences in how to make that happen and I wanted to make sure I brought all proposals to the council."
He said he brought the proposed amendments to the council to start a discussion and ensure a fair election.
"Even though council didn't cast a vote on the election board amendments, they discussed them, worked around them and they gave their opinions on them," Price said. "That's a conversation that has started successfully and is continuing to move forward."
USAC Academic Affairs Commissioner Divya Sharma said he thinks the council should be more lenient and understanding of Price and other students in leadership positions.
"It's unfair to say we're taking a leadership position away because they didn't comply with one or two things council said," Sharma said. "(The council) is the last to vote on this code so if it's not the way we want, we can change it."
Sharma added he thinks Price, who was appointed in November, did not have enough time to review the election code before submitting recommendations. He added the bylaws required Mokhtarzadeh to appoint an election board chair by week one of fall quarter.
"(Mokhtarzadeh) appointed him in November, far later than the week one deadline," Sharma said. "(Price) was appointed 10 weeks ago and he was basically forced to look through the entire code."
Price said he does not think the hearing will cause any delays in the upcoming election.
Price acknowledged his original proposal may not have been perfect, but he said he is working toward coming to an agreement with the council on the rules in time for the election.
"The first set of recommendations we sent was not up to par but I've learned from it personally," Price said.