Gymnastics grabs victory against Stanford despite shaky start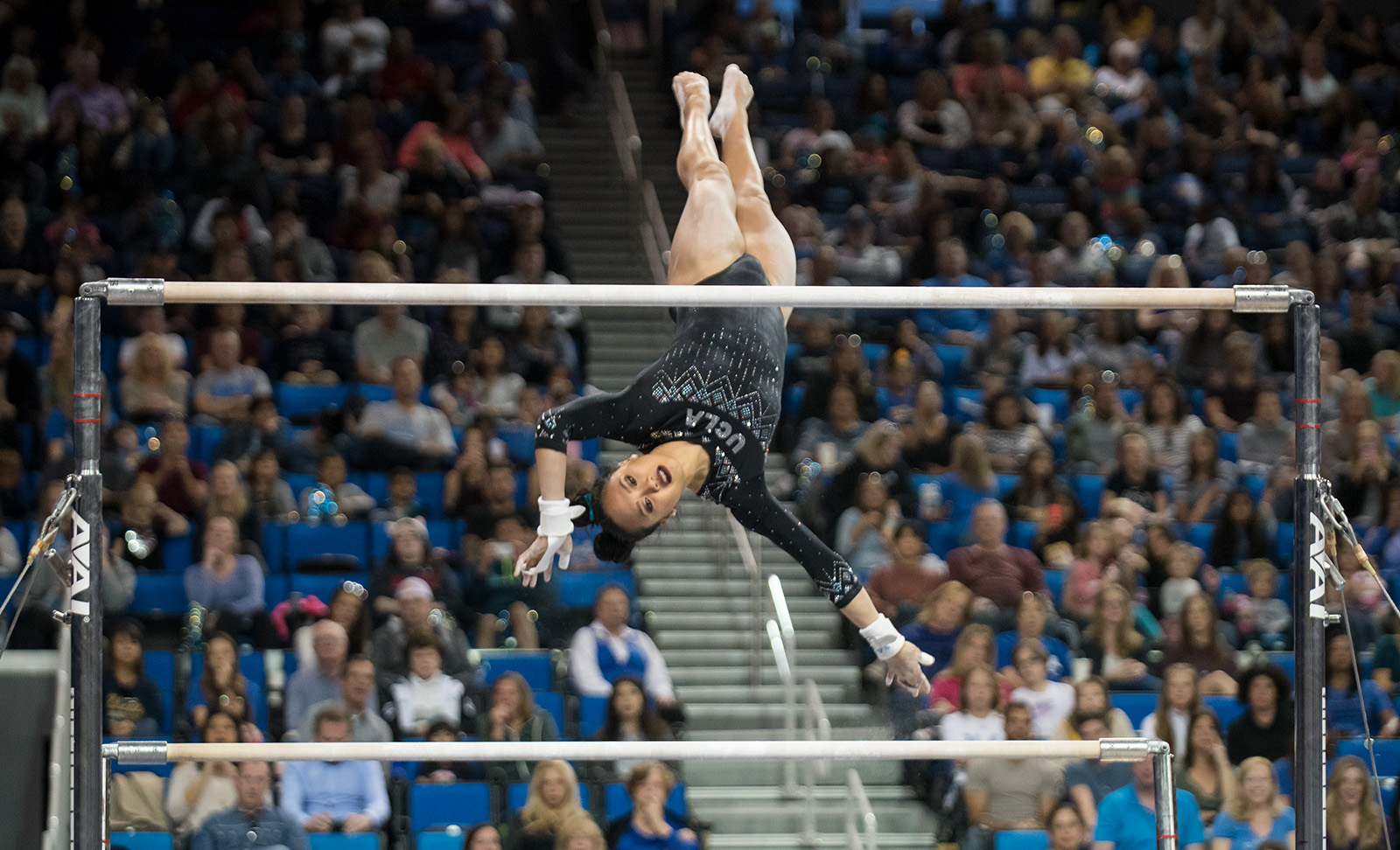 Peng-Peng Lee led the Bruins with two perfect scores on balance beam and the uneven bars. After Sunday's meet, the redshirt senior has seven perfect 10 scores on her career. (Liz Ketcham/Daily Bruin)
Correction: The original version of this article misquoted Peng-Peng Lee.
Redshirt senior Peng-Peng Lee stole the show in Palo Alto, nabbing two perfect scores.
The first came at the end of the opening event – the uneven bars – which began with two low scores due to a fall and a major deduction. Lee flew from bar to bar, hitting all of her handstands and finishing the routine by sticking the landing.
She followed up with her second 10 three events later on the balance beam. Lee looked calm and confident, and she linked her elements together in an almost seamless fashion. Again, she stuck the landing.
"Oh my gosh, it was so exciting," Lee said. "I just told everyone 'Now, I can graduate.' It was incredible."
Powered by Lee's two perfect routines and another on bars by sophomore Kyla Ross, No. 3 UCLA (14-2, 4-1 Pac-12) cruised to a 197.800-196.650 victory over host Stanford (8-11, 0-6).
The first rotation, however, almost had the Bruins trailing. Freshman Nia Dennis stopped her routine right after she began because she felt something in her shoulder but continued when she found it was okay. Counting a fall resulted in Dennis receiving a 9.300 – a score the team would drop.
Redshirt freshman Anna Glenn almost fell herself but hung on and took an extra swing, resulting in a 9.525 that would count in the final tally.
Lee corrected the course with her perfect score. Ross closed the rotation with a 10 of her own, her first of the season.
"I was really excited to get my first perfect 10 this season," Ross said. "I've been getting a lot of 9.975s and it feels really good to get that 10."
Despite the back-to-back perfect scores, UCLA led by a single 10th. The difference, according to coach Valorie Kondos Field, was Glenn making sure she didn't take a fall.
"I'm really proud of (Glenn), who should have put her foot down, but she stayed on and had a .300 deduction instead of a .500 deduction," Kondos Field said. "Had (Glenn) put her foot on the ground, we would have been behind."
The second event, vault, had been giving the Bruins trouble as of late. All scores, however, were 9.825 or above, including two 9.900 scores from Ross and sophomore Felicia Hano.
The team scored a 49.375.
UCLA hit its stride on the floor exercise, in which it ranks No. 2 in the country. Junior Katelyn Ohashi's Michael Jackson-inspired routine grabbed a team-high 9.950. The other four routines counted in the tally were 9.900 and above, leaving Hano's 9.875 out, and the Bruins snatched a 49.600.
The results on the balance beam, however, were more uneven. Redshirt freshman Grace Glenn led off with a 9.925, but Ross and sophomore Madison Kocian both scored 9.825 – below their normal standards. Ohashi was denied a perfect score with a 9.975, but Lee wasn't.
UCLA finished with a 49.575 beam score and a team 197.800, which were above the season averages of 49.419 and 197.453.
Both were strong numbers, but the slow start still hung in the back of their minds.
"It was a rough start, but we were able to get it back together and restart," Ross said. "All the other events went really well. We were still able to come up with a huge team score, but we need to find it in us to start off strong."
Kondos Field said she is still trying to figure out how to get her team to put up four solid events in a single meet.
"We need to put together a full meet," Kondos Field said. "We're still not putting together four great rotations. We've got to find out the perfect equation for them to stay loose and enjoy their events, but be dialed in."
Bribach joined the Bruin as a sophomore in 2016 and contributed until he graduated in 2018. He spent time on the gymnastics, women's basketball, women's soccer and beach volleyball beats.
Bribach joined the Bruin as a sophomore in 2016 and contributed until he graduated in 2018. He spent time on the gymnastics, women's basketball, women's soccer and beach volleyball beats.