Q&A: UCLA department chair discusses recent appointment as CNN commentator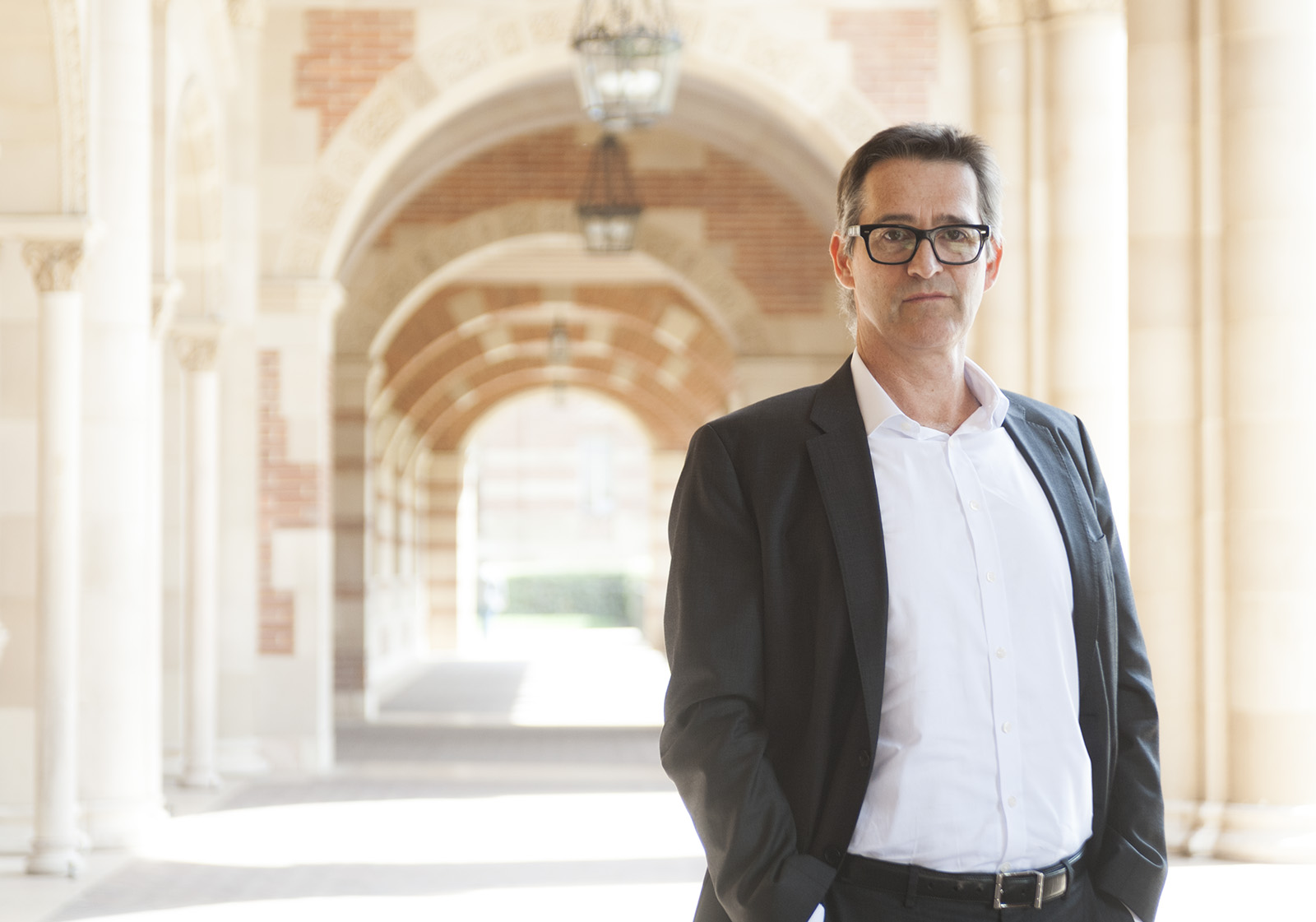 Dominic Thomas, chair of the UCLA Department of French and Francophone Studies, talked about his journalistic background and how he plans on maintaining objectivity as a commentator. (Anna Moreno-Takegami/Daily Bruin)
Dominic Thomas, chair of the UCLA Department of French and Francophone Studies, was appointed as the European affairs commentator for CNN, according to a UCLA press release. The Daily Bruin's John Tudhope sat down with Thomas to learn about his journalism background and his upcoming role as a commentator.
Daily Bruin: What will your position as the European affairs commentator for CNN entail and how does it differ from your past positions at CNN?
Dominic Thomas: For some time now I've provided media commentary predominantly on European affairs: elections, developments and events. For example the crisis in Catalonia, the Brexit vote and the general elections in 2017 – in France, Germany, Austria, the Netherlands. I have provided that on a freelance basis. I've also done work for other networks, like China Global Television Network, Al Jazeera, and I would get calls from different media networks around the world, from the Philippines, South Korea and so on, working on these particular issues.
As of 2018, CNN proposed to make this relationship more permanent and offered me a position as an exclusive commentator for them with the title European affairs commentator. I now work just for them, primarily out of Los Angeles, where the CNN International and the CNN offices are on Sunset Boulevard. I also do commentary for their Atlanta office through Skype or in studio when they need me to do that, and when I'm in Europe or if there are big events and I happen to go to Europe for them. For example, I covered both rounds of the French election live from Paris, I covered (President Donald) Trump's visit on the July 14 Bastille Day celebrations live from Paris, the Dutch elections from both Amsterdam and The Hague and also the September elections that took place in Germany, live from Berlin.
DB: Do you still plan to teach at UCLA as your commitment with CNN increases?
DT: Oh, absolutely. … My primary job is here. Like many people at UCLA or in the profession who also provide commentary, my areas of specialization come from my academic training and the research that I do here. The work that I do for CNN is limited, it's not a full-time position – I'm not an anchor. I provide commentary when political events come up or when there are things that they would seek coverage for, but obviously the more I work with them it depends. Once you're officially in the CNN family, so to speak, I could imagine as a commentator, and as someone who's been identified by them as a specialist, they will have increasing recourse to me for different commentary.
DB: How did you begin doing analysis for CNN or other news outlets?
DT: UCLA has a media office and it is contacted on a daily basis by different news organizations to provide coverage of all sorts of events, whether it's a medical development, the fires and so on. UCLA Media (Relations and Public Outreach) over the years has shared my credentials when there have been solicitations, whether it's a development in sub-Saharan Africa, or the death of an African leader, or various questions relating to Europe.
DB: How do you approach your role within news and journalism?
DT: My research focuses on the issues I cover for CNN, but being on television also means monitoring the news carefully. I have lots of contacts in Europe that I communicate with either by email or by phone for my own work and research, anyway. Obviously, I'm tuned into all kinds of different media organizations, and I watch to see what's happening. I think my appearances on television are helped by my experiences in the classroom, and my experience in the classroom is helped by my media appearances that are, for the most part, interventions … between three and seven minutes long in which one needs to provide context, but not in an overly scholarly fashion, while trying to explain to viewers the key issues that are at stake, the potential implications of a vote or of a general election, and what the likely impact is then going to be and what the reactions are going to be. All of those are skills that I think one can fine-tune through research, through public speaking, through lecturing and also (through) trying to communicate on television.
DB: With many polarizing European geopolitical issues, how do you remain objective in your commentary?
DT: I think that's the biggest challenge. That can also be shaped by the role that the news anchor plays, obviously in the types of questions that you receive. I think that, even though … it's difficult not to betray one's sentiments and feelings on it … the role as I see it is one of providing context, analysis and then trying to participate in some ways with viewers in a kind of dialogue. By providing that context and analysis, the goal is to help an audience better understand what is going on, and also to understand it in a comparative context.
Now you're absolutely right that many of the issues, especially as they pertain to far-right radical policies and nativist policies, bring to the fore some very complex issues linked to European colonialism, linked to racism and linked to Islamophobia. I think that I can be more effective not by simply denouncing those, but to use that space and time on television to point out that those developments in Europe are a real threat and challenge to liberal democratic values, and to the foundational principles of the European Union that people often forget in their focus on how they perceive the European (Union) as being this overreaching administrative organization, when in fact it's an organization geared toward peace and prosperity, and that it has been successful in achieving that mission as it celebrates its 60th birthday and anniversary.
DB: How do you feel about CNN being perceived as a liberal news network?
DT: It's very interesting how, historically, different perceptions of news networks shift, and I think that has very much been driven by the Trump administration, by the election and also by other elections in Europe in which the divide between different political groups and communities now has really been exacerbated and there are tremendous tensions between these different groups. So, of course, from the point at which government or political parties are themselves having recourse to news outlets and to new media platforms, to push one-sided views, it is logical that in that dynamic, which is polarizing and divisive, that other networks are going to be stigmatized as representing one particular community. So we know that Fox News clearly embraces a certain interpretation of American society and of the world, and my perception and my feeling is that CNN and MSNBC and similar networks have standards, which Fox News viewers may not agree with, that are driven by a genuine commitment to the truth and to factual reporting.
The fact that CNN had to have recourse to a campaign – the "Facts First" campaign – was important and also indicative of just how polarized the landscape has been because journalists, researchers and producers who are committed to the delivery of quality news, information, analysis and commentary are being subjected to persecution, criticism and intimidation by other political organizations and even by governments. … That is a very problematic development. I'm proud to say that I work for an organization which I don't see as a liberal political organization or as a liberal news outlet, but as an organization that I can comfortably work for feeling like it is a space that respects discussion, commentary and truthful analysis. To that extent, whatever label it is given by others is not of concern to me.