Blockchain technology co-founder discusses its potential applications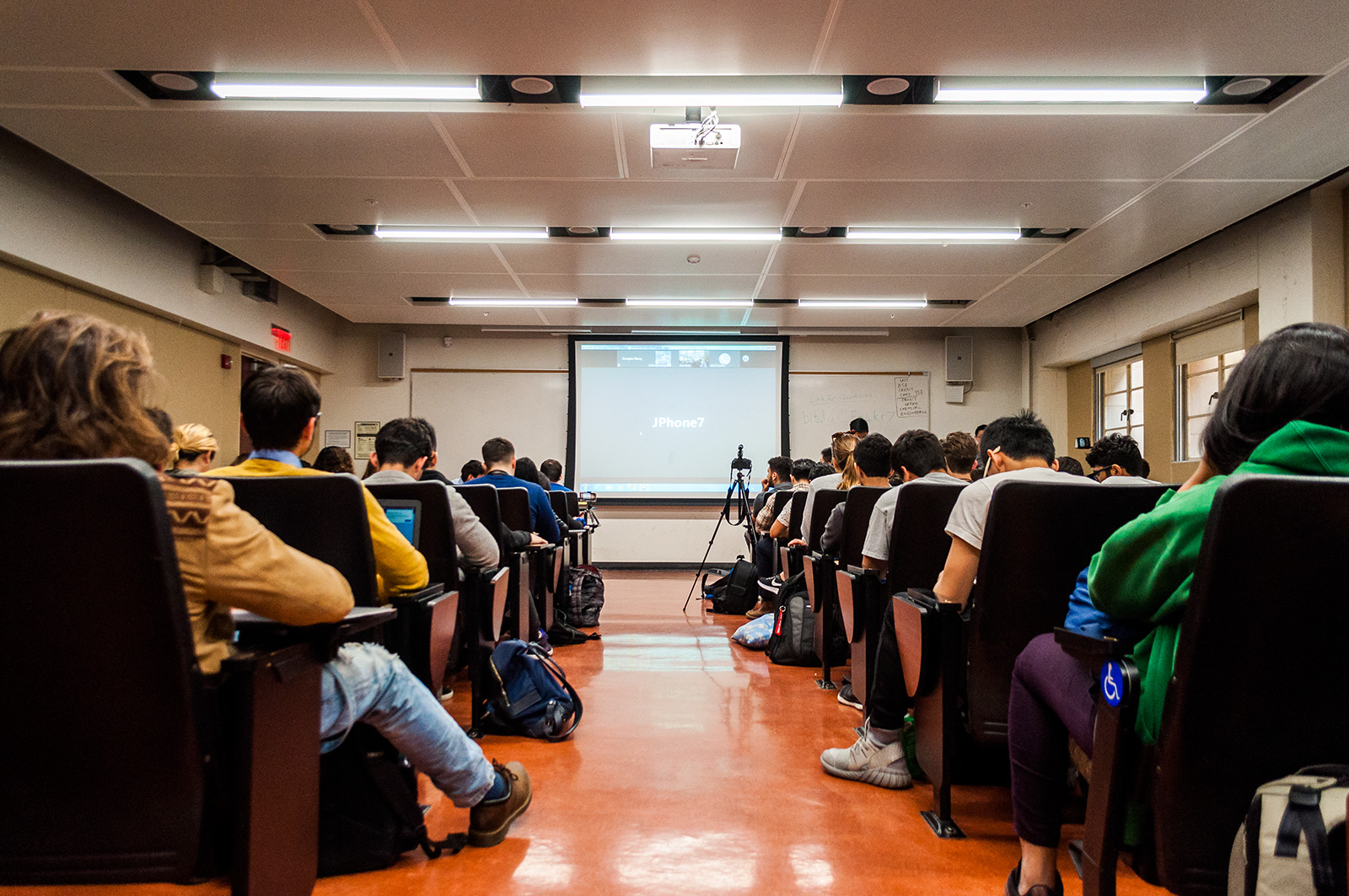 Joseph Lubin, who helped found the blockchain technology Ethereum, talked about the potential applications of the technology to over 60 students at an event hosted by Blockchain at UCLA, a student group on campus. (Eda Gogkebay/Daily Bruin)
The co-founder of a blockchain-based network told students via video chat Wednesday that the network can change the way businesses and governments operate.
Joseph Lubin, who helped found the blockchain technology Ethereum, talked about the potential applications of the technology to over 60 students at an event hosted by Blockchain at UCLA, a student group on campus. Blockchain is a secure electronic notebook that keeps track of transactions. Cryptocurrencies, such as as bitcoin, are digital currencies created through blockchain technology that can be exchanged for monetary value online.
Although bitcoin is the most well-known application of blockchain, Lubin said Ethereum has wider economic and political implications.
"Bitcoin has a great network effect, but it has very narrow application," he said. "Ethereum, at the application level, has at least 40 (times) more developers than the second-largest (blockchain) ecosystem."
Lubin is also the founder of ConsenSys, a company looking into different ways to use Ethereum. He said the company is developing about 25 different projects in areas such as the music industry, government and health care.
Lubin said Ethereum can change business-consumer relations by allowing businesses to access their consumers directly. Ethereum can also be used in public policy, he added. He said he and his company are working with the governments of Singapore and Dubai, United Arab Emirates, to organize voting and land registry.
Because blockchain technology is relatively new, ConsenSys also offers educational materials, such as e-books, and oversees an Ethereum academy to inform individuals about the technology, Lubin said.
"There's definitely a need for software developers in the blockchain space," he said. "We were trying to find them … and what we came to the conclusion was that what we needed to do was grow our own, so we've been building educational content."
Lubin said he thinks students who want to get involved in blockchain should take classes about it, whether they hope to develop software or pursue entrepreneurship opportunities.
Although the event was focused on a topic related to computer science, several students who did not have coding backgrounds also attended.
Douglas Wang, a second-year computer science student and co-founder of Blockchain at UCLA, said he hoped the event would attract not just developers, but anyone who wanted to know more about the field.
"We wanted to bring in the broader community, especially those with interest in the space but don't really know how to start," he said.
Laetitia Waliry, a second-year economics student, said she thinks blockchain technology could help digitize assets and make transitions more efficient.
"I thought it was really insightful that cryptocurrency and blockchain is going to be a big part of the future, (such as) integrating this into businesses," she said.
Anh Nguyen, a third-year economics and international development studies student, said he attended the event because he believes even students who are not studying computer science should know about blockchain technology.
Nguyen said he agreed with Lubin that blockchain technology has far-reaching possibilities.
"People are saying it's like the internet in the 1990s, and I totally believe that. If you look at blockchain, it can literally be applied in every single industry in our society," he said. "It's going to be huge."
Ye is a slot editor. She was also a slot editor for the 2018-2019 school year, as well as the 2017-2018 school year.
Ye is a slot editor. She was also a slot editor for the 2018-2019 school year, as well as the 2017-2018 school year.