UCLA women's golf finishes first, Lilia Vu earns eighth tournament win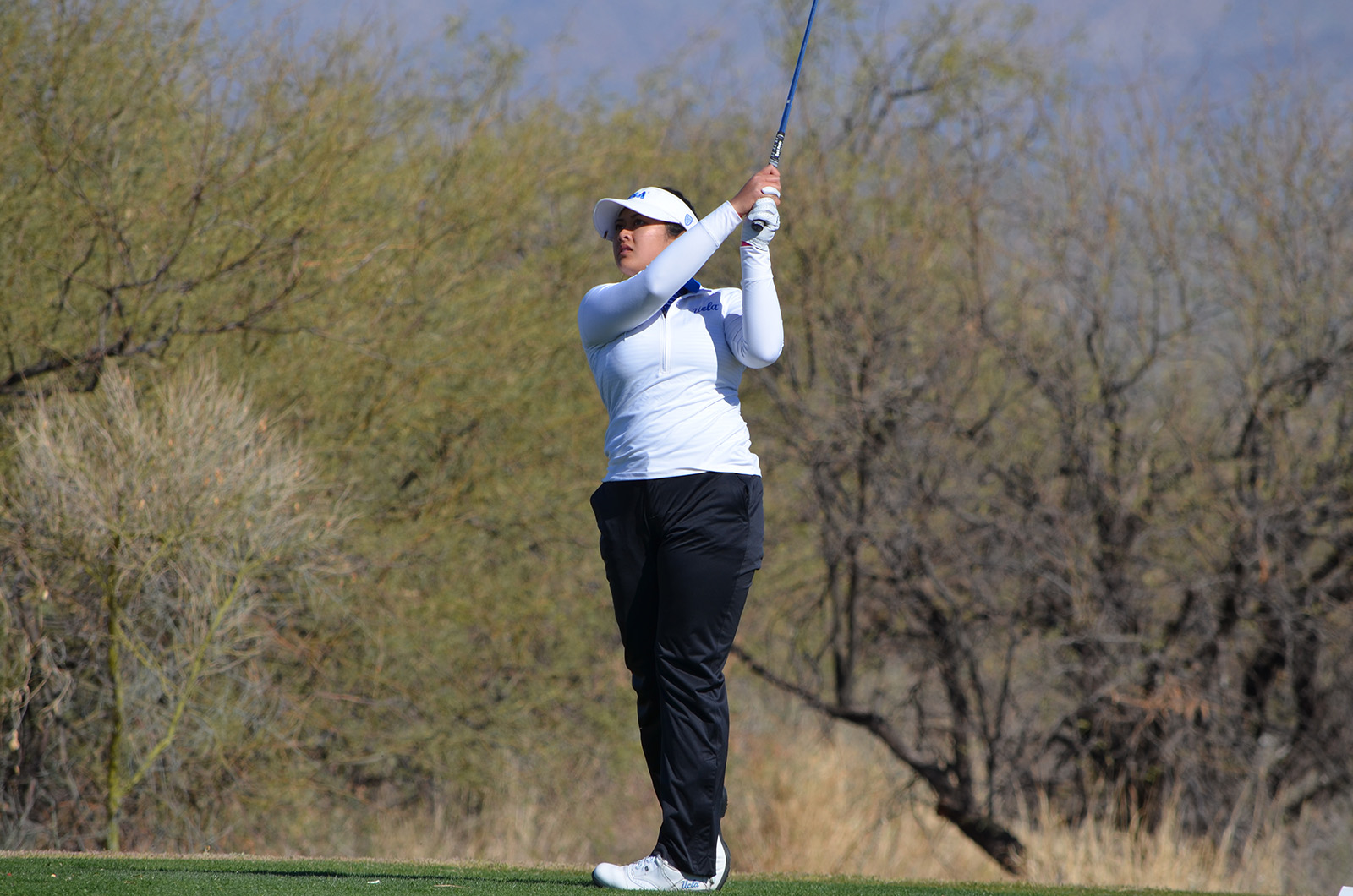 Top-ranked UCLA women's golf took home another victory at the Wildcat Invitational on Tuesday. Junior Lilia Vu also recorded her eighth career individual victory, putting her alone as the winningest golfer in program history. (UCLA Athletics)
Lilia Vu is now the winningest Bruin golfer in program history.
A week after tying the wins record at the Bruin Wave Invitational, the junior won the eighth tournament of her career at the Wildcat Invitational.
However, Vu was not the only winner.
No. 1 UCLA women's golf was able to escape Arizona with a victory Tuesday, holding its place as the top team in the country. The Bruins shot an 847 as a team and finished 17 under par, beating the Wildcats by nine strokes.
Vu also tied the course record for lowest tournament score, finishing at 14-under-par.
"I'm pretty proud," Vu said. "I didn't expect to break the other record for lowest tournament total, so it's pretty cool."
Coach Carrie Forsyth attributed Vu's great success to both her understanding of the game as well as her natural skill.
"I think she's really got a really good understanding of course management as it relates to her game and her strengths and weaknesses," Forsyth said. "She is not at all afraid of not hitting a driver off the tee, and just hits the right club for her to put herself in the right position with the club that she likes."
Vu said her work ethic and ability to keep an open mind are what make her so effective on the course.
"I think it's just a lot of hard work and being able to be open to new things and always learning new things," Vu said. "It's being open-minded and taking what you can get."
Sophomore Mariel Galdiano finished second overall, finishing the tournament at 11-under-par. She had her best performance in round three, tying for the lowest score in the round with a 67.
"I eliminated a lot of the mistakes that I made (Monday)," Galdiano said. "I saved a lot of good pars when I hit the greens and I made all of the short putts that I've been missing."
The Bruins also shot their lowest overall score since October when they shot 20 under par at the Nanea Pac-12 Preview.
"The course seemed really scoreable and not that difficult," Forsyth said. "Just a lot of good golf, and when you have that feeling as a player that feels like they can score out here then good things can really happen."
For the second-straight tournament, the Bruins were without freshman Patty Tavatanakit, which allowed other players to step up. Senior Erin Choi tied for 20th, her only top-20 finish of the season.
"I think that this was a really good opportunity for (Choi) to get into the lineup and play and she did really well," Forsyth said. "This has been a great opportunity for other girls to get some playing and competitive experience, and I think it's really paying off, particularly for (Choi)."
The top-ranked Bruins now have three weeks off competition before returning March 26 to The Farms Golf Club in Rancho Santa Fe, California.
Weinstock joined the Bruin as a freshman in 2017 and contributed until 2018. He spent time on the men's golf and women's golf beats.
Weinstock joined the Bruin as a freshman in 2017 and contributed until 2018. He spent time on the men's golf and women's golf beats.