UCLA men's volleyball seeks redemption in rematch against Pepperdine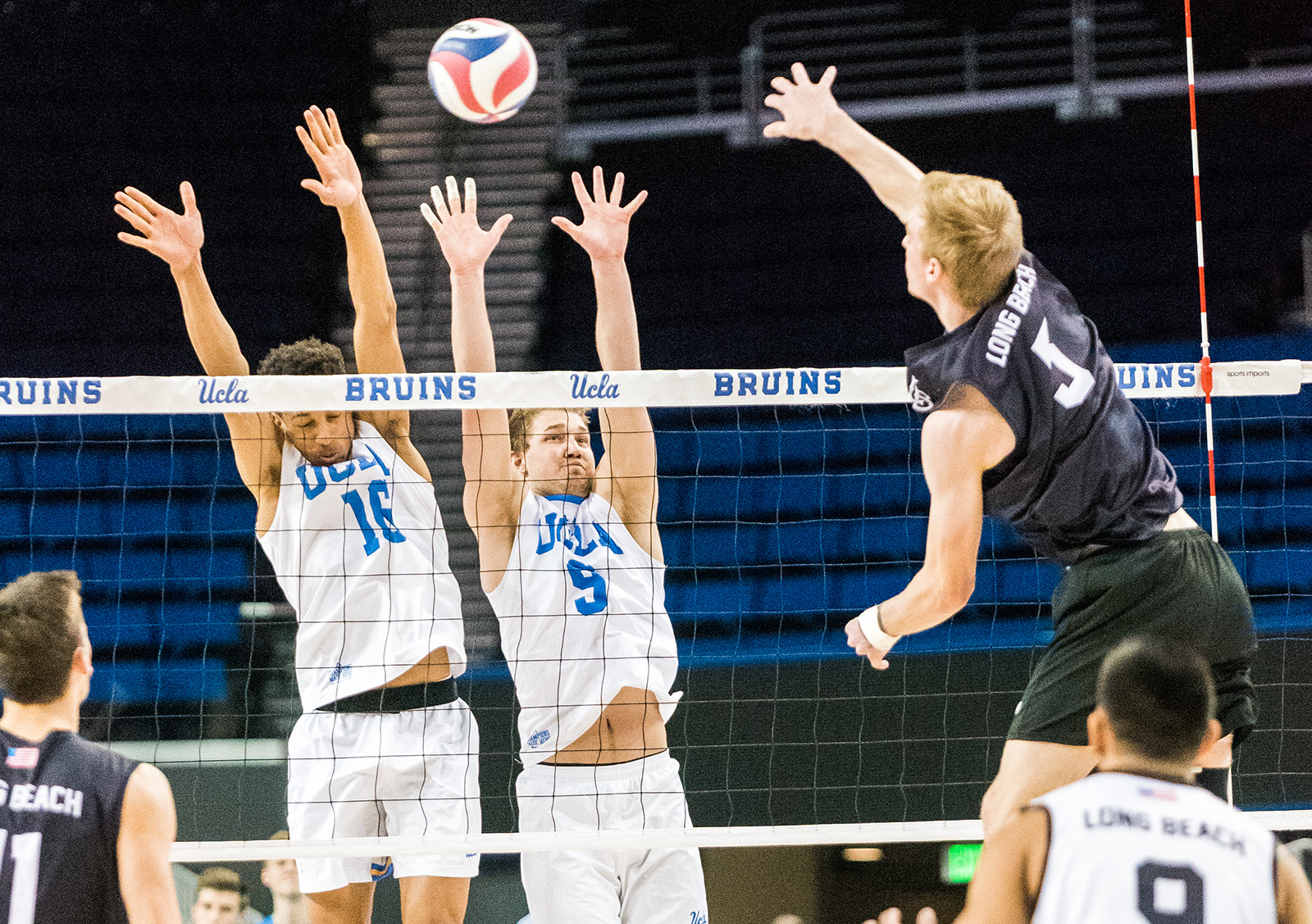 No. 5 UCLA was swept by No. 7 Pepperdine when the two teams faced off just two weeks ago in Malibu, California. The Bruins hit only .203 compared to the Waves' hitting percentage of .455 in the loss. (Isabelle Roy/Daily Bruin senior staff)
UCLA men's volleyball will be granted a much desired rematch against Pepperdine after falling to the Waves – the lowest-ranked team the Bruins have lost to – previously this season.
The last time No. 5 UCLA (15-5,4-2 MPSF) played No. 7 Pepperdine (10-4, 4-2) was just 13 days ago when the Bruins were swept by the Waves in a three-set match.
The Bruins fell just short of taking each set by a margin of 5 points or lower – UCLA lost 21-25, 23-25, and 20-25.
Coach John Speraw said that there are elements of the offense that need improvement in facing a quality serving team like Pepperdine.
"How is our offense when you're passing a ball 10 to 15 feet? How do we attack that ball and transition?" Speraw said. "That has been our area of focus for a while – I have seen some improvement in that regard, but I think the big challenge is this team's serve."
Pepperdine has averaged 1.9 aces per set, while UCLA averages 1.8. The Waves, however, barely edge out the Bruins in average serving errors per set at 0.9 compared to the Bruins at 0.8.
UCLA had a difficult time prolonging rallies, and was unable to commit to earning enough points to secure a set victory against Pepperdine.
Sophomore middle blocker Daenan Gyimah said that the Bruins need to work on hitting out of system.
"We had a lot of errors that should have been continues," Gyimah said. "If we could just do that we will prolong the rallies and not have an automatic loss of point."
Redshirt freshman opposite Sam Kobrine said the Bruins didn't understand the ways in which the Waves were setting the ball.
"They set and contact the ball a little higher than most teams, which made it difficult for us to block … (and) recognize when their big servers are on the line so we can take advantage of whatever play we have, and not (force) anything and (keep) the ball in play to not make errors," Kobrine said.
UCLA has been working on out-of-system attacking in practice to provide the Bruins with some leverage to face Pepperdine.
"Getting by the rhythm when we are planning to attack and putting the ball at the net when we are setting is the main thing we are working on," Kobrine said.
The Bruins will add senior opposite Christian Hessenauer back to the roster as he did not play against the Waves on Feb. 23.
Hessenauer leads the Bruins with averages of 3.4 kills per set and 4.21 points per set.
UCLA will face Pepperdine back home in Pauley Pavilion for the rematch Wednesday.
"Being in our home gym will bring it all together," Gyimah said.
Sered joined the Bruin as a junior in 2017 and contributed until she graduated in 2018. She spent time on the softball, men's volleyball and men's soccer beats
Sered joined the Bruin as a junior in 2017 and contributed until she graduated in 2018. She spent time on the softball, men's volleyball and men's soccer beats