Sam Smoot: UCLA clarifying zero-waste program would better incentivize students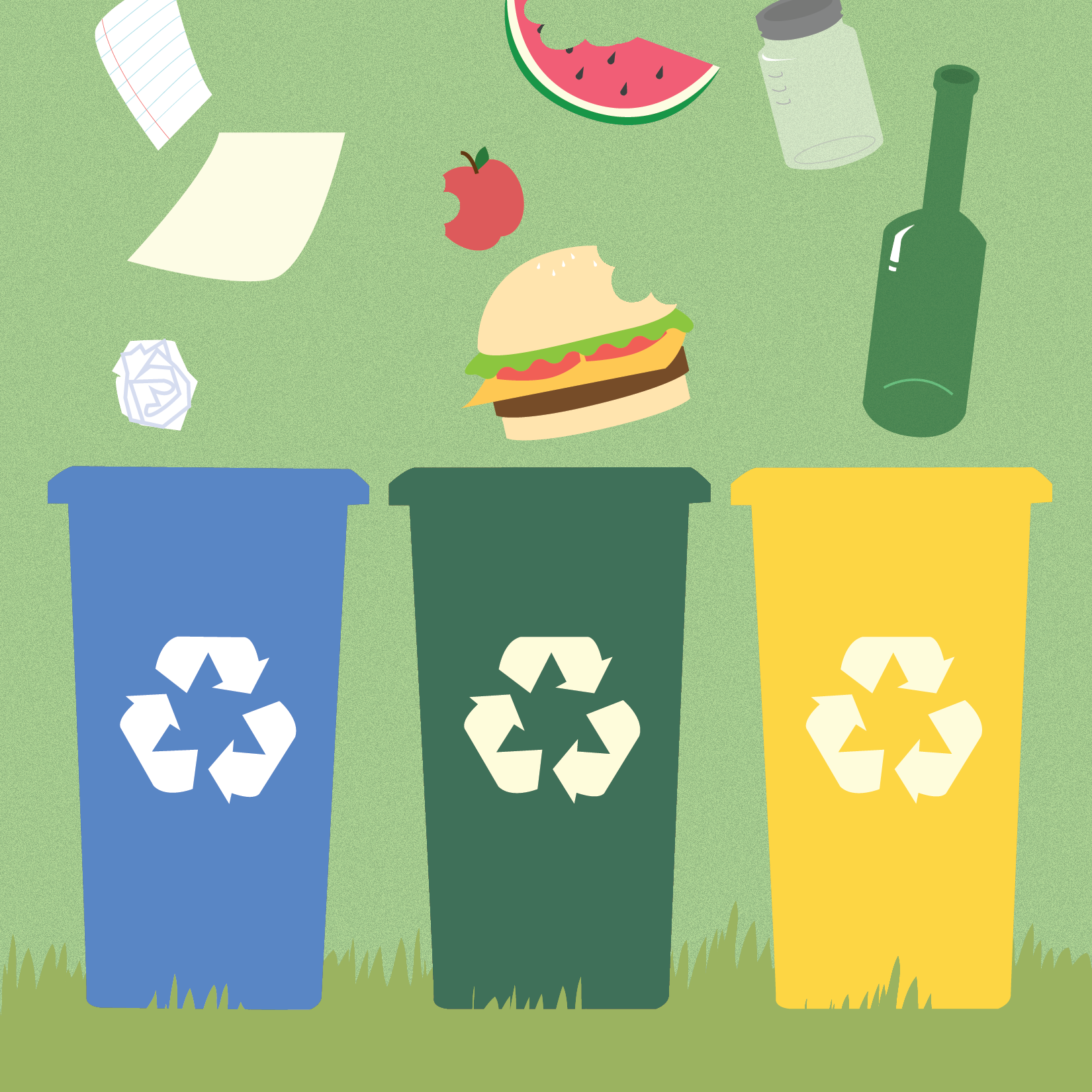 When it comes to trash reduction at UCLA, things can get a little messy.
The University of California launched its Zero Waste by 2020 program in 2007 with the goal of diverting solid waste from landfills. This means that garbage is processed through sustainable practices, such as recycling and composting, instead of being dumped in a landfill.
The UC set up an interim goal of 75 percent waste diversion from landfills by 2012 and 100 percent by 2020. UCLA is currently at 63 percent waste diversion, said Nurit Katz, chief sustainability officer at UCLA.
Two years from the finish line, we are still a ways away from the ambitious goal of zero waste by 2020.
Zero waste may seem to imply no waste at all, but for practical reasons, absolute zero is not UCLA's policy target. Instead, the goal is 90 percent waste diversion, which is a metric for assessing how much waste is redirected from landfills to recycling programs, compost services and waste-to-energy conversion facilities. Katz said UCLA's reasoning for this semantic choice is that until there is a sustainable alternative for virtually every product open to the public, large, complex organizations like UCLA will not be able to reach absolute zero waste.
Originally, UCLA targeted 95 percent waste diversion, and later drew inspiration from the Zero Waste International Alliance's definition of "zero waste" as 90 percent diversion.
In other words, UCLA isn't reaching true zero waste by 2020. We may not even be able to reach it by 2030.
This isn't to say there's no hope for reducing waste on campus. UCLA has made gains in waste diversion with the implementation of a recycling system that can manage all types of recyclables, and plans to expand composting in order to continue increasing the waste diversion rates.
Instead of plugging idealistic slogans about eradicating waste on campus, UCLA needs to clearly define the current status of all metrics of waste management rather than just waste diversion. The university needs to set realistic short-term goals for each of its waste metrics and regularly update students on the progress to incentivize them to make informed decisions about their waste disposal.
The waste diversion rate UCLA publicizes as of now does not give the full picture of waste management on campus. To the average onlooker, it may appear that the waste diversion rate is equal to the rate of recycled material. However, in practice, methods of waste diversion vary.
Katz said UCLA's 90 percent waste diversion goal includes a stipulation that the university cannot exceed 10 percent waste-to-energy conversion, which involves taking non-reusable trash and converting it to usable energy via processes such as incineration.
The process in theory achieves UCLA's stated goal of landfill diversion but does not fully embody the spirit of sustainable practice because the material is not being recycled. In fact, the Zero Waste International Alliance defines zero waste as "90 (percent) diversion from landfills, incinerators and the environment," which differs from UCLA's zero-waste policy.
It is worth noting that research done by entities including Los Angeles County and the Office of Energy Efficiency and Renewable Energy of the U.S. Department of Energy has shown that waste conversion results in less greenhouse gas emissions than landfill waste does. However, there is a difference between converting and diverting waste – not to mention the emissions that result from each process. Just publicizing simple diversion rates alone, without explaining the difference, does not necessarily provide community members with a full understanding of UCLA's environmental impact.
The university's zero waste policy itself suggests that recycling is not the top priority – waste reduction is. Recycling has an energy cost and UCLA prioritizes reduction over recycling. Katz said the university is working on a system for tracking waste reduction on campus. However, she added there is not yet a system in place for specifically quantifying UCLA's progress on waste reduction efforts.
The reason for tracking reduction separately is that simply recording waste diversion rates may not capture the overall decrease in waste being generated via reduction efforts. You wouldn't be able to glean that, though, given how UCLA gives the impression that its zero-waste progress is equivalent to its waste diversion rates.
And that's the problem with UCLA's zero-waste campaign: It makes it seem as though the university is on track to a wholesale elimination of waste from campus, when really we're far from that utopia. Giving a better sense of where we really are may spur student action, which is essential for true change.
Katz said the focus after 2020 will be continuing reduction, and that new policy targets for reduction will be rolled out soon. However, the university shouldn't wait until 2020 to publicize reduction goals – even if the goals are ambitious and, ultimately, unrealistic. If students are to get on board with these initiatives, the university needs to inform them early on and give them the facts that would enable them to make more sustainable decisions.
Sustainability campaigns require continued interest and regular progress reports. UCLA has already done a good deal of work so far, but students aren't encouraged to change their modes of living when they see the university proclaiming that waste is disappearing on campus when, in reality, it might not be.
For important issues like campus sustainability, the goals should be less focused on headline-grabbing claims and more focused on measured and achievable goals.
Let's keep the trash talk as real as possible, UCLA.