Theologian discusses Christian faith, morality and ethics in campus event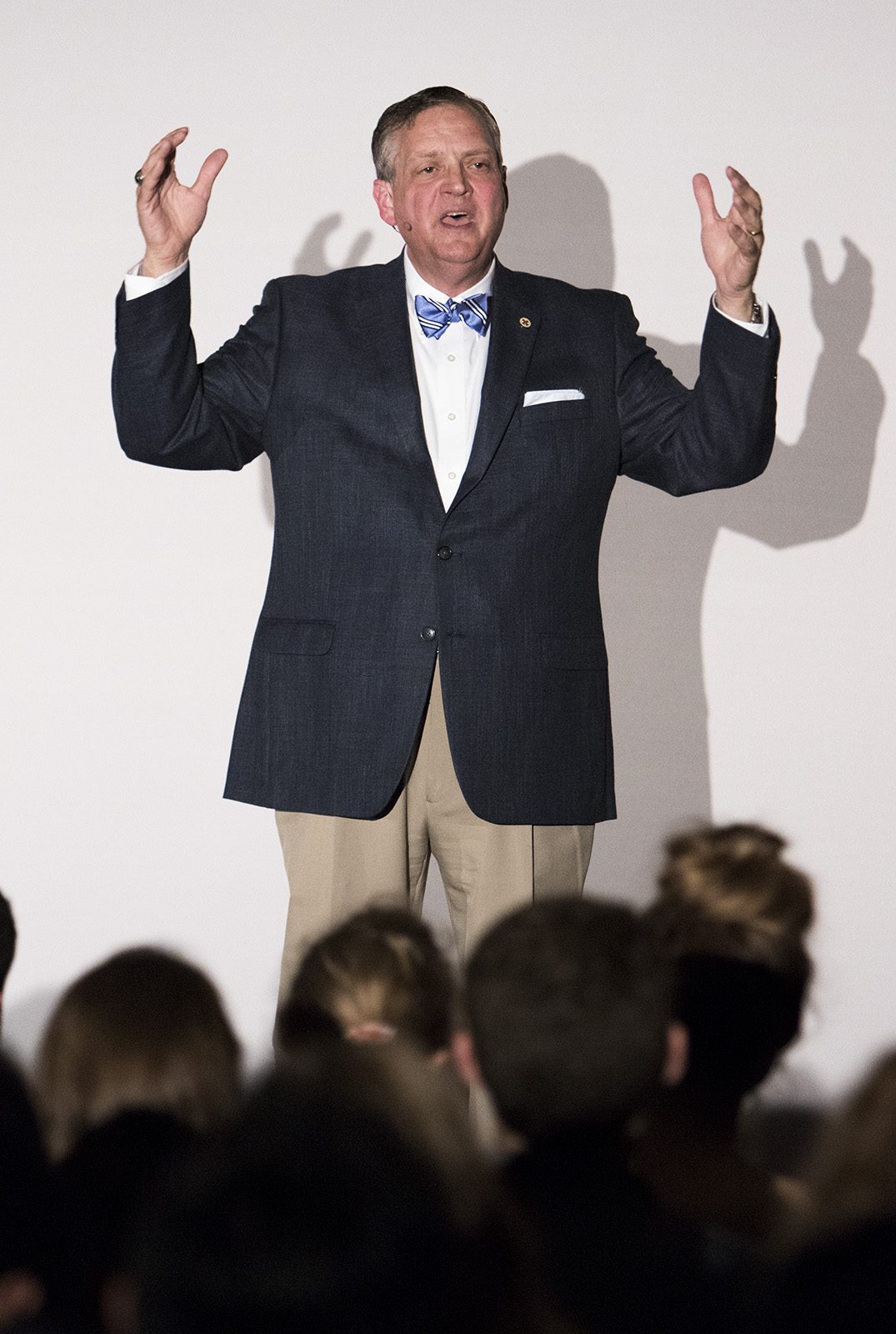 Albert Mohler, president of the Southern Baptist Theological Seminary in Louisville, Kentucky, came to UCLA to answer students' questions about the ethics and morality of Christianity at an event hosted by Grace on Campus, a Christian fellowship at UCLA. (Ken Shin/Daily Bruin staff)
A theologian encouraged students to use the Christian faith to develop their moral and ethical beliefs at an open mic discussion Friday evening.
Albert Mohler, president of The Southern Baptist Theological Seminary in Louisville, Kentucky, came to UCLA to answer students' questions about Christianity, morality and ethics at an event hosted by Grace on Campus, a Christian fellowship at UCLA. About 900 people attended the event, which was part of Mohler's national Ask Anything Tour.
Christopher Gee, a Bible study leader at Grace on Campus who graduated from UCLA in 2008, said the event aimed to give attendees information to form their religious beliefs.
"College is a crossroads in life and what you begin to believe … (and) how you begin to live your life in college very much determines the trajectory of your life afterwards," he said.
Gee, who has been a part of Grace on Campus since he was a student, also said the group hosted the event to try to disprove misconceptions about Christianity, such as the idea that it is a blind faith people follow without deep thought and consideration.
"We're definitely trying to dispel the myth that … religion is for the unintellectual," he said. "We would want people to choose the path of faith believing in Jesus Christ, (but) we don't want them to do that blindly, we want them to do that with enough information."
Mohler said he thinks college campuses are great places to have deep conversations on morality and religion because many students are just starting to develop their ethical beliefs.
He added he came to UCLA to argue in favor of the Christian faith and explain how Christians use faith in their lives to decide on difficult moral issues.
"I came here to think out loud as a Christian," he said. "I'm unapologetic about the fact that I'm a Christian and I want to see other people come to know Christ."
In response to a student's question about the legitimacy of other religions around the world, Mohler said he thinks other religions do not share the same clarity or honesty as Christianity.
"The so-called other scriptures of the world do not make the same kind of claims that (Christian) scripture makes," he said.
When asked about his thoughts on transgender individuals, Mohler said he thinks gender is a fixed identity that cannot be changed.
"For millennia of human experience, we've had a vocabulary of boy, girl, male, female," he said. "It's fixed by the God who created us in his image."
Mohler added that although he tried to answer students' questions at the event, he thinks the Bible is the final answer to moral and ethical questions.
"Anything I say about anything … you should test by scripture, because that's the only way I think we can possibly know what the creator has instructed us about ourselves," he said.
Several students who attended the event said they enjoyed engaging with Mohler on spiritual topics.
Dawn Liang, a fourth-year neuroscience student and member of Grace on Campus, said she thought the event helped her think more deeply about difficult questions about morality and life. She added she thinks Mohler explained complicated world events in a simple way.
"There are questions on issues that I hadn't thought through that deeply on my own … it's helpful to hear how (Mohler) verbalized the thought process for me," she said.
Ryan Chapman, a first-year astrophysics student, said he found the event valuable because he liked hearing opinions contrary to his own. He added he liked that the event involved the audience in the discussion, but did not feel the event changed any of his beliefs on religion.
"I think (Mohler) is a very intelligent man, but he was kind of dancing around some of the answers," he said.
Chapman said he remains skeptical of Mohler's belief that the Bible is rational.
"Religion in general rationalizes what we don't understand about the world, and even good reason based on incomplete facts is still an incomplete understanding of the world," he said.
Mohler said there are still many questions about morality and life that he is unable to answer, but hopes attendees use faith to answer questions that trouble them.
"I have found questions that I can't answer to my satisfaction, but that just makes me want to study the scriptures more," he said. "I don't expect in a couple of hours on a Friday night that I'll be able to answer all of those big questions, but I hope at least to begin to encourage a process of thinking."