Softball continues dominant season, sweeps through San Diego Classic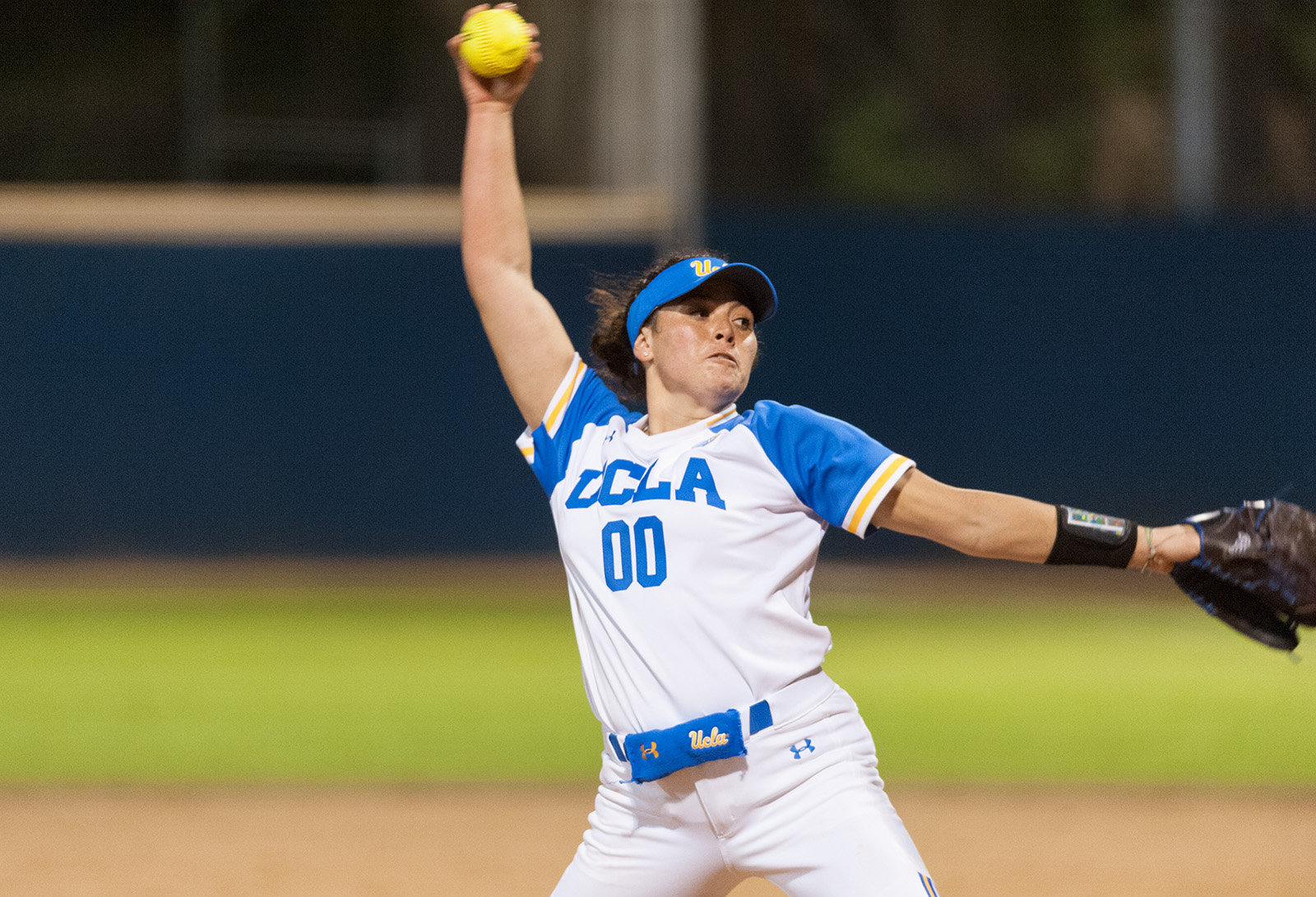 Sophomore Rachel Garcia and the No. 3 Bruins have swept yet another weekend tournament. This time they won four games over three days and now stand at 19-0. (Jenna Nicole Smith/Daily Bruin)
UCLA softball extended its perfect start to the season, sweeping through the San Diego Classic.
The No. 3 Bruins (19-0) currently own their longest winning streak to begin the season during coach Kelly Inouye-Perez's tenure, which began in 2007.
This comes after defeating UCF, Minnesota, San Diego and Santa Clara over the weekend.
The last time UCLA had a better start was 2004, when the Bruins began the year 25-0.
"It's a product of a very talented team," Inouye-Perez said. "We're swinging the stick really well and we also have strength in the circle."
A weather delay couldn't slow UCLA down, which had its weekend schedule altered due to rain Saturday.
The weather was about the only thing that changed for the Bruins as their play on the field was reminiscent of that throughout the year.
UCLA began the San Diego Classic against UCF (11-8) on Friday with a fifth inning 9-1 mercy rule victory.
The top three hitters in the lineup each drove in two RBIs, including freshman left fielder Aaliyah Jordan who continued her torrid string of at-bats going 3 for 3 with a double.
Freshman Holly Azevedo pitched a complete game going five innings, striking out four while giving up three hits.
The following day the Bruins were delayed because of to the weather. Saturday's two-game, two-stadium doubleheader began in SDSU's campus against the only ranked opponent UCLA would see over the weekend – No. 21 Minnesota.
The Gophers (12-7) would find themselves down early in the bottom of the first after junior third baseman Brianna Tautalafua hit a 2-run bomb over the left field wall.
By the fourth inning the Bruins were up 7-0 thanks to senior second baseman Kylee Perez who drove in three total runs with a pair of singles in the second and fourth inning.
That was enough run support for sophomore pitcher Rachel Garcia who pitched five innings, allowing 2 earned runs, four hits and striking out four before being relieved by Azevedo.
The game ended in a 12-4 mercy rule victory in the sixth, after sophomore center fielder Bubba Nickles scored on a wild pitch to cap off a 3-run inning.
"We're going out there trying to win each game," Nickles said. "But we've definitely been challenged quite a bit and been put in check. We need to stay within ourselves and realize that it's still one game at a time."
Shortly after the conclusion of the game, UCLA boarded the team bus for a ten mile trip west toward the USD Softball Complex to conclude its doubleheader against San Diego (12-10).
It was freshman infielder Malia Quarles, in her first start of the season, who got things started for the Bruins with a 2-run single up the middle in the second inning. Quarles made the start as designated hitter, replacing Garcia in the lineup.
With the score 4-0 in the second and the Perez sisters on first and third, coach Inouye-Perez called a double steal that was executed perfectly. Briana Perez stole home and Kylee Perez made her way to second safely.
For senior pitcher Selina Ta'amilo, that was enough run support to help win the game. She pitched four innings, struck out four, allowed six hits and gave up 1 earned run as she continues to pitch well after recovering from offseason surgery to repair a bone spur in her elbow.
"We're focused on playing our game and doing what we do best," Ta'amilo said. "When we do that I do believe we are unbeatable."
Freshman right fielder Julie Rodriguez drove in another 3 runs and hit her first home run wearing a Bruin uniform as UCLA defeated San Diego by a score of 8-3.
Sunday's finale against Santa Clara (2-13) saw UCLA struggle initially to get on the board.
While Garcia pitched a complete game going six shutout innings, allowing one hit, walking three and striking out seven, UCLA had difficulty finding her run support.
In the top of the sixth, with the score 0-0, Kylee Perez began the inning with a walk, followed by a Jordan single and capped with a Tautalafua walk, which loaded up the bases for Garcia with no outs.
The dual player then proceeded to help out her own cause as a pitcher by belting a grand slam over the left field wall that put the Bruins up 4-0.
"(She's a) big time stick who's also a fierce competitor in the circle," Inouye-Perez said. "She's definitely on a mission to be the best player in the country but her ultimate goal is to win that national championship with her team."
Kylee Perez and Jordan would find their way back to the plate, each driving in a pair of runs to end the inning putting UCLA up 8-0 and three outs away from another mercy rule victory.
Garcia then took the circle in the bottom of the sixth to end the San Diego Classic for the Bruins with an undefeated record.
UCLA was originally scheduled to play San Diego State in a Sunday doubleheader, but Saturday's rain delay forced the game to be canceled.
Ardon joined the Bruin as a sophomore in 2016 and contributed until 2018. He spent time on the softball, men's soccer, women's soccer and beach volleyball beats.
Ardon joined the Bruin as a sophomore in 2016 and contributed until 2018. He spent time on the softball, men's soccer, women's soccer and beach volleyball beats.