UCLA defeats Cal, to face Oregon in Pac-12 Tournament semifinals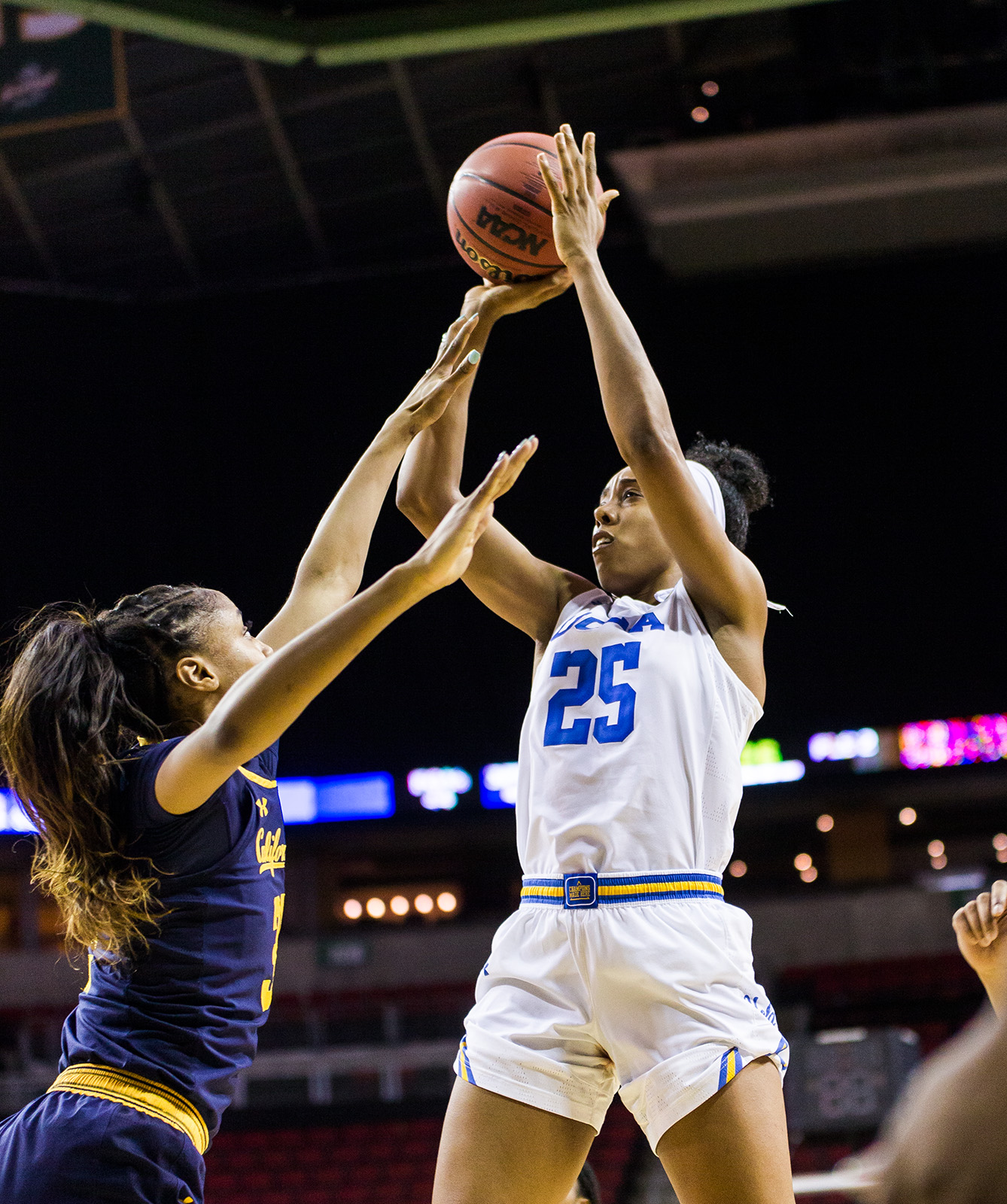 Senior forward Monique Billings recorded 18 points and eight rebounds in the Bruins' 77-74 win over the Bears on Friday night. UCLA will face Oregon in the semifinal of the Pac-12 Tournament on Saturday.
Correction: The original version of this article incorrectly stated Kelli Hayes made 6-of-8 threes for 18 points. In fact, she made 6-of-8 shots overall and was 5-of-7 on threes.
SEATTLE, Wash. — The Bruins will play in the Pac-12 Tournament semifinals for the third consecutive year.
No. 9 UCLA women's basketball (24-6, 15-4 Pac-12) knocked off California (21-10, 11-8) 77-74 in the quarterfinal Friday night, setting the stage for a semifinal meeting with Oregon on Saturday.
Shots were not falling early. The Bruins turned the ball over just two times and attempted 10 more shots than the Bears, but headed to the locker room at halftime with only a 5-point lead.
"We didn't make jump shots early in the game," said coach Cori Close. "This time (Cal) decided to double (Billings) and sit deeper in the paint, so our guards had open jump shots, but we didn't knock those down."
Despite shooting just 25 percent in the first quarter, the Bruins were able to draw fouls when driving to the basket, knocking down 8-of-10 from the charity stripe. UCLA ended up getting to the line 34 times – more than double of Cal's trips to the line – and cashed in on 71 percent of them.
Senior Monique Billings and Cal's leading scorer Kristine Anigwe battled in the paint and held each other to no field goals after the first frame.
By halftime, Billings and senior guard Jordin Canada – UCLA's top scorers – shot a combined 4-of-17 from the field. Senior guard Kelli Hayes stepped up, however, and drained three 3s in the second quarter to give the Bruins a 34-29 lead at halftime.
"I was feeding off of the energy from (Canada and Hayes)," Billings said. "(I was able to get) them into foul trouble, so I wanted to follow that and attack them too any way that I could."
Billings and Anigwe heated up after the break, finishing with 14 and 12 second-half points, respectively. Billings strung together a 6-0 run out of halftime, scoring on three straight possessions. But the Bears answered with a 13-3 run and took a 2-point lead into the final frame.
Hayes, who switched onto Anigwe in the post, drew Anigwe's fifth and final foul with about three minutes left in the fourth quarter. Cal committed 24 total fouls as a team, with four of its five starters finishing with at least four.
"(Hayes) has made so many selfless choices," Close said. "For her to stay ready the way she was… the way we were able to switch and her to be able to rebound and defend the post in that fourth quarter was just huge for us. In my mind, she was really the difference maker."
Canada finished with 27 points on 8-of-21 shooting, logging her highest scoring performance in Pac-12 play this season. Hayes knocked down 5-of-7 attempts from beyond the arc en route to a career-high 18 points.
"Honestly nothing really changed for me (because) I know that I put forth the work this whole summer and this year (and) my teammates really put that confidence in me," Hayes said. "(They have) seen me every day in practice putting up shots."
The Bears led by 7 points midway through the final frame, but a Bruins run capped off by a backbreaking layup from Hayes after a broken play gave UCLA the lead for good. The two teams exchanged free throws the rest of the way.
"For me, (Hayes) has been everything. People don't see the work that she puts in day in and day out, but we trust her," Canada said. "Just her passion for the game – I love it."
UCLA will face No. 6 Oregon for the third time this season Saturday at 6 p.m.
Hong is the 2019-2020 Managing editor. She was previously an assistant Sports editor for the women's basketball, men's water polo, women's water polo, women's tennis, and beach volleyball beats.
Hong is the 2019-2020 Managing editor. She was previously an assistant Sports editor for the women's basketball, men's water polo, women's water polo, women's tennis, and beach volleyball beats.