Recently published anthology explores young women's perspectives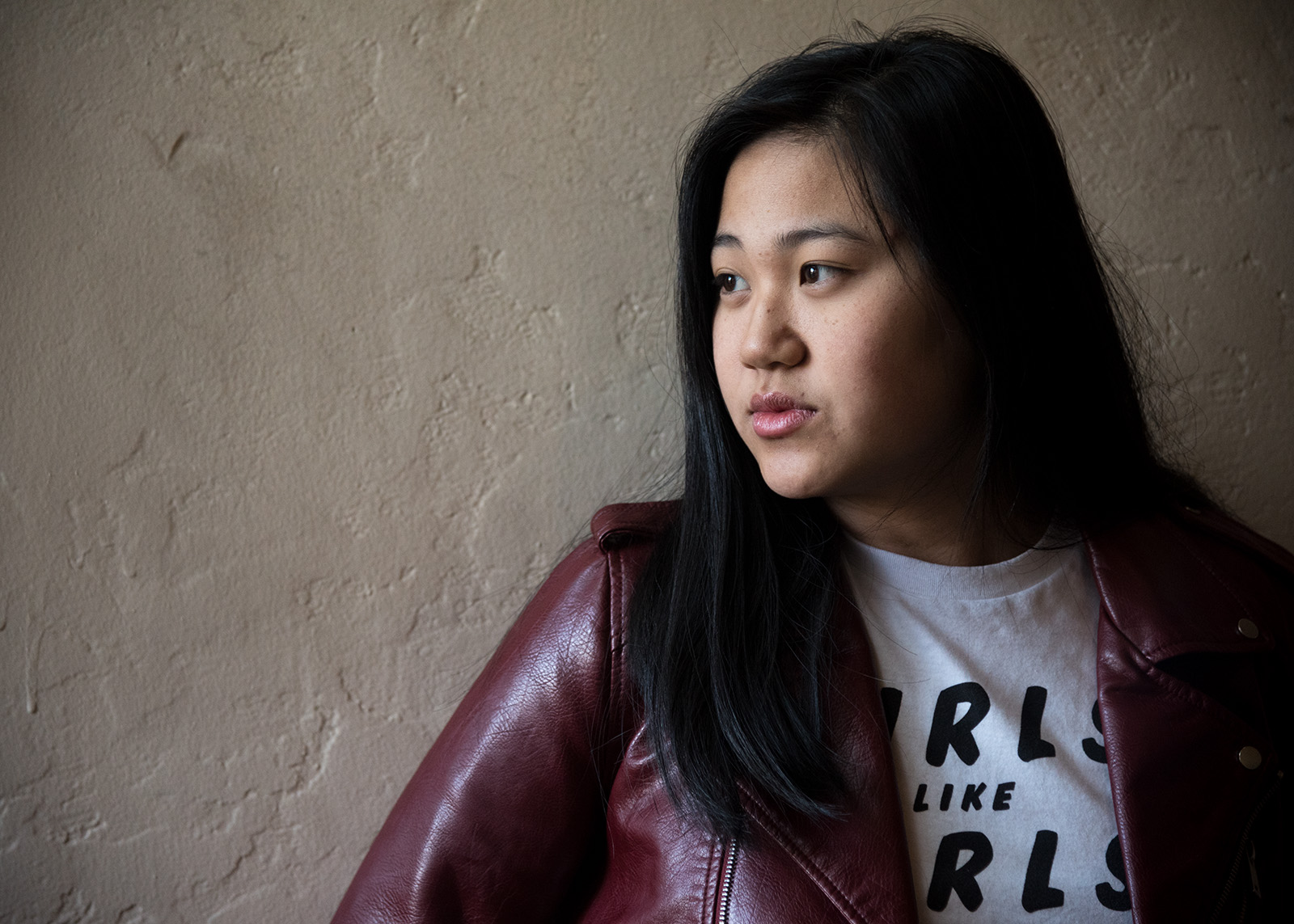 Catherine Zhang, a second-year psychobiology student, is one of the co-authors of "Shattering the Glass Box," an anthology of personal stories written by seven women in the United States and the United Kingdom. The book was published Feb. 20. (Daniel Leibowitz/Daily Bruin staff)
Catherine Zhang confided in an openly gay student she had just met during a fraternity party her freshman year that she was bisexual.
Her new friend responded by hugging her and inviting her to go to a gay club with him in the future.
Zhang, a second-year psychobiology student, said it was the first time she felt proud of her sexuality instead of hoping that people would accept it.
"I am no longer looking for acceptance," she said. "If they are people I want in my life, acceptance is the bare minimum."
Zhang published this story and others in "Shattering the Glass Box," an anthology of personal stories published Feb. 20. The anthology, which covers topics such as sexuality, work and education, family and social life, mental health, body image and sexual assault, was written by seven women between 17 and 26 years old from the United States and the United Kingdom.
Before coming out as bisexual, Zhang said she was concerned her friends, family and even strangers like the one she met at that fraternity party her freshman year would treat her differently because of her sexuality.
Zhang said she first came out to her best friend Amber Feng, now a second-year legal studies student at UC Berkeley, over text. She said it was difficult to come out to Feng, even though they had been friends since kindergarten and Feng supported the LGBTQ community.
"I was terrified," Zhang said. "It was a very irrational fear but … you don't want to make your friends uncomfortable."
Feng, who also contributed to the book, said that when she got Zhang's text, she understood it marked an important moment in Zhang's life.
"The prevailing emotion was that I'd say something wrong," Feng said. "I knew she would be scared of my reaction. … I ended up saying something along the lines of 'That's really cool and I'm really proud of you.'"
Zhang said she has since come to realize that the people in her life are supportive, proud of her and don't think any less of her for being open about who she is.
"My sexuality is not something that should interfere with friendship," she said. "People in your life who truly care about you will accept you and do more than accept you – I'm lucky to have that."
Zhang said she used the anthology as an opportunity to be open with herself and others about her sexuality. She said she used to ignore her feelings of being attracted to other girls because she had not yet identified with the LGBTQ community.
"I feel like there's a lot of denial (about sexuality)," she said. "There's a lot of pushing back."
Zhang also wrote about body image and how girls start viewing physical attractiveness as a goal and measure of worth at a young age. She said accepting her body was another step toward being open and accepting about who she was.
"Growing up as a girl, you grow up with the expectation that you should be pretty and you should want to be pretty," Zhang said. "I started to learn at a certain part of my life that my goal was to be pretty, when that's not something that should be a priority."
Ben Fletcher, the editor of the anthology, said the book helped Zhang open up and speak out about her experiences.
"She talks about things she never talked about before, things she's never told her family," he said. "She used it as an opportunity to show people that it's better to always be open."
Fletcher said he hopes larger publishers realize young people, in particular young women, have perspectives that should be heard.
"I hope bigger media sources will catch on that we should be listening to these voices," he said. "Old people don't want to take young people seriously, which obviously I think we all need to prove wrong."
Zhang said she hopes women can relate to the book and feel empowered to tell their own stories.
"I hope that they can learn something and realize that they aren't alone," Zhang said. "Who they are is very unique and I hope it gives them the courage to express who they are and that their stories are worth hearing."
Ostergaard is the 2018-2019 assistant News editor of Features and Student Life. She was previously a News contributor. Ostergaard is a second-year Cognitive Science student at UCLA.
Ostergaard is the 2018-2019 assistant News editor of Features and Student Life. She was previously a News contributor. Ostergaard is a second-year Cognitive Science student at UCLA.