Hacker Expo offers computer science students chance to present projects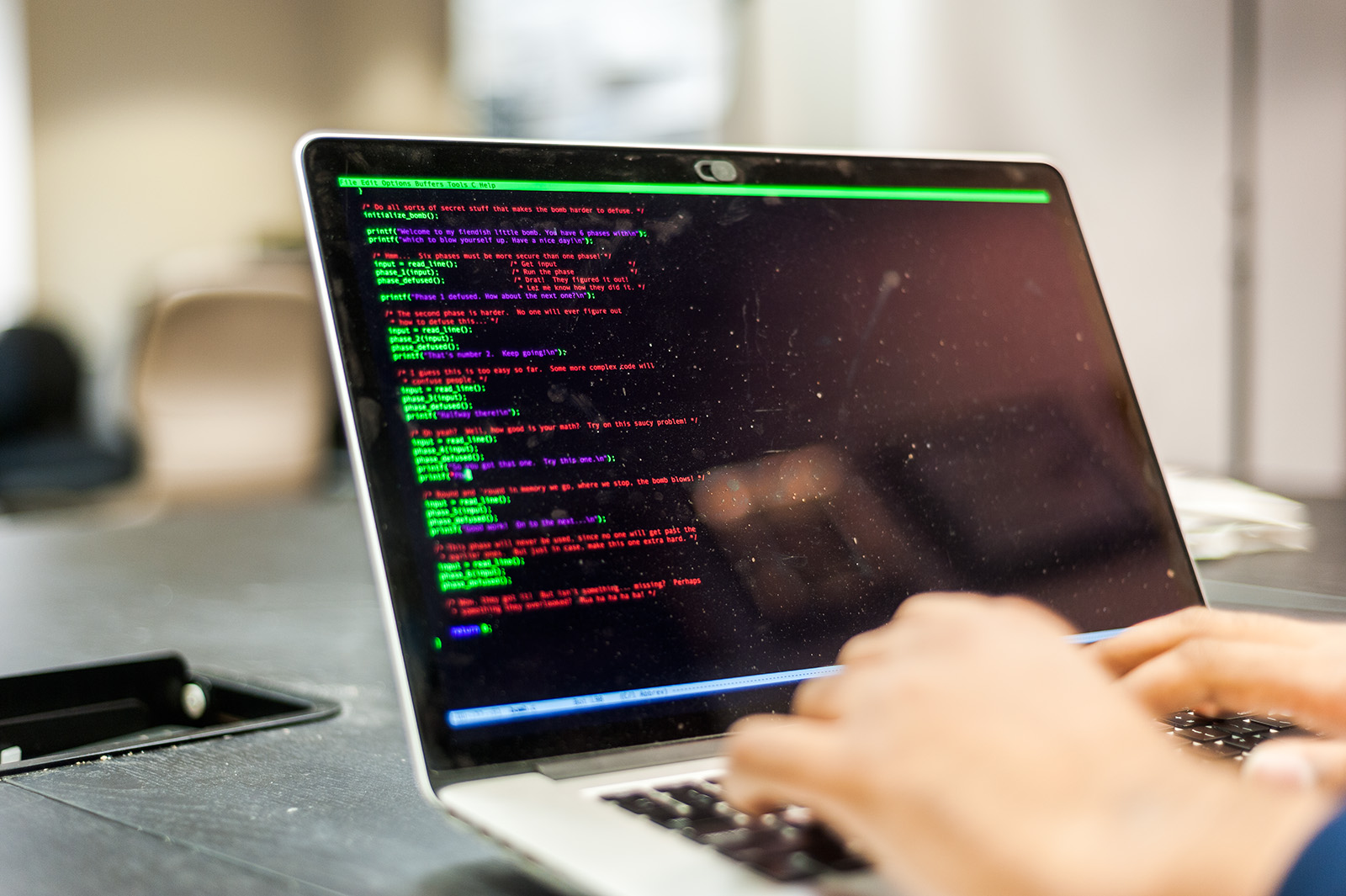 Hacker Expo 2018 featured various programming projects by UCLA students. Organizers preselected 25 projects that Facebook engineers judged for creativity and design. (Kristie-Valerie Hoang/Assistant Photo editor)
Patrick Deshpande came to UCLA as a materials engineering student but switched to computer science after taking an introductory computer science class so he could learn to code solutions to real-world problems.
Deshpande, now a fourth-year student who created a computer program allowing fantasy sports players to use cryptocurrencies in gaming, was among dozens of students to have a project shown in Wednesday's Hacker Expo 2018. The expo, hosted by the Association for Computing Machinery and the UCLA Tech + Innovation initiative at Carnesale Commons on Thursday, showcased 25 programming projects completed by UCLA students,
Among the projects were one that helps first-year students connect with upperclassmen mentors in their preferred majors, and another that provides students with a platform to trade and sell textbooks. ACM board members preselected 25 projects, and Facebook engineers judged the projects on criteria including communication, creativity, design and technical challenge.
Ankur Papneja, the ACM director of operations and a third-year computer science student, said he thinks the exposition helps publicize various projects UCLA computer science students have worked on over the past year.
"We put it on to celebrate the remarkable tech fellow Bruins have developed," he said.
Papneja added students are able to apply the skills they have learned to projects that positively impact society.
Students at the event provided attendees with live demonstrations of their projects.
Deshpande was inspired to create his computer program BlockBuckets to let users participate in fantasy sports using cryptocurrencies because he wanted to help players circumvent extra charges associated with traditional currencies.
"(Banks) charge a 10 percent commission and it takes time for the money to get sent," he said. "Using (cryptocurrency), it gets deposited in three seconds."
Deshpande said it was difficult for him at first to integrate cryptocurrency in his project because cryptocurrencies are decentralized. He added he wanted to ensure the transactions were secure.
Hakan Alpay, a first-year computer science student who presented a project called RidePlan, started the project with friends he previously met at ACM's Hack on the Hill in November. RidePlan is a computer program that shows where people plan to go within Los Angeles and allows people to meet up to carpool ahead of time.
Alpay said his team first thought of the project after seeing Facebook posts where students would ask to carpool together. He said he thought RidePlan would be a solution for students who don't have access to cars and would like to carpool.
"It solves problems faced by international students who don't have cars or (by) students in car-heavy cities like Los Angeles," he said.
Arpi Beshlikyan, a second-year computer science and engineering student who is also working on RidePlan, said the project utilizes technology that does not require the user to download the application. Instead, it is accessed through a website but can be added to individuals' phone home screen or computer desktop.
"You wouldn't need to download it, but you can add it to your home screen and access it offline," she said.
Aleksandre Ninua, a second-year mathematics/economics student who also contributed to RidePlan, said the project did not require a lot of research and development.
"We directly (began coding) because we knew that a lot of people would use it because of the Facebook posts," he said.
Beshlikyan added the most challenging part of completing the project was figuring out the code. They used various tools to create RidePlan, including a JavaScript framework and Google Maps.
"We started the project on Hack on the Hill and used a JavaScript to code it," Beshlikyan said.
Alexander Ramirez, a UCLA alumni who was one of the judges for the event, said that the event is a chance for students to develop skills that will help them succeed in the future as it allows students to collaborate and apply the knowledge they have learned in class.
"You need to talk to people to work together and accomplish something together," he said. Don't think about creating the next big thing – think about creating something that helps solve problems."