Beach volleyball victorious in two-game sweep against USC, Pepperdine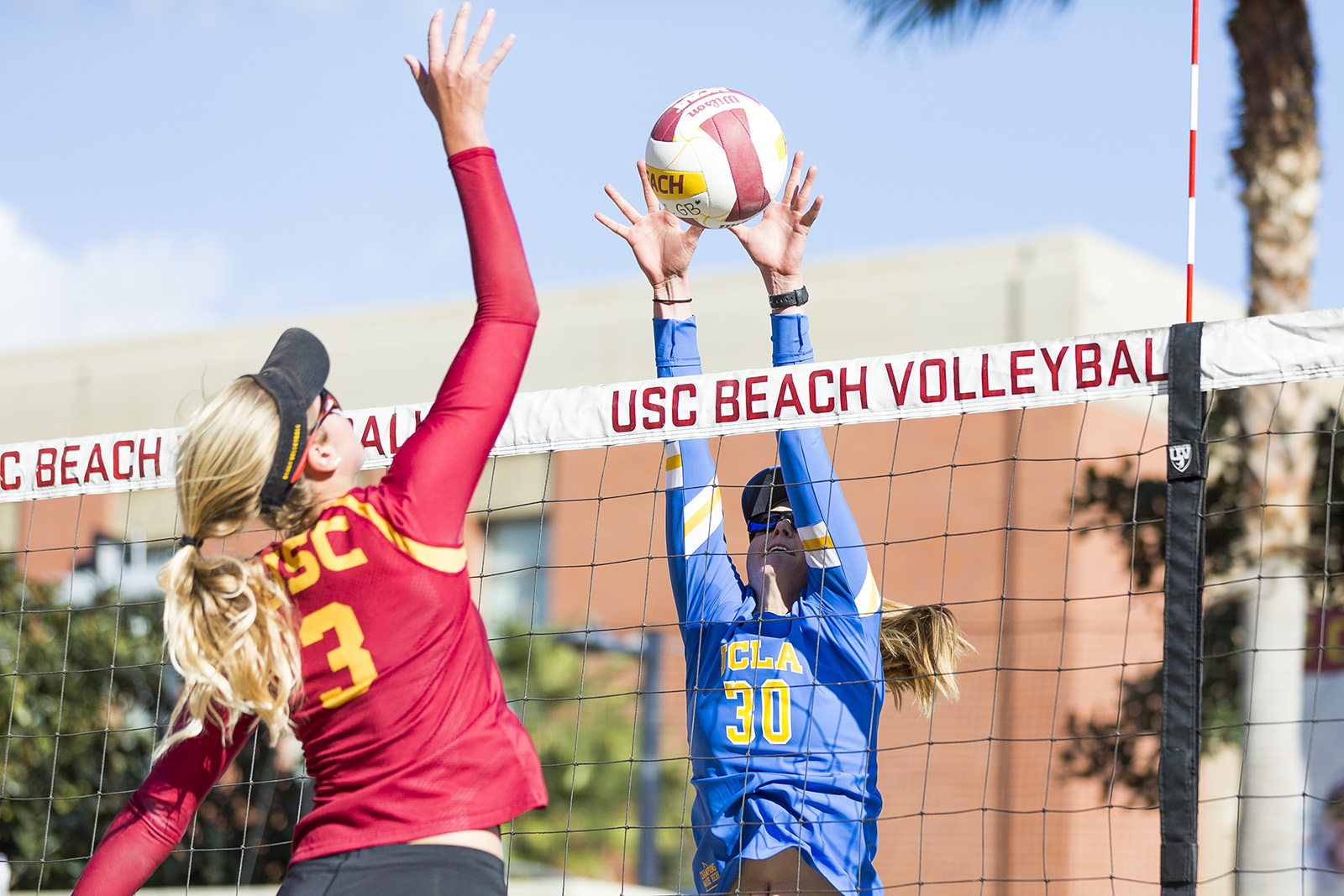 Izzy Carey secured two straight-set victories against Pepperdine and USC for the Bruins with partner Megan Muret. The junior will face these two teams again this weekend and said remaining confident is key. (Aubrey Yeo/Daily Bruin senior staff)
Three Bruin pairs helped secure victories against two of the top teams in the country.
No. 3 UCLA beach volleyball (5-1) defeated No. 1 USC (4-2) and No. 5 Pepperdine (3-2), both with a score of 3-2 at USC's Merle Norman Stadium on Wednesday.
Coach Stein Metzger added even though the team members were tired from the trip to Hawai'i, UCLA managed to cling on to some close matches.
"I thought they showed up big today," Metzger said. "They showed up big the second day in Hawaii and they did the same thing here."
Junior Izzy Carey and freshman Megan Muret gave UCLA an early lead against Pepperdine, winning straight sets of 21-19 and 21-15. The duo also provided the Bruins with an early lead against the Trojans with a score of 21-12 in both sets.
"I feel really good about our victory," Carey said. "(There were) a couple games that I thought we should have been winning as pairs, so I'm glad that we came out strong. … We executed our game plans really well."
Pepperdine took the win on court five, but UCLA regained its lead with juniors Nicole and Megan McNamara winning on court one with scores of 21-18 and 21-10. The McNamara sisters also claimed court one against the Trojans with straight-set wins of 21-17 and 21-18.
"It was great to start strong and let everyone know that we're going for the championship this year," Nicole McNamara said.
Sophomore Lily Justine and junior Sarah Sponcil were able to secure court three in two sets by scores of 21-17 and 21-18. The duo also took over court two against the Trojans, winning 21-11 and 21-18 in straight sets.
Even though the team's height is a disadvantage, Metzger said they make up for it by having great ball control and game planning skills. Nicole McNamara added that the Bruins also needs to keep delivering aggressive serves to make up for their height.
UCLA will face Pepperdine and USC again this weekend. Carey said that staying focused and confident will continue to be crucial to the team's success.
"We came out a lot more confidently and aggressively, which is big for us," Carey said. "We used to come into USC and Pepperdine not quite believing that we would win and now we definitely do."