UCLA women's golf finishes second in Bruin Wave Invitational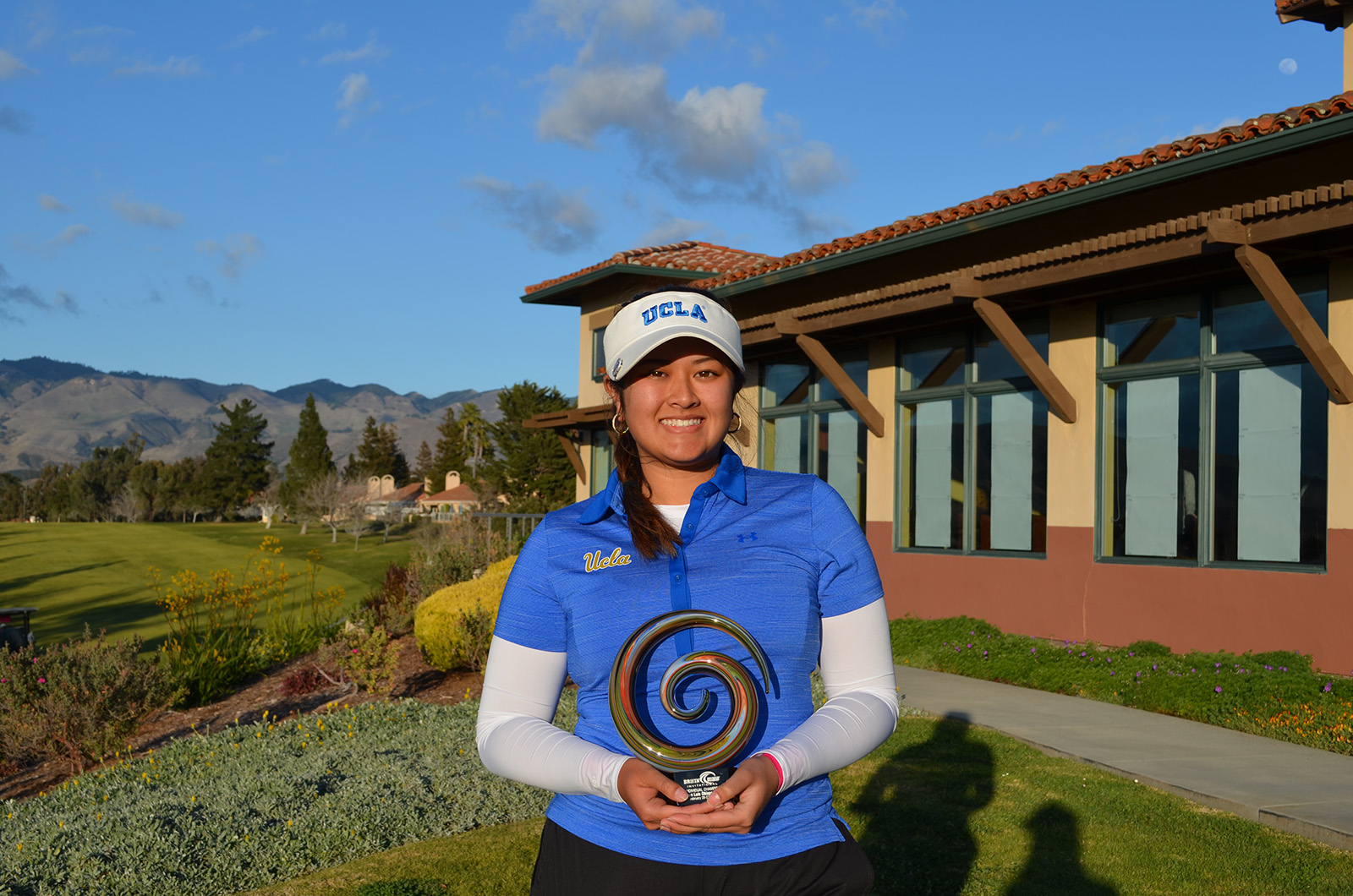 UCLA women's golf finished second behind USC at the Bruin Wave Invitational on Tuesday. Junior Lilia Vu managed to come out atop the individual leaderboard for the second straight year in the same invitational. (UCLA Athletics)
A year after Lilia Vu won her first career collegiate tournament at the Bruin Wave Invitational, the junior did it again.
This win, however, was her seventh, tying for the most individual wins in UCLA women's golf history.
"I just believe in myself," Vu said. "Today I started off 6-over through the front nine and then I turned it around and shot 3-under in the back nine. It was like I was two totally different people today."
As a team, The No. 1-ranked Bruins finished second overall to No. 10 USC, suffering their first loss since Oct. 3. UCLA totaled a score of 904 and finished 40-over-par.
After the tournament, coach Carrie Forsyth recognized Vu and her achievements.
"She has a really tremendous understanding of herself and her golf game," Forsyth said. "She has a very high level of skill around the greens, shot-making, full swing and putting. Once you get a few wins under your belt you know you can do it. It takes away a lot of that self doubt."
Vu now shares the individual win record with Bronte Law. The two were teammates during the 2015-2016 season, when Law was a junior and Vu was a freshman. Law left UCLA to go professional in 2016.
"I feel really good," Vu said. "My best friend was the last person to get seven wins and then she turned pro. I wanted to match it or beat it, of course."
The pressure on the Bruins was a factor throughout the tournament, in part because of the absence of freshman Patty Tavatanakit, according to Forsyth.
"I think (the players) felt pressure because they knew we weren't traveling with Patty who is one of our top players," said Forsyth. "Some of the girls who haven't really been playing in the lineup would have to step up."
Additionally, cool temperatures and rain amped up the pressure on the Bruins. However, that didn't seem to bother sophomore Mariel Galdiano, who finished fourth overall in the tournament.
"The conditions were really tough, but I didn't really let the elements like the rain and the cold bother me," Galdiano said. "I was patient and I just played the course as it was."
Finishing with a score of 224, just 8 over par, Galdiano had an especially good second round, shooting a 70 after posting a 77 in the first round.
Despite strong individual performances, Forsyth still believes there is room to improve.
"I feel like everybody's got things to work on," Forsyth said. "They're all very specific to each player and so that's what we're going to be working on for next week."
The Bruins will get a week of rest, but will continue their season Monday at the Wildcat Invitational in Tucson, Arizona.
Weinstock joined the Bruin as a freshman in 2017 and contributed until 2018. He spent time on the men's golf and women's golf beats.
Weinstock joined the Bruin as a freshman in 2017 and contributed until 2018. He spent time on the men's golf and women's golf beats.