Cellular 911 calls from UCLA travel beyond Westwood, may cause delays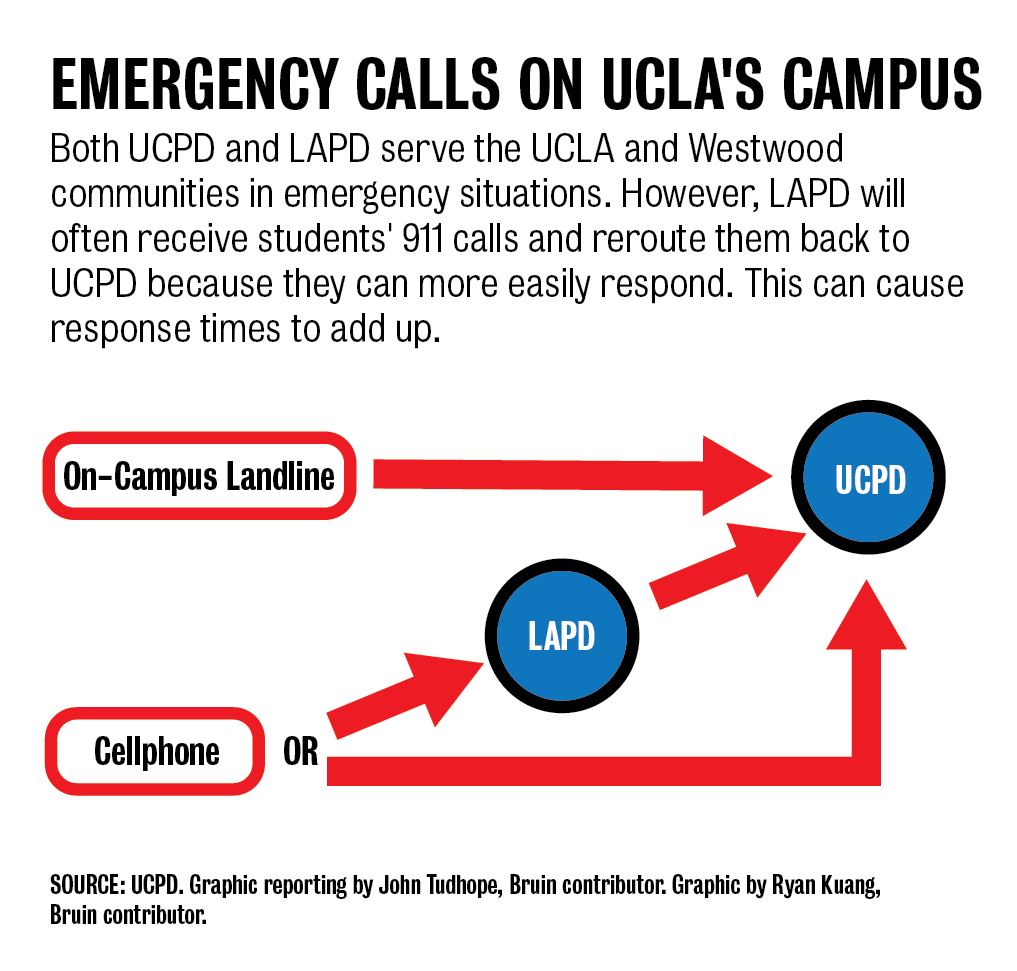 Dialing 911 in Westwood does not guarantee that university police will receive the call.
UCPD Lt. Kevin Kilgore said dialing from a cellphone in dense urban environments like Westwood can prevent emergency calls from reaching the nearest emergency communication center. UCPD has an on-campus 911 dispatch center, which is the emergency center closest to students dialing from Westwood.
But emergency phone calls are sometimes directed to other departments, including the LAPD and the California Highway Patrol, Kilgore said. He added emergency calls routed to stations outside of Westwood can cause delays for callers in crisis.
"If you're calling from a cellphone, cellphones bounce off of towers," he said. "Depending on what cellphone tower that bounces off of you may get UCLA's 911 system, you may get LAPD, you may get CHP."
Chris Ragsdale, LAPD Senior Lead Officer for Westwood, said most 911 calls made from residential areas of Westwood are received by the LAPD's San Fernando Valley emergency communication center, while calls made on university property are more likely to be received by UCPD.
6,015 people called the department's 911 communication center in 2016, and 60 percent of those calls were dialed from a cellphone, according to a UCPD report.
Mani Srivastava, a professor of electrical engineering, said 911 systems rely on tracking call signals to locate callers, rather than more precise technology like GPS. This system depends on cellular companies to provide the caller's approximate location to dispatchers, he said.
Srivastava said 911 dispatchers often do not receive accurate information about callers' locations.
"The problem with cellular is that the system doesn't know where you are," he said. "The number itself doesn't even crudely indicate anything about your location."
Srivastava said he thinks private companies would be able to create better services to direct emergency calls by using GPS technology to precisely locate callers.
"I think a way out of this thing is some agency to emerge – like an Uber for 911 – and your call always goes to that entity," he said. "Technically, this is not very hard."
Some students said although they would like 911 systems to be as precise as possible, they are concerned about law enforcement being able to access their GPS location.
Lanea Tuiasosopo, a third-year communications student, said she was once unable to reach dispatchers when dialing 911 near campus, so she had to use UCPD's nonemergency phone number to request an ambulance.
Tuiasosopo added while she felt her experience was inefficient, she thinks giving police access to her GPS location could violate her privacy.
Emily Parsons, a fourth-year English student, said when she called 911 from a cellphone recently, she was connected directly with UCPD dispatch. Parsons said she was happy with the response time, but had to provide her address, which she thinks might cause delays in more urgent situations.
Kilgore said individuals who make 911 calls should first explain their location and situation to the dispatcher. He added if individuals tell a dispatcher they are a student or located on UCLA's campus, it will ensure the call is routed to the UCPD 911 call center.