Beach volleyball to face No. 1 USC, No. 5 Pepperdine two weeks into season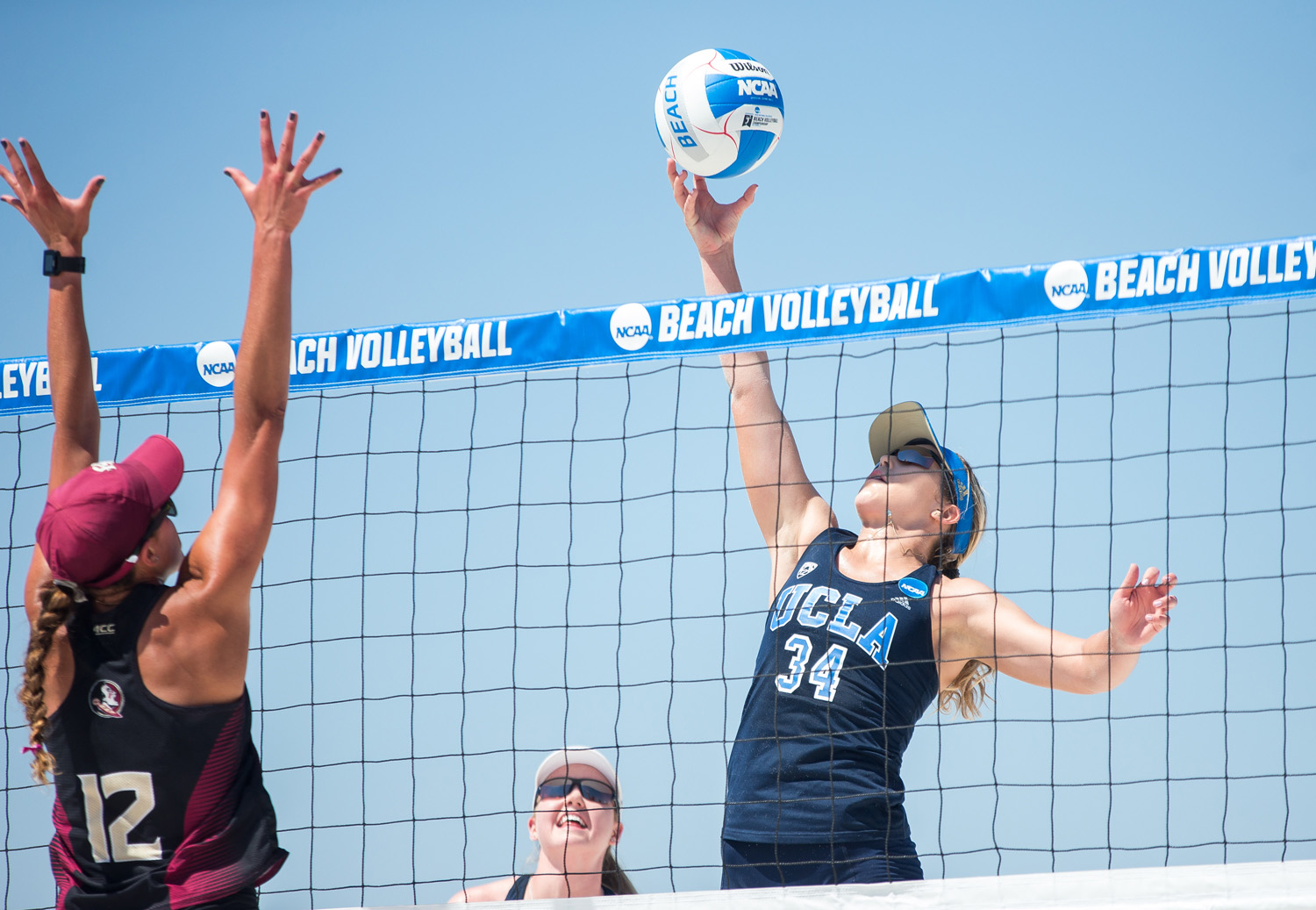 Senior Elise Zappia started this season with three wins in Honolulu with partner Madi Yeomans. Last season, Zappia was paired with Torrey Van Winden who has since transferred to Cal Poly. (Aubrey Yeo/Daily Bruin senior staff)
In only their second week of competition, the Bruins will face two top-five teams.
No. 3 UCLA beach volleyball (3-1) will take on No. 5 Pepperdine (2-1) and No. 1 USC (4-0) on Wednesday at USC's Merle Norman Stadium.
"We feel really comfortable this year that we have a team that can compete for a championship, and we'd like to know early on what things we need to do to adjust throughout the season," said coach Stein Metzger. "We're looking to find the best competition possible going out of the gates this year."
This will be the first time these teams compete against each other this season.
In 2017, UCLA was the only team to defeat USC. The Trojans carried a 62-match winning streak up until their downfall against the Bruins in the Pac-12 semifinals. However, the Trojans redeemed themselves in the finals by defeating the Bruins 3-2 and later taking the NCAA title for the second time in a row.
UCLA was a contender in the 2017 NCAA Tournament but was taken down by Pepperdine 3-1 in the semifinals.
Metzger said the team's recent loss against Hawai'i served as a wake-up call, and showed the team what tough competition is going to be like.
"We responded well against Hawai'i, and it's a matter of maintaining that aggressive style of play and really believing that we have to show up big on every night," Metzger said.
Senior Elise Zappia said the team is working on its partnerships and fundamentals at this point in the season. Zappia and sophomore Madi Yeomans defeated Stanford on both days of the Rainbow Wahine Classic, but lost the first of their two matches against Hawai'i.
"Right now, we have just been practicing and working on running our plays," Zappia said. "We've just been polishing up our fundamentals because at the end of the day, fundamentals are what are going to win you a game."
Junior Nicole McNamara, who won a match against Stanford and Hawai'i with junior Megan McNamara, said that both UCLA and USC tend to be fired up when they play each other because of the rivalry.
"We try to treat all of our opponents equally and go in with the same mindset every time, but obviously, there will be a little extra fire when we play (against) the Trojans," Nicole McNamara said.
Coming fresh off the weekend's matches, Metzger said the team hopes to recover from its trip to Hawai'i in time to battle it out with Pepperdine and USC.
"I think we have really great game planning," Metzger said. "We'll certainly have to control the ball well … in order to beat these teams."