Editorial: Westwood Forward's loss of momentum in the face of city opposition is a disservice to residents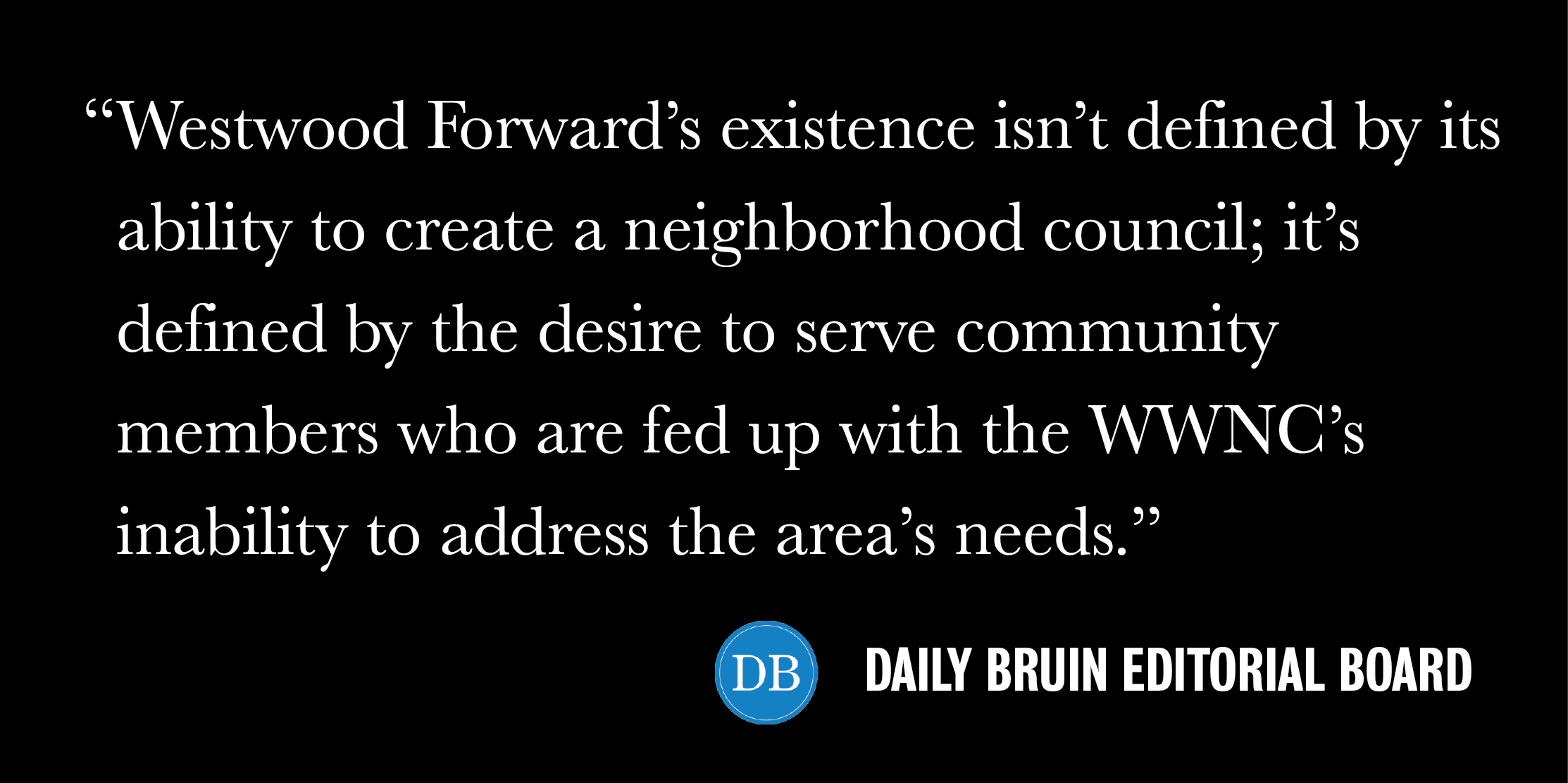 February 26, 2018 11:44 am
Westwood Forward, a student-led coalition, came together last quarter and professed the need for Westwood to change to meet students' and community members' needs. The group presented a vision and established contacts with the City of Los Angeles to bring its goals to fruition. It pieced together an action plan and identified ways to support businesses and entertainment in Westwood Village.
A quarter later, the group seems to have become complacent in letting bureaucracy get in its way.
Creating a new neighborhood council is no walk in the park. Westwood Forward has had to jump through numerous hoops: it gathered the signatures of close to a thousand community members – students, business owners, administrators and faculty. It had to wait three months after submitting a subdivision application to the Los Angeles Department of Neighborhood Empowerment before it got feedback on its plan. And now, it has to hold town halls and amend its proposal to satiate city officials.
Members of the Westwood Neighborhood Council have also been a force of resistance for the initiative. Most recently, the council has resorted to trying to delay the subdivision plan, successfully influencing the Department of Neighborhood Empowerment to postpone a town hall where the coalition would have gathered public input regarding its plan.
The cards seem to be stacked against the coalition, which is trying to create its new council before summer. But the creation of the North Westwood Neighborhood Council isn't the entirety of Westwood Forward's purpose. Westwood Forward has a compelling agenda and doesn't need the green light from the city to fight for ideas that community members have already rallied behind.
Several Westwood organizations have worked on their own in the past without an official stamp of recognition from the city. For example, the Westwood Community Council, a noncity certified organization, and homeowner associations have used their relationships with city officials and community leaders to advocate for their agendas, such as obstructing projects and limiting UCLA housing expansion on the Hill.
Westwood Forward has garnered significant support from students, faculty and businesses since it proposed its plans in November. Coalition leaders already have the backing they need to advocate for affordable housing, nightlife options and better public transportation in the Village. They have also caught the eye of city officials such as Paul Koretz, the city council member who represents Westwood, and David Ryu, the city council member who chairs the Health, Education and Neighborhood Councils Committee. The coalition has the clout it needs to lobby for community members' needs and urge city officials to enact positive change.
That does not mean Westwood Forward should stop trying to create a neighborhood council. Neighborhood councils are the official voice to the city in regard to neighborhood issues, and receive funding for projects and grants each year.
But Westwood Forward's existence isn't defined by its ability to create a neighborhood council; it's defined by the desire to serve community members who are fed up with the WWNC's inability to address the area's needs.
Addressing those needs doesn't require an official stamp of recognition from the city – just the tenacity to act on the current system's deficiencies.