UCLA Extension employees make allegations of unethical hiring practices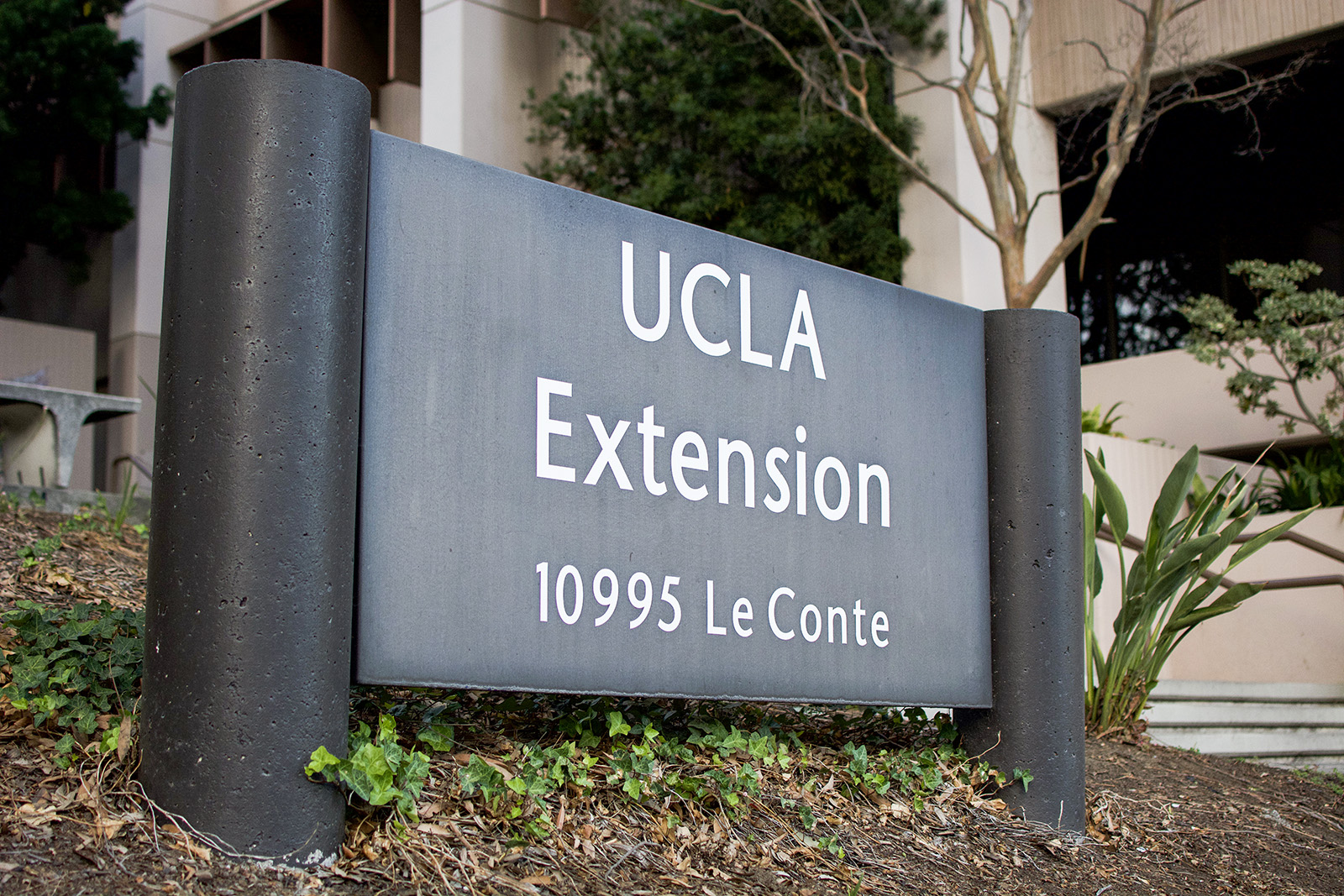 UCLA Extension employees alleged the Dean Wayne Smutz hired individuals he worked with at his previous employer without opening the positions to other candidates. The organization announced last month it is laying off nearly a quarter of its employees due to projected decreases in revenue. (MacKenzie Coffman/Daily Bruin)
UCLA Extension employees said they are concerned about what they think are questionable hiring practices for administrative officials, alleging the dean hired individuals he worked with at his previous employer without opening the positions to other candidates.
Dean Wayne Smutz announced last month the organization would lay off about 25 percent of employees this summer due to low projected revenue for the 2017-2018 school year. UCLA Extension provides open-enrollment courses and certificate programs.
Extension employees, speaking anonymously out of concern for their job security, alleged Smutz gave positions directly to individuals who used to work with him at his previous position as an associate vice president at Pennsylvania State University .
Heather Chakiris, UCLA Global Online director of student and alumni services, and Rosemarie Piccioni, UCLA Global Online director of educational futures, both worked at Penn State with Smutz and were given director positions at UCLA Extension they did not have to apply for, employee A said.
"(It's) quite a coincidence that they uprooted their lives from one side of the country and moved to the other coast with a job readily available for them in the same capacity with the same co-workers," employee A said.
Employee B said they think Extension did not adequately advertise the positions and did not hire candidates in a transparent manner.
"People just pop up, announcing they got the job," employee B said. "Many of us didn't even know the promotion was available – it just doesn't feel like equal opportunity."
Employee C said they think the hirings show Smutz acted in an unethical manner. They added neither Chakiris nor Piccioni gave a public presentation before getting their positions, even though it is customary for director candidates at Extension.
"Usually, to get appointed director, you need to do an open-session presentation, but they didn't even get interviewed as far as I know," employee C said.
UCLA Extension spokesperson Ted Kissell said the organization has been and will continue to follow UCLA hiring procedures.
Several employees said they believe UCLA has brought in outside consultants to audit Extension.
UCLA Executive Vice Chancellor Scott Waugh commissioned Huron Consulting Group to independently assess Extension's management and organizational structure in response to concerns Extension raised about procurement procedures in November, said UCLA spokesperson Tod Tamberg.
"The assessment is ongoing, and will result in a final report being delivered to EVC Waugh," he said.
Employee D said they think Smutz mischaracterized Huron Consulting Group as consultants that Extension willfully invited.
"The dean made it sound like he brought (Huron) on to help us through the (reorganization)," employee D said. "But Huron isn't consulting, they're auditing."
Employee E said they believe Huron Consulting Group's assessment is necessary because they think Extension's financials are being mismanaged under Smutz's leadership. Employee E added they think Smutz made poor decisions like raising class prices, which led to decreases in revenue.
"We aren't here for profit, we are here to make a positive impact on the region," employee E said. "I feel that leadership is duplicitous when they say 'students first.'"
Smutz said at a town hall Thursday that Extension will be changing its name to the UCLA School for Professional Development and moving to new office space on Wilshire and Gayley avenues as part of an overall reorganization.
He added he is advocating for educational support for laid-off employees to help them find new work, but added that no such plan has been finalized.
"I have argued since we got into this position that one of the things we need to do is to give people an opportunity to get a certificate for free with us," Smutz said. "We're an educational institution; we believe this is what can help people find a new job."
Employee C said the upcoming layoffs, change of office buildings and business organization, and presence of auditors have resulted in low employee morale.
"Some people have no other options," employee C said. "They aren't young or easily hireable, but they have families and they're going to lose their jobs so close to retirement."
Employees plan to raise Extension reorganization issues at a rally held by several labor unions Monday protesting a case before the Supreme Court about public sector unions and free speech.
Morris was previously the 2020-2021 Editor in chief. She was also the 2019-2020 assistant Enterprise editor as well as the 2018-2019 assistant News editor for the campus politics beat.
Morris was previously the 2020-2021 Editor in chief. She was also the 2019-2020 assistant Enterprise editor as well as the 2018-2019 assistant News editor for the campus politics beat.