Women's basketball finishes regular season with 78-71 OT win against Utah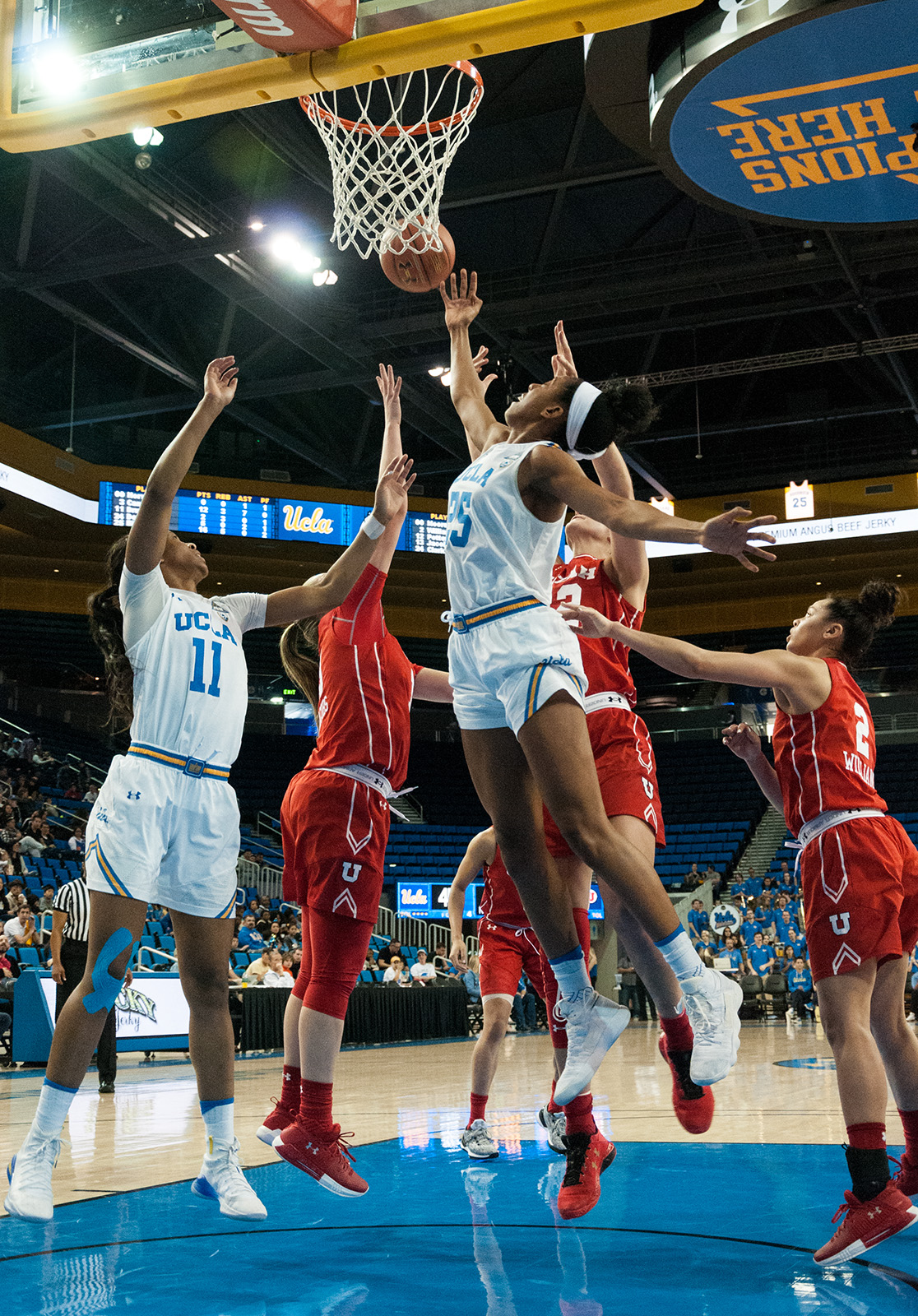 UCLA women's basketball took down Utah in its third overtime contest in its last four games Saturday. Senior forward Monique Billings led the way on senior day, recording a team-high 24 points and 10 rebounds. (Liz Ketcham/Daily Bruin)
It was only fitting for the senior trio to come up clutch.
Guard Jordin Canada, forward Monique Billings and guard Kelli Hayes scored 11 of UCLA's 13 overtime points in their senior day and final regular season game at Pauley Pavilion.
"All year long, (they) have delivered in big moments," said coach Cori Close. "They made big plays down the stretch in pressurized situations, and so (I'm) just so grateful for the elite level that they've brought this program to."
No. 10 UCLA (23-6, 14-4 Pac-12) women's basketball defeated Utah (17-12, 8-10) 78-71 in its third overtime game in eight days.
Hayes hit a 3 during overtime to take the lead for good, while both Canada and Billings logged double-doubles for their third consecutive game. Canada finished with 22 points and 14 assists, and Billings finished with 24 points and 10 rebounds.
"That's just consistent … (despite) everybody game-planning around them and people playing zone … they're still getting those numbers," Close said. "In spite of how people have been game-planning … (Canada and Billings) are still able to deliver at such a high level."
Despite the consistency of the two, however, the contest came down to the wire. The dominance of the Utes' rebounding contributed to the back-and-forth second half, out-rebounding the Bruins 40-36.
In the end, it was ultimately free throws that determined the game.
Both Billings and Canada went 1-of-2 on trips to the charity stripe, which allowed Utah to knot it up at 65-65 to end regulation. Canada had previously made 22 consecutive free throws – a personal best – before that miss.
UCLA shot just 56 percent from the free throw line, but Close said she is not worried.
"The good news is (that) we've been a good free throw shooting team. I've never had (Canada) miss two free throws in an in-game situation in her entire career," Close said. "I really have confidence in (Canada and Billings)… but we got away with it today, and (free throws) definitely will be an important thing in postseason."
In overtime, Canada went 1-of-2 again on a trip to the line, but Billings was able to knock both of hers down to help the Bruins pull away.
Close said she also liked the team's assist-to-turnover ratio. The Bruins assisted on 23 of their 31 made field goals, while only turning the ball over 12 times. Canada's 14 assists were a season high, and she is currently eighth in the nation in assists per game with 7.1.
Defensively, the Bruins came out with the more purposeful energy after displaying poor body language in parts of Thursday's close victory over Colorado. UCLA registered nine blocks and 13 steals, outperforming its season averages of 4.1 blocks and 9.5 steals per game.
"If I turn it over, I just know I have to get back on defense and try to make a play to impact the game," Canada said.
It wasn't just the effort that will show up in the box score, but the Bruins were crashing into tables and colliding with opponents to scramble for loose balls.
"Our focus for our team was having fun," Billings said, who had four steals and four blocks. "It wasn't fun when there wasn't energy against Colorado, so in order to have fun in the game, we knew we had to play for each other and fight for each other."
Depending on how the final Pac-12 games play out Sunday, the Bruins will settle for either third or fourth in the conference standings.
"It was a little bit emotional to think about the past four years and what we've done as a team," Canada said. "But at the same time I was just happy for what we've accomplished and what we've done thus far."
But the seniors still have a lot of basketball to play.
UCLA will travel to Seattle in the coming week for the Pac-12 Tournament to compete for an opportunity to further pad their resume for the NCAA Tournament.
Hong is the 2019-2020 Managing editor. She was previously an assistant Sports editor for the women's basketball, men's water polo, women's water polo, women's tennis, and beach volleyball beats.
Hong is the 2019-2020 Managing editor. She was previously an assistant Sports editor for the women's basketball, men's water polo, women's water polo, women's tennis, and beach volleyball beats.