UCLA baseball takes down Baylor 5-2 in first matchup of series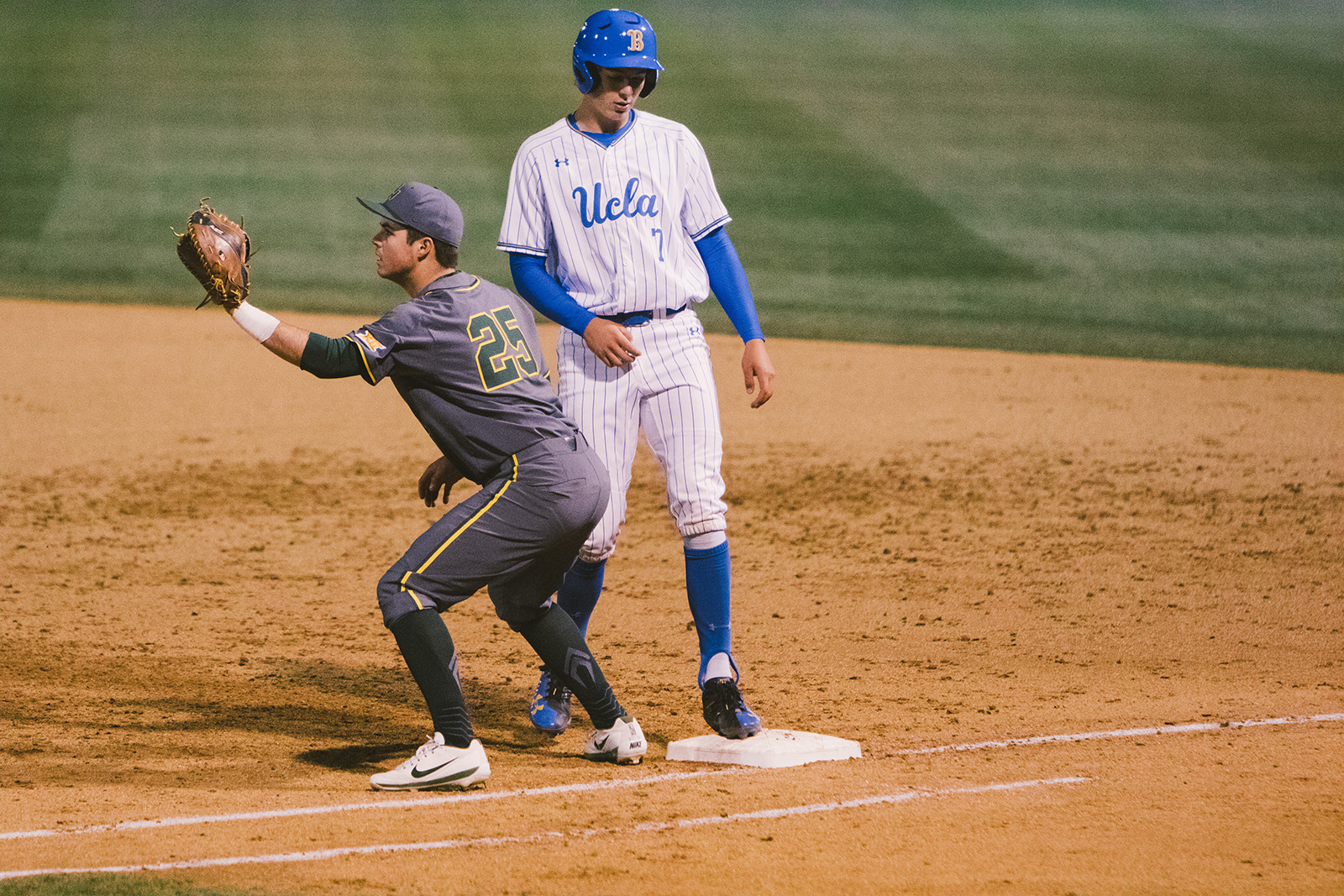 UCLA baseball won its fifth straight contest to open the season on Friday night thanks to a big night at the plate from Michael Toglia. The sophomore went 3-for-3 and drove home a pair of runs in the 5-2 victory. (Ken Shin/Daily Bruin staff)
The Bruins came off their walk-off victory on Tuesday by earning walks to win again Friday.
No. 11 UCLA baseball (5-0) drew a walk to load the bases, tie the game and take the lead during the eighth inning of a 5-2 win over Baylor (2-2) on Friday night at Jackie Robinson Stadium.
The Bruins earned 10 bases on balls in total, with four coming during the eighth inning. Down 2-1, Baylor pitcher Jacob Ashkinos, who came out of the bullpen, walked two UCLA batters and hit another with a pitch. With two outs, sophomore first baseman Michael Toglia stepped up to plate with the bases loaded and earned another walk, bringing in a run.
"With how the night was going, with the wind blowing in and it being cold, I knew nothing was going to fly in the air," Toglia said. "I didn't want to do too much. I figured if I stay small I'd see the ball a little better."
The next at-bat, sophomore designated hitter Kyle Cuellar earned a walk on a 3-2 pitch, giving the Bruins their first lead of the game. The walk set up sophomore second-baseman Chase Strumpf, who hit the walk-off RBI to beat Pepperdine on Tuesday, to hit a single to left field giving UCLA two insurance runs.
UCLA hit just .266 as a team and left 13 players on base, but had an on-base percentage of .463. The Bruins' first run didn't come until the seventh inning on a double down the left field line from Toglia, who brought home sophomore left-fielder Jeremy Ydens from second. Toglia finished the day 3-for-3 with two RBI's, two walks and a run.
"That's a big thing about baseball," Toglia said. "Sometimes the bats aren't going to show up and you have to find a way to get on base any way you can."
Baylor's sophomore ace Cody Bradford, who pitched a one-hitter through seven innings last Friday, threw 100 pitches with seven strikeouts against the Bruins. UCLA was held to four hits and no runs, but forced Bradford to throw 4.54 pitches per batter, ending his night after five innings.
"The pitch count gets run up, and that's what we have to do, especially on Friday night," Savage said. "You get into that bullpen and every team is a little different."
Right-hander Jake Bird started on the mound for UCLA. The junior shut out the Bears through five innings, but allowed the first two runs of the game in the sixth.
Bird gave up a double to Baylor third baseman Davis Wendzel, who was then brought home after a fielding error from sophomore shortstop Ryan Kreidler. After walking the next batter and advancing a man to second, Baylor hit an RBI single to right field to tack on another run.
Sophomore southpaw Nick Scheidler would come in for Bird to finish the last third of the inning. Bird concluded his night with 96 pitches thrown, five strikeouts and six hits.
"I thought Bird was really good again today," Savage said. "I mean he was pretty much the same guy as he was (Feb. 16 against Portland). He can strike people out and get a lot of ground balls when he pitches."
Junior right-hander Brian Gadsby came in for Scheidler to start the eighth. The right-hander got himself into trouble in the eighth, with a sequence of walk, walk, wild pitch advancing both runners, walk. With the bases loaded, Savage came out to talk with Gadsby on a timeout. The next at-bat, Gadsby struck out the hitter to escape the inning.
After UCLA took the lead in the eighth, Savage called on freshman Holden Powell to close the game.
"You know, I went out and basically said he was our closer at the beginning of the year," Savage said. "He's got a very bright future and it's a growing game. I think you saw a young man respond after a little failure against Portland, come back and get a big save in a big situation against a legitimate Big 12 team."
Powell retired the lineup in order to earn the first save of his UCLA career. After giving up three hits and two runs in one inning pitched against Portland last Sunday, Savage wasn't sure whether he or Gadsby would fill the closer role.
"I wanted to prove that I had it in me to end that game right there," Powell said. "There was a little bit of nerves, but I knew my team had trust in me, so it was easy getting out there and hitting that glove."
The Bruins will continue their series against Baylor Saturday at Jackie Robinson Stadium, with junior Jon Olsen set to make the start on the mound.
Kearns joined the Bruin as a sophomore transfer in 2017 and contributed until 2018. He spent time on the baseball and women's volleyball beats.
Kearns joined the Bruin as a sophomore transfer in 2017 and contributed until 2018. He spent time on the baseball and women's volleyball beats.