UCLA women's basketball defeats Colorado 73-67 in close game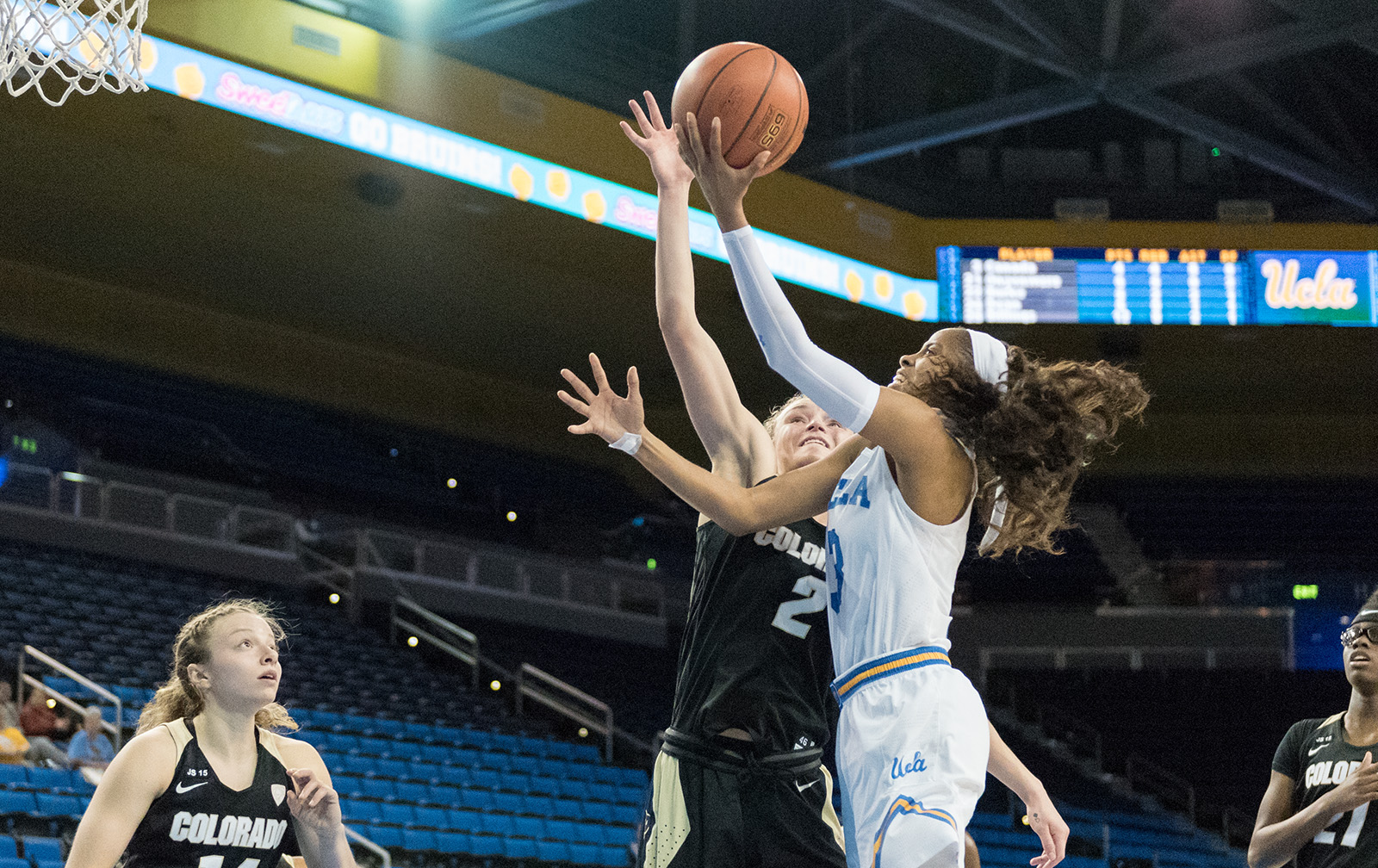 Senior guard Jordin Canada ended Thursday's game with 20 points after going scoreless in the first half. Canada is now the only active player in NCAA women's basketball with 2,000 points, 500 assists and 300 steals. (Axel Lopez/Daily Bruin)
Another game went down to the wire for the Bruins, but this time they were able to come away with the win.
After its third straight close game, No. 10 UCLA women's basketball (22-6, 13-4 Pac-12) secured its sixth victory in a row against Colorado (14-14, 5-12) by a score of 73-67.
Despite leading for all but 29 seconds, the Bruins, who normally create points off their defense and offensive boards, only had four points off turnovers and five offensive rebounds in the first half. Senior guard Jordin Canada, the team's leading scorer, had zero points and only took two shots in that same half.
Coach Cori Close attributed their slow start to lingering feelings after their losses.
"I really was disappointed. We came out flat. At this time of year, we need to take care of that," Close said. "That has been a weakness of ours. … If I were to attribute it to something, you know, we stayed in that disappointment for too long."
The Buffaloes were able to cut it to a one-possession game toward the middle of the third quarter. Before they had a chance to tie it up, Canada scored the next 14 points for the Bruins to push their largest lead of the game to 13 points.
"In the first half, I was just trying to support my teammates and create opportunities for them to score," Canada said. "Then, I just let the game come to me in the second half. … I got really good looks when my teammates set me up in great positions."
Colorado went on a 9-0 run during the fourth and eventually tied up the game with free throws close to the one-minute mark. The Buffaloes called a 30-second timeout to set up, but Canada was able to break down their defense and pass to open junior guard Kennedy Burke to give the Bruins a 3-point lead.
Colorado was never able to come back from that shot.
UCLA's leading rebounder, senior forward Monique Billings, had another double-double with 12 points and 11 rebounds and complimented Colorado's tenacity on the boards.
"Well, they were crashing really hard, and that was an adjustment we had to make at halftime," Billings said. "We talked about it, … trying to get our guards on the boards as much as possible."
Canada became the only active player in NCAA women's basketball with 2,000 points, 500 assists and 300 steals. Canada had already surpassed 500 assists and 300 steals earlier in the season and needed 11 points in Thursday's game, which came during her 14-point run in the third quarter.
"I didn't know that – it's a blessing," Canada said. "It's what I came here to do, to leave a legacy behind and just to have an impact on the game as much as possible."
UCLA will wrap up the regular season Saturday afternoon against Utah (17-11, 8-9).
Chen is currently a contributor for the Stack. He was previously a contributor for the women's basketball and softball beats.
Chen is currently a contributor for the Stack. He was previously a contributor for the women's basketball and softball beats.