Men's volleyball prepares for second chance against No. 1 Long Beach State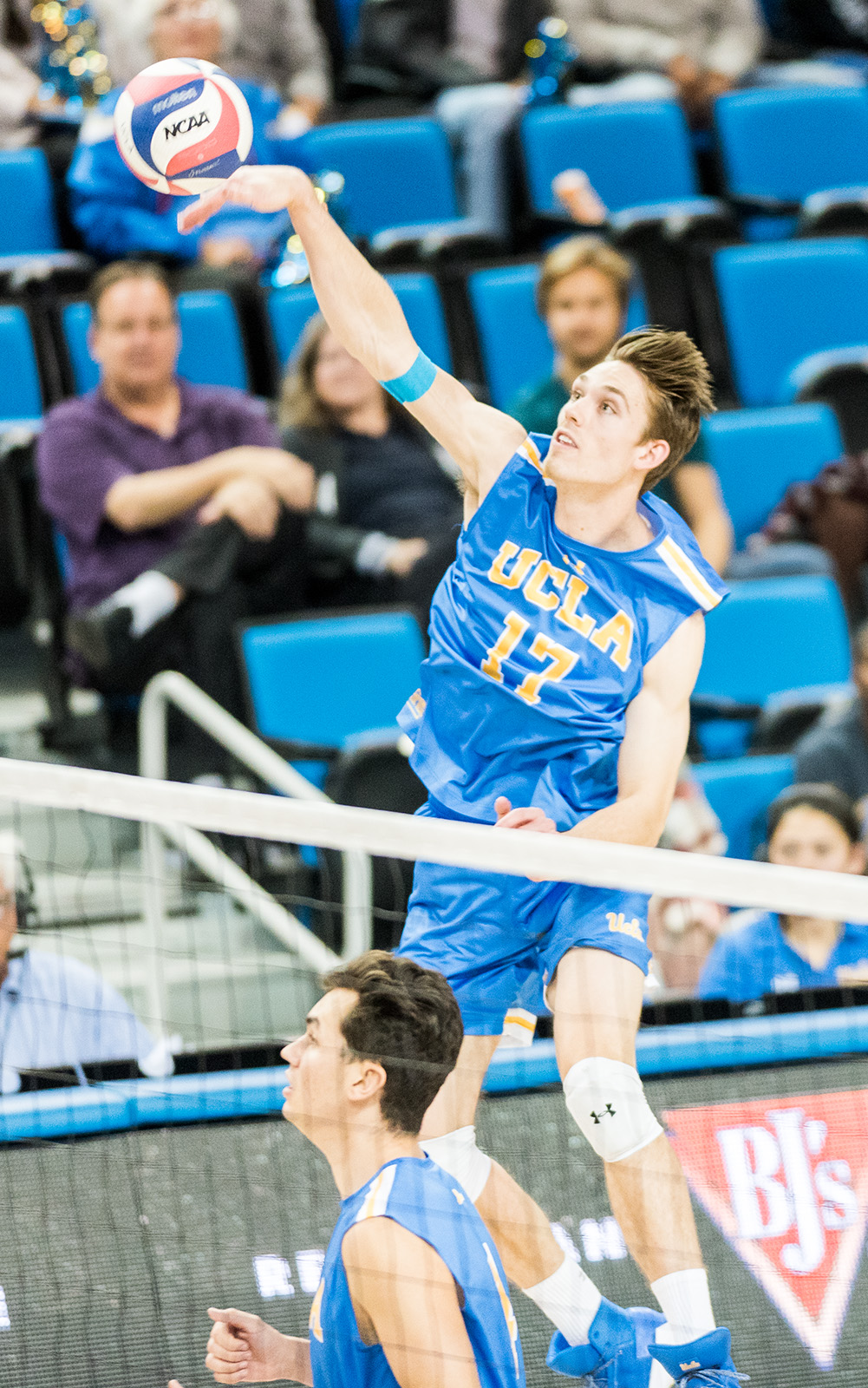 Senior opposite Christian Hessenauer recorded 11 kills in No. 2 UCLA's four-set loss to No. 1 Long Beach State on Saturday. Hessenauer leads the Bruins with 187 kills on the season. UCLA will host a rematch between the nation's top teams Wednesday night. (Keila Mayberry/Daily Bruin staff)
UCLA men's volleyball has a chance at a rematch against Long Beach State at home Wednesday.
The No. 2 Bruins (14-2, 3-0 MPSF) fell to the No. 1 49ers (13-0) in four sets Saturday.
Senior opposite Christian Hessenauer said UCLA will focus on the impact of their passing in this second match against Long Beach State.
"When another team is serving, they are really good at getting us out of system, so we need to be better at the 10-foot out-of-system game," Hessenauer said. "It comes down to being better on your routs, chiseling off the block and making better shots."
A lot of UCLA's issues in Saturday's match lay at the service line.
"We missed 25 serves last game, so we need to continue the mentality of serving hard but also a bit smarter," Hessenauer said.
The two leading hitters of the match were both from Long Beach's roster. Outside hitter TJ DeFalco led all players with 17 kills, followed by teammate opposite/outside hitter Kyle Ensing's 16. The 49ers also earned more blocks, aces and digs than the Bruins.
Coach John Speraw said UCLA needs to improve on capitalizing on its connections.
"They play with a lot of speed," Speraw said. "We have to make sure that we do a better job of capitalizing on the opportunities, whether that be better serving to give ourselves more opportunities to actually execute (or) better transition swings to continue to put pressure on them."
In order to break down the 49ers' defense, junior outside hitter Dylan Missry said the Bruins need to work on out-of-system hitting.
"They served us to 10- to 15-foot a lot and I think we did the same for them (but) they score better from being off the net," Missry said. "That will be an area of focus along with passing."
Long Beach State's defense has helped push the 49ers to their No. 1 ranking as they have earned a total of 100 blocks, 380 digs and 182 block assists. The 49ers lead the nation in hitting percentage.
The 49ers' offense has proved to be just as formidable, as they earned 535 kills for a team hitting percentage of .421.
The Bruins, however, surpass the 49ers in kills and aces per set, with 13.5 and 1.9, respectively.
"Long Beach is all that they are hyped up to be and they can play some good defense," Missry said. "I think that from the teams we have seen so far, we match up fairly well, and we are one of the teams in the league that has a shot at beating them."
Sered joined the Bruin as a junior in 2017 and contributed until she graduated in 2018. She spent time on the softball, men's volleyball and men's soccer beats
Sered joined the Bruin as a junior in 2017 and contributed until she graduated in 2018. She spent time on the softball, men's volleyball and men's soccer beats