Editorial: Bird Rides, Inc. needs to abide by city laws, ensure rider safety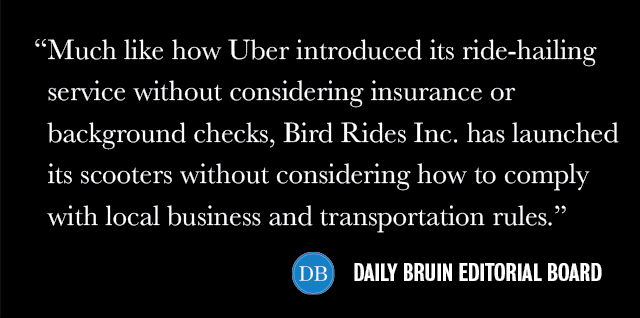 When the Bird scooters descended on Westwood, students eagerly embraced them as an easier way to scale UCLA's onerous hills and travel from one end of the neighborhood to another. But when the dust settled and the initial craze over the Birds subsided, one thing was certain: Bird Rides, Inc. has some reading up to do on traffic safety, city business laws and corporate accountability.
The Bird saga has been quite a treat for Angelenos to follow. The electric scooters seemingly popped out of nowhere in Santa Monica in September and have now flocked to numerous other neighborhoods, including Venice and Westwood. While the scooters are a welcome service for pedestrians and the traffic-weary, community members and civic officials are starting to raise their voices about how the company hasn't taken serious safety and logistical concerns into consideration.
With everything from a lawsuit from the city of Santa Monica to a high-profile stop-and-park face-off with UCLA police, it's clear Bird Rides, Inc. decided to release its product into the wild and only start thinking about how to operate legally and safely after it finds itself in violation of city laws.
The company needs to shed its guess-and-check philosophy and cooperate with city officials to ensure its scooters are used in compliance with traffic and vendor policies. It's incumbent on the company to ensure it's not doing business at the expense of public safety and convenience.
Bird Rides, Inc. has had a costly track record of getting chased around by local officials for skirting or not considering municipal policies.
The Santa Monica city attorney's office filed misdemeanor criminal complaints in December against the company for operating its scooters without seeking city approval and for ignoring citations requesting it to obtain proper licenses and remove the scooters from sidewalks. The company pleaded no contest to the case last week, agreeing to procure the proper business licenses and pay more than $300,000 in fines.
Just last week, UCPD enforced an active dismount zone on Bruin Walk and issued warnings to numerous riders. The company said in a statement it is now working with local officials and UCLA administrators to ensure riders are using the scooters safely in Westwood.
This back-and-forth between the company and local officials, while a good sign that company executives are willing to make amends, is indicative of its disregard for regulations. Much like how Uber introduced its ride-hailing service without considering insurance or background checks, Bird Rides, Inc. has launched its scooters without considering how to comply with local business and transportation rules.
And this mentality has sometimes come at the cost of riders' safety. A spokesperson for the city of Santa Monica said there have been eight accidents in the city involving Bird scooters, one of which involved a serious head injury. California law requires passengers to wear helmets on electric scooters, but save for a campaign offering free helmets, a couple of images about safety on scooters and a rental policy that simply recommends riders wear helmets, the company hasn't done a whole lot to enforce this policy.
Of course, it might seem difficult for the company to address these kinds of concerns, considering it doesn't have complete control over how and where riders use its scooters. But this limitation is not justification for the company to call it quits on molding its business model to fit city laws.
There's certainly room for municipal policies to adapt to the new era of on-demand, crowdsourced services, but that doesn't give these services permission to operate in a way that endangers the public and causes a civic nuisance.
Scooters you can pick up and drop off virtually wherever and whenever you want no doubt form a compelling business model. But if Bird Rides, Inc. wants to keep offering riders the thrill of whizzing along on an electric scooter, it needs to follow the flock and operate fairly and safely.