Men's tennis falls to Wake Forest in ITA indoor championships final match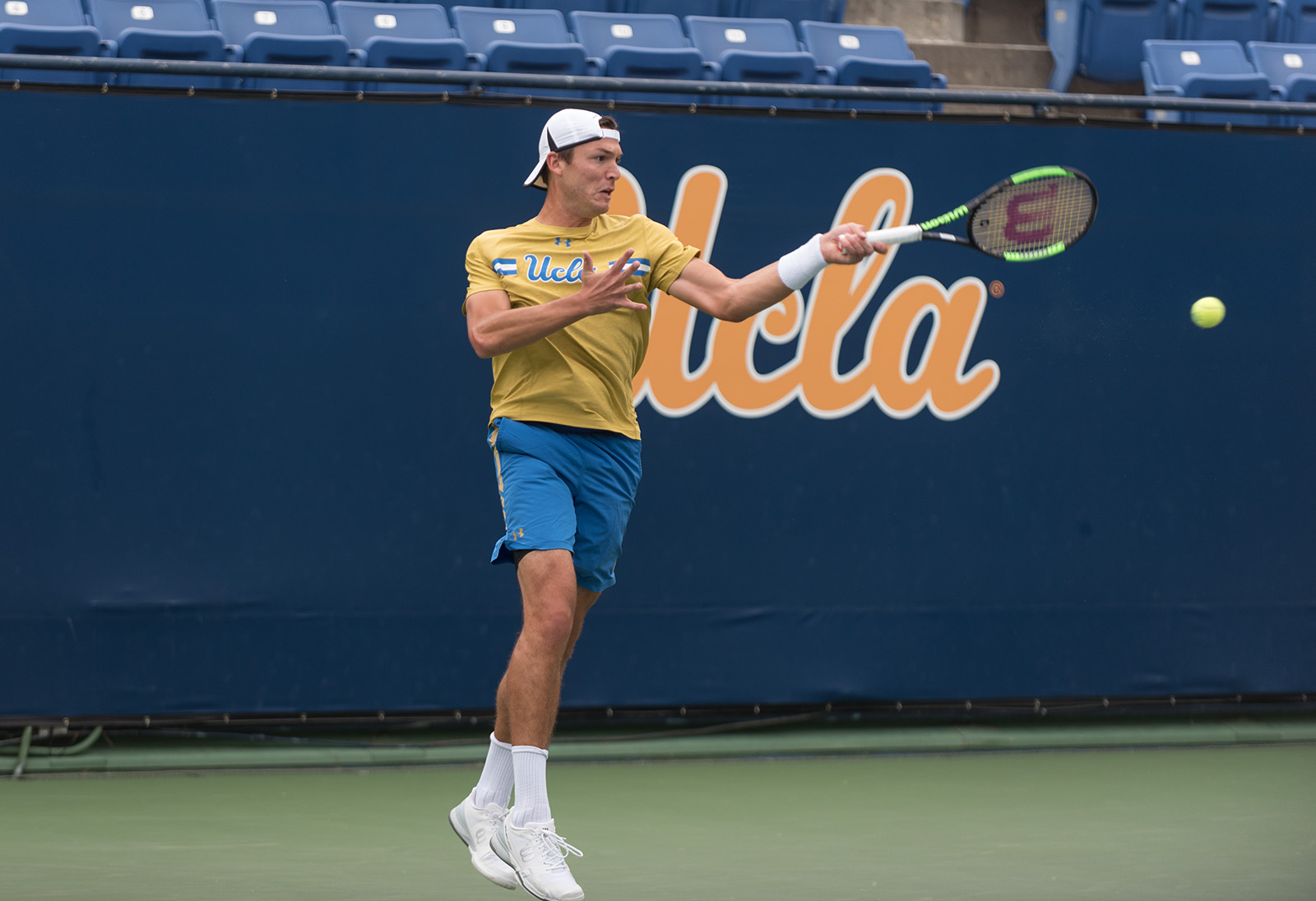 Martin Redlicki clinched the Bruins' match on Sunday to lead them to the finals of the ITA indoor championships. The senior was not able to secure a win in singles in the final match. (Kathy Chen/Daily Bruin)
February 19, 2018 4:17 pm
The Bruins had not made the finals of the ITA indoor championships since 2004.
This year, No. 7 UCLA men's tennis (11-2) reached the final match but fell just short to No. 1 Wake Forest (9-0), losing 4-2.
"It's still very early in our season and I was extremely proud of our guys," said coach Billy Martin. "As much as it was close, I'm ecstatic that we're at where we are."
UCLA beat No. 10 Illinois on Friday, No. 2 Ohio State on Saturday and No. 6 Texas A&M on Sunday to earn its spot in the finals.
The Bruins won the doubles point against Illinois to open the tournament. In singles, freshmen Connor Hance and Keegan Smith earned wins, with No. 1 senior Martin Redlicki getting the last singles win and clinching the match.
"Every time you are the clinching match it's always special because you're the last guy, all eyes are on you," Redlicki said. "(My teammates) made it possible for me to have that moment and I'm just fortunate and maybe a little lucky that it went my way."
The Bruins came out strong in doubles again against the Buckeyes to grab an early lead. Despite a loss on the first singles court by Redlicki, UCLA secured the upset, with No. 58 senior Logan Staggs and sophomore Evan Zhu both pulling out victories.
Against the Aggies, the Bruins went up 1-0 after doubles, but started slow in singles play, dropping four of six first sets. Junior Maxime Cressy struggled against A&M's Juan Carlos Aguilar and eventually fell.
Redlicki again clinched the match for UCLA with an ace to close out a three-set tiebreaker and lead the team to the finals.
The Bruins' doubles teams had not dropped a match until facing Wake Forest. Freshman Bryce Pereira and Cressy lost 4-6 to Petros Chrysochos and Bar Botzer, but both the first and second doubles teams held to notch the point.
Martin said doubles was key for the team throughout the tournament.
"We held our own and won doubles points against all the top teams in the country," Martin said. "That gives us a lot of confidence."
In singles, only Cressy was able to pull out a win.
"I wanted to take my revenge from yesterday and I was really fired up for today," Cressy said. "I had never lost that bad before and it really got into me."
The match came down to Smith and a second-set tiebreaker. Smith dropped the set and UCLA lost the match.
"I was confident that I'd be able to get it done and that (Smith) could get it done as well and that we could make something special happen," Redlicki said. "Unfortunately the other guys just played a little bit too good and that's why Wake Forest is No. 1 in the country."
Rae joined the Bruin as a freshman in 2017 and contributed until 2018. She spent time on the men's tennis and men's water polo beats.
Rae joined the Bruin as a freshman in 2017 and contributed until 2018. She spent time on the men's tennis and men's water polo beats.