Freshman guard Kris Wilkes talks Indiana roots, experiences at UCLA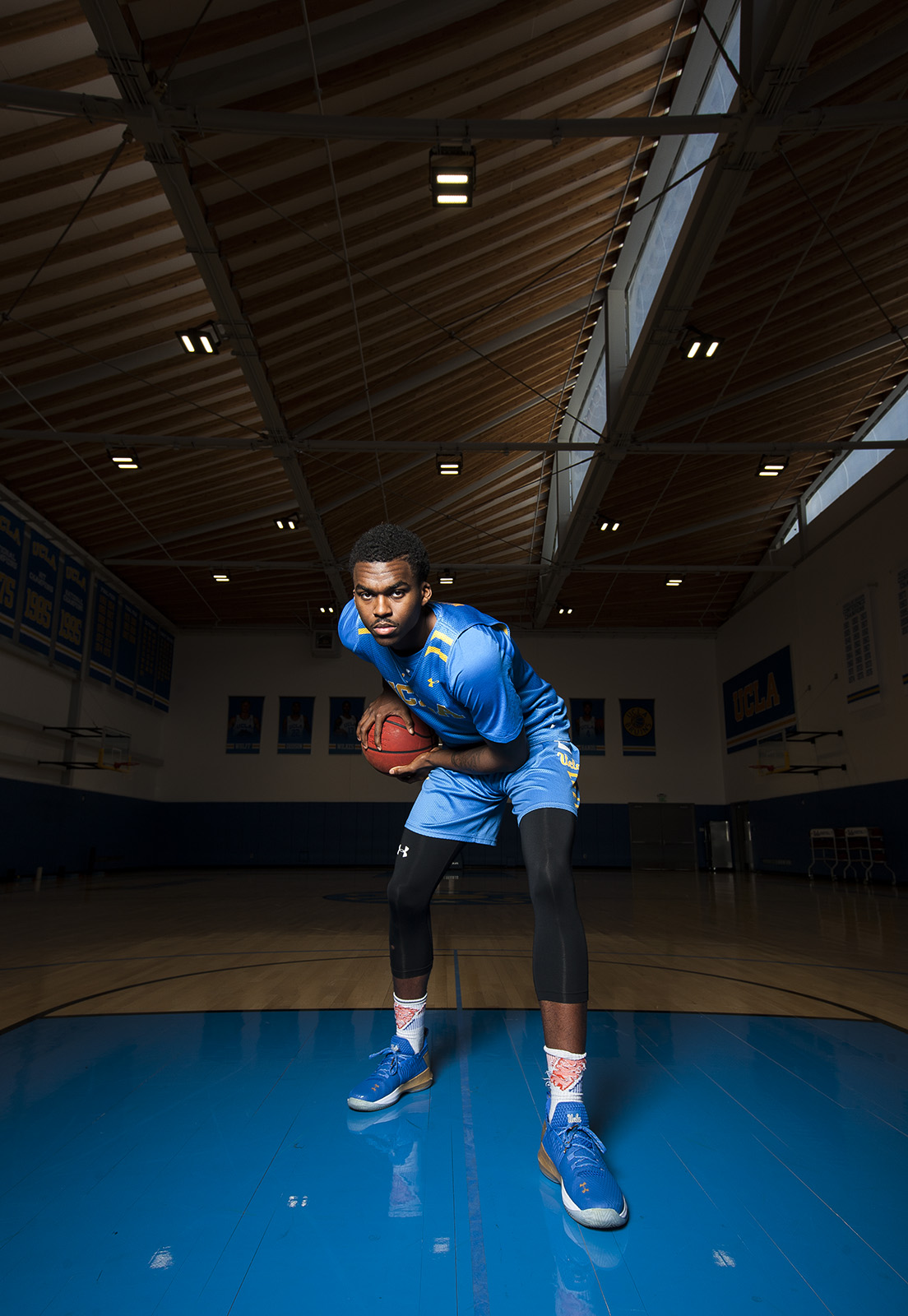 Kris Wilkes came into UCLA as a five-star recruit, and the freshman guard has been a fixture of the Bruins' starting rotation ever since. The Indiana native has started every single game for the Bruins in 2018-2019, averaging 13.5 points per game during his rookie campaign. (Aubrey Yeo/Daily Bruin senior staff)
Rarely had Kris Wilkes struggled to score.
A five-star recruit who tore through Indiana high school basketball, the freshman guard started the year looking like he might do the same at the college level, averaging 16.8 points a game in his first four outings.
Then the shots stopped falling.
Over the next seven games, Wilkes averaged just 8.7 points, shooting just 15.8 percent from 3-point territory.
"It was just tough," Wilkes said. "I couldn't hit nothing."
During that stretch, he decided to do something that essentially amounts to sacrilege for a teenager in 2018: He deleted Instagram.
"I was trying to just focus on basketball until I got back into that groove," he said. "I really wasn't trying to talk to people like that. … (I) just listened to my music and tried to be on my own, just get up shots and try to get better."
The tactic worked. Wilkes snapped out of his slump with a 20-point outburst against Kentucky on Dec. 23, helping lead the Bruins to an upset of the then-No. 7 Wildcats. And in the 14 games since, Wilkes has notched double figures in all but one contest.
On the season, the slender 6-foot-8, 195-pounder is averaging 13.5 points on 44.4 percent shooting. In Pac-12 play, he ranks first among conference freshmen in 3-point percentage, at 37.1 percent.
"It's been pretty impressive to see how consistent he's been with his scoring, and he's been able to do it in a variety of ways," said coach Steve Alford. "He's great in transition, he can shoot the 3, he's very good at taking the ball to the rim."
In his four years at North Central High in Indianapolis, Wilkes racked up 1,831 points, the second-most in program history behind only current Houston Rockets guard Eric Gordon.
As a senior, Wilkes was named Indiana Mr. Basketball after averaging 22.1 points and seven rebounds while leading North Central to its second consecutive sectional title. He was the type of talent that would have been treated as a hero had he committed to play at Indiana.
Instead, Wilkes chose UCLA, drawing the ire of plenty of hometown fans.
The Instagram post in which he announced his commitment is littered with negative comments, ranging from the civil – "Should have gone to IU" – to the unprintable.
"There was a lot of hate after I committed here, so much hate," Wilkes said. "But you've got to live life for yourself. You've got to do what you think is best for yourself rather than other people."
It helped that Alford, a former Indiana Mr. Basketball himself, had ties to Wilkes' home state, but ultimately the young guard was swayed by how UCLA could enhance his game.
In recruiting Wilkes, the coaching staff stressed not only the opportunity to play against pros during the summer but also the Pac-12's free-flowing style of basketball and the success of former Bruin wing players like Norman Powell and Jordan Adams.
"We sold him on the idea that we can develop you into this type of player," said associate head coach Duane Broussard. "He's a little different, little taller (than Powell and Adams), but still playing the wing position and wanting to play the game like that a littlebit."
An added bonus: Wilkes grew up worshipping Indiana Pacers legend and ex-Bruin Reggie Miller. As a kid, Wilkes would often sit courtside for Pacer games with friends of his father, a police officer who routinely worked shifts at the arena.
Wilkes wore Miller's No. 31 throughout high school, but with it retired at UCLA, the freshman opted for the inverse, No. 13.
When Wilkes showed up in Westwood, he said it felt like the beginning of high school to him – when nobody knew his name or what he could do on the court.
As he noted, he had about 40,000 Instagram followers, while Southern California native and fellow five-star freshman Jaylen Hands had north of 400,000.
"You come out here and everybody is high-profile," Wilkes said. "I had to establish myself on the court for people to know about me … but I like the challenge. You don't want to just start off everybody knowing you. I think that blows your head up sometimes."
Wilkes got a quick taste of the attention heaped on UCLA when his teammates were arrested in China. When asked about the incident, he laughed.
"It definitely put us on the map," Wilkes joked. "If you didn't know about us, you do now."
Wilkes' levelheadedness in the face of intense scrutiny didn't surprise Broussard, who pointed to a fact he learned when recruiting Wilkes: Before becoming a high school basketball star, he earned a black belt in taekwondo during middle school.
"After hearing that, I understand why he's able to concentrate the way he does," Broussard said. "He can really focus in, and he can handle the anxiety that comes along with playing in an environment like this."
Considering his strong scoring output, Wilkes could potentially leave for the NBA Draft this spring, though an anonymous NBA scout said he doesn't see Wilkes as a one-and-done player.
If he stays, he may give himself a better chance at being selected in the first round. In a 2019 mock draft released Monday by ESPN's Jonathan Givony, Wilkes was projected as the No. 22 pick.
The extra year of seasoning could allow Wilkes to show a more complete game, using his length to become a strong defender and rounding out his arsenal on the offensive end.
"He can gain a lot of traction and value with how well he'll be able to develop into a perimeter defender," Broussard said. "(Offensively) within the half-court, ball-handling, being able to really, really create his own shot and also being able to create for others."
Wilkes is well on his way, considering his knack for putting the ball in the basket.
It's why he loves basketball.
"All these other sports, they score like four or five times a game – I don't see how they like doing that," Wilkes said. "In basketball, you can score multiple times, the score can get to the hundreds."
He paused, then added another reason he loves his sport.
"And just the feeling of dunking a ball," Wilkes said. "It feels great."
Cummings joined the Bruin as a freshman in 2014 and contributed until he graduated in 2018. He was an assistant Sports editor for the 2015-2016 academic year and spent time on the football, men's basketball, baseball, cross country, women's volleyball and men's tennis beats.
Cummings joined the Bruin as a freshman in 2014 and contributed until he graduated in 2018. He was an assistant Sports editor for the 2015-2016 academic year and spent time on the football, men's basketball, baseball, cross country, women's volleyball and men's tennis beats.