Baseball to start season reshuffled, revitalized, set on Omaha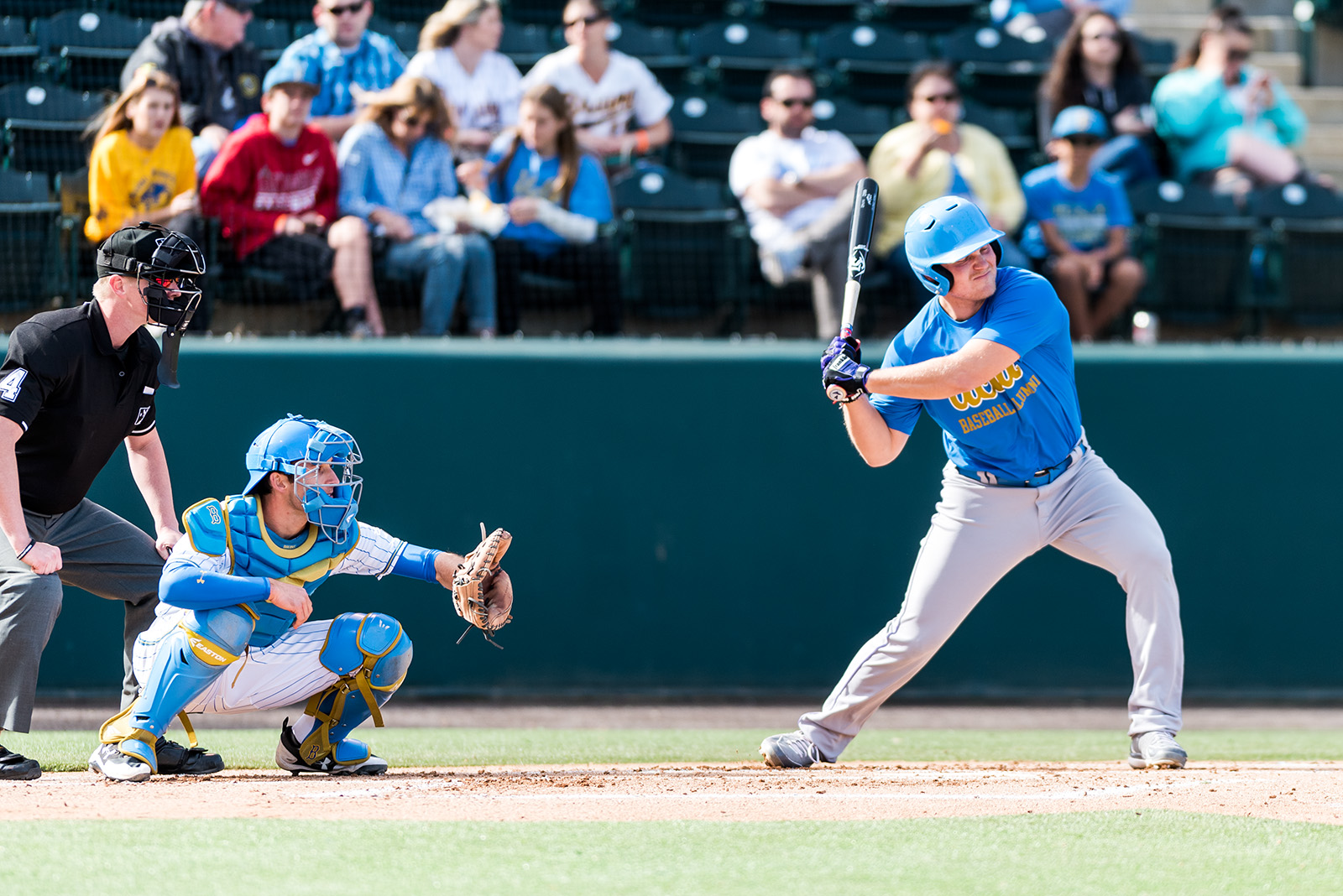 UCLA baseball has not made it to the College World Series since it last won the NCAA championship in 2013. The Bruins start their campaign to return to Omaha, Nebraska, this weekend. (Isabelle Roy/Daily Bruin senior staff)
February 16, 2018 2:59 am
Ryan Kreidler was relaxing during his winter break. Then he received a text from his teammate.
"Hey man, I can't stop thinking about it."
The sophomore shortstop saw the message and knew just what his teammate, sophomore infielder Kyle Cuellar, was talking about. Omaha.
"It's in the back of your mind every day, every time you take a rep, every time you're in the weight room," Kreidler said.
The No. 11 Bruins are looking to make their first run to the College World Series this season, after not reaching Omaha, Nebraska, since winning the NCAA title in 2013.
UCLA finished the 2017 season 30-27, ultimately losing its first and only games at the NCAA regionals. That Bruin team featured a bevy of talented freshman position players that pushed UCLA's offense to the top of the Pac-12 in home runs, but the Bruins only mustered a .258 team batting average, the second-worst in the conference.
The players that coach John Savage pegged as the headliners of that freshman class in 2017 – Kreidler, Chase Strumpf and Michael Toglia – are now sophomores who will be taking on bigger roles. The three will start at shortstop, second base and first base, respectively, leaving third base for junior Jake Hirabayashi.
The sophomore class in particular showed signs of maturation during fall scrimmages.
"They're tougher at-bats," said junior pitcher Jon Olsen. "I'm losing 3-2 counts against them where they foul, ball, foul, ball, foul, ball, walk. They have a lot more discipline than they had last year. Same talent, but they're better hitters."
Savage points to assistant coach Bryant Ward's transition to working with the hitters this year as a major reason for the improvements.
"We're spending a bit more time on the swings themselves, on mechanics and things like that," Kreidler said. "We're hitting for better average, we're striking out a lot less and I think our pitchers are starting to realize our hitting is real now."
Junior outfielder Daniel Amaral, who was second on the team in hitting percentage and first in stolen bases, returns to center field, while sophomore Ydens will be starting in left.
Freshman Garrett Mitchell, ranked as the No. 62 prospect on the Baseball America 500, has stood out as an all-around threat on offense and will start in right field.
"He's potentially the real deal," Savage said. "You talk about a one-and-done in basketball – this would be the poster child for baseball."
Even at 6-foot-3, 200 pounds, he is admired by players and coaches for his athleticism.
"He's a specimen. He's huge," Olsen said. "I haven't seen really anyone that I've faced have as much power to the opposite field as he does. He's (also) really fast – you wouldn't expect him to be that big and that fast."
Although Savage said he is excited about the offensive capabilities of the Bruins and believes they are more than capable of making it to Omaha, UCLA's normally strong pitching core has dwindled this season.

"Our biggest concern really is pitching, which normally it's not," Savage said. "So that's somewhat of a flip-flop for us."

The Bruins lost 2017 rotation members Griffin Canning and Moises Ceja, and junior Justin Hooper is out for the year, having undergone Tommy John surgery in the preseason. Redshirt sophomore Kyle Molnar, who sat out for the entirety of last season after undergoing Tommy John surgery in summer 2016, is expected to be out for another four weeks after suffering an elbow-related setback.
Olsen, who went 7-1 in 2017 with a 2.86 ERA will be the usual Friday starter, but due to Olsen's emergency appendix surgery Jan. 22, senior Jake Bird will make the first Friday-night start of the year.
Olsen, Bird and sophomore Ryan Garcia, in that order, will be the weekend starters for UCLA, with freshman Zach Pettway set to pitch Tuesdays.
The Bruins feature a young bullpen with freshmen Chase Farrell and Holden Powell, as well as junior Brian Gadsby. Savage mentioned Powell and Gadsby may be competing for the closer role.
At catcher, Savage will be rotating redshirt junior Daniel Rosica with sophomore Will McInerny and 2017 designated hitter Cuellar, who will be replaced by junior Jake Pries. Savage said he wanted both Cuellar and Pries to be in the lineup somehow, so he saw putting Cuellar at catcher as a way to do that.
Kriedler mentioned how everyone on the team is committed to the program and the eventual goal of making the College World Series.
"This program is built off making runs and trying to win national championships," Olsen said. "Not making it back since 2013, it's tough. It needs to happen. It's not a good year for not making it to Omaha."
Kearns joined the Bruin as a sophomore transfer in 2017 and contributed until 2018. He spent time on the baseball and women's volleyball beats.
Kearns joined the Bruin as a sophomore transfer in 2017 and contributed until 2018. He spent time on the baseball and women's volleyball beats.